This article contains sexually explicit material that may be NSFW. 
Teledildonics, or electronic sex toys that can be controlled remotely by another user, are often considered the next wave of sex toy design. But due in part to issues with patents and licensing, the technology has never quite caught on in a big way. Sex toy maker OhMiBod is hoping to change that with an IndieGogo campaign for OhMiBod Remote, a WiFi-enabled app that will let you control your partner's "personal massager," from vibrators to wearable vibrating panties, from anywhere in the world.
Created by husband-and-wife team Suki and Brian Dunham and available for iOS and Android, OhMiBod Remote is compatible with any OhMiBod massager, but it's really geared to the blueMotion massager, a pair of Bluetooth-enabled vibrating smart panties that were revealed at the International CES Show earlier this year. (They'll be available for order in mid-June.) The app was created for long-distance couples who want to enhance their Skype sex sessions, as well as for couples who may be geographically close, but spend more time on their smartphones than they do with each other.
"One of the main reasons we created the app and the product is to bridge this intimacy gap that's being created by these little devices [smartphones]," Brian Dunham told the Daily Dot via email. "Now they can use the device to actually enhance the connection between partners."
While OhMiBod Remote is available for iOS and Android (it's classified as a generic "lifestyle" app on the Google Play store, presumably due to Google's notorious aversion to adult-themed apps and content), it's currently equipped with Bluetooth technology, so its range is fairly limited. OhMiBod is launching the IndieGogo campaign to raise $20,000 toward developing a version of the app that can be used anywhere in the world, or at least anywhere with a 3G or Wifi connection.
Basically, here's how it works: After logging into the app via Google+, you can send an invitation to your partner to log on as well. When you two are both logged in, a blue heart icon will appear onscreen, indicating your partner's vibrator is connected to your device. After you select one of five functionalities—touch, tap, wave, voice, and rhythm—you can then create customizable vibration patterns using your phone's accelerometer, touch screen, or voice control features. The blue heart then throbs and pulsates in rhythm with the vibration patterns, the intensity of which you can control by adjusting the volume on your device.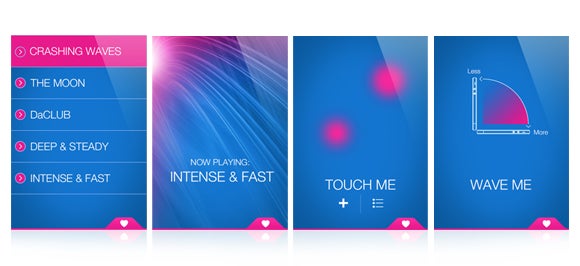 Via Indiegogo
OhMiBod Remote also features an in-app texting feature, so your partner can tell you exactly how the vibrations make them feel while you're controlling them. But it's the voice control feature that's particularly cool, because the app lets you translate any recorded song or speech into vibrations. "Any app with sound will also trigger vibration patterns… think Candy Crush!" Brian Dunham says. So if you've ever dreamed of making your partner orgasm with Candy Crush, well, here's your chance: The IndieGogo campaign ends June 19.
Screengrab via OhMiBod Video/YouTube | Photo via espensorvik (CC BY 2.0)