On Friday morning, conservative podcast host Luke Thompson was temporarily suspended from Twitter after he stumbled across an email account attached to Rep. Alexandria Ocasio-Cortez's (D-N.Y.)  boyfriend, Riley Roberts, and tweeted out a photo of the email.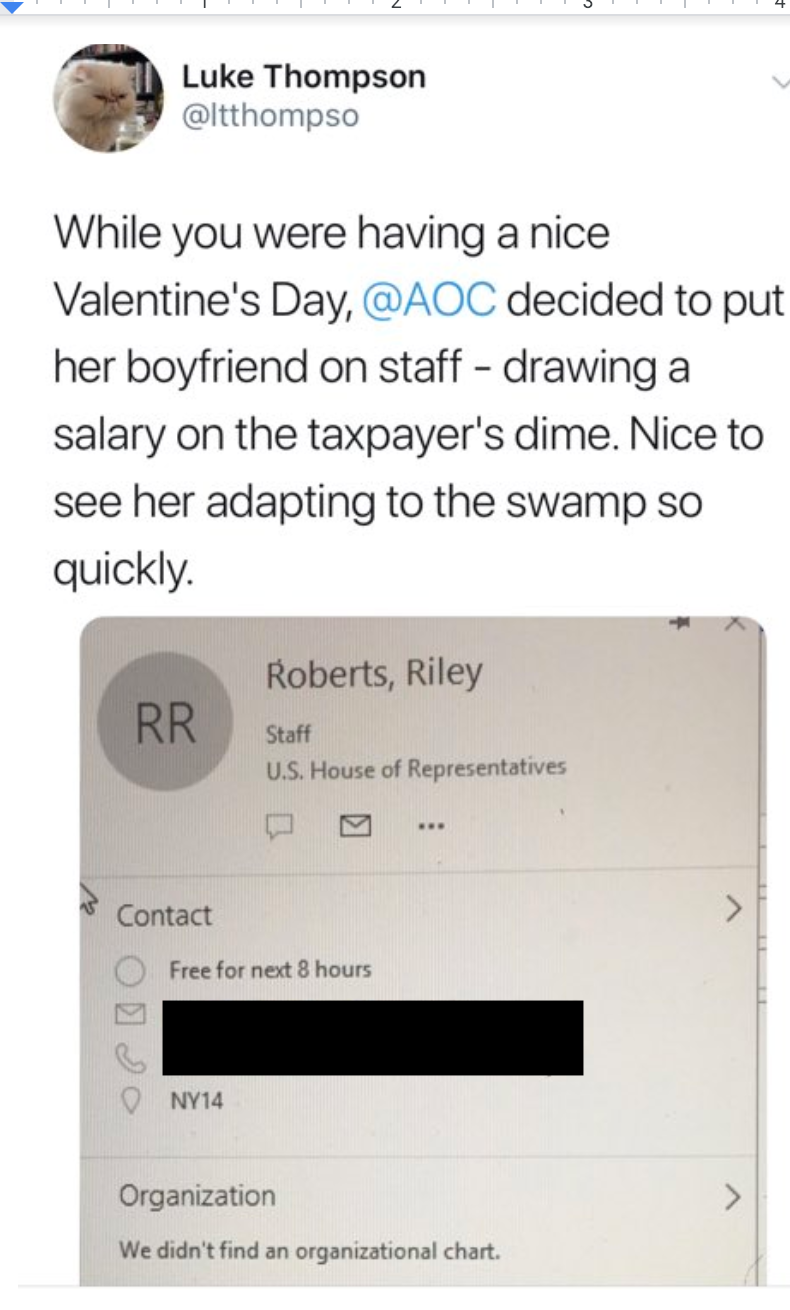 Thompson wrote "@AOC decided to put her boyfriend on staff — drawing a salary on the taxpayer's dime. Nice to see her adapting to the swamp so quickly."
He followed that up with a picture from a source of the internal House directory that called Roberts an "incoming" employee.
New from a friend inside the House. Seems like more than calendar access to me. Care to revise your statement @AOC? pic.twitter.com/Sr2HAUOkW7

— Luke Thompson (@ltthompso) February 15, 2019
While Twitter may have suspended him for sharing an email address and phone number, it turns out, Thompson didn't have his facts in order about Ocasio-Cortez employing her boyfriend. 
The tweet started going viral and was retweeted over 1,500 times in an hour before it was taken down by Twitter, sparking outrage. Popular right-wing accounts through Twitter was censoring negative news about Ocasio-Cortez.
Wow pic.twitter.com/KuDOusMTiM

— Comfortably Smug (@ComfortablySmug) February 15, 2019
Thompson said that he was locked out of his account and that Twitter cited the company's rules against posting private information. The tweet included a phone number for Roberts. 
https://twitter.com/woodruffbets/status/1096441192697511936?s=21
Ocasio-Cortez and her office said immediately that the idea that the congresswoman is paying her partner "on the taxpayer's dime" is a gross mischaracterization.
AOC fired back on Twitter: "actually this calendar designation is a permission so he can have access to my Google Calendar. Congressional spouses get Gcal access all the time. Next time check your facts before you tweet nonsense."
Her Chief of Staff Saikat Chakrabarti doubled down, tweeting at Thompson "He's not paid. We have no volunteers in the office. He's not doing any government work. He can see her calendar just like spouses/partners/family members in other congressional offices. Check your damn facts before you report bullshit. Lazy journos need to learn to do their jobs."
Chakrabarti later tweeted "spouses and partners normally get mail.house.gov e-mail addresses for the purpose of getting calendar access."
Roberts, who has appeared in a few profiles of Ocasio-Cortez, is not listed in LegiStorm—the website that tracks staffers, aides, and interns in Congressional offices.
Chakrabarti told The Daily Dot "the short of it is, you need a .gov email to get access to a calendar."
Unfortunately for Luke Thompson and his eager retweeters, the email address isn't at all out-of-bounds and it isn't even an infrequent occurrence. A spokesperson for the Office of the Chief Administrative Officer explained: "from time to time, at the request of members, spouses and partners are provided House email accounts for the purposes of viewing the member's calendar."
A source familiar with the matter explained to the Daily Dot that Roberts was designated under the "incoming" label because Ocasio-Cortez is a new member and was designated as such during transition activities to the Congress. In fact, everybody in her office appears as "incoming" in the House's internal system. It is not because Roberts was joining her team.
Even if Roberts was employed by AOC's office, it would not have technically run afoul of the nepotism clause in the Members Congressional Handbook. The handbook states that members of Congress may not employ any relatives in their offices—since AOC and Roberts aren't married, it wouldn't have drawn a red flag. However, the handbook also notes "every employee must certify a relationship to any Member of Congress on a certificate of relationship form."
There are workarounds that members of Congress do sometimes use to pay their relatives. For example, Rep. Steve King (R-Iowa) is infamous for employing his family members year-round as members of his campaign staff.
In fact, even if Roberts was working in her office and they were to get married, he could remain on the payroll. The handbook reads "if a House employee becomes related to the employing Member (by marriage), the employee may remain on the Member's personal or committee payroll."
But Ocasio-Cortez's office has been very adamant that Roberts is not on the payroll. Thompson, for his part, isn't backing down. 
He's in the staff directory. They got caught doing something stupid and are lying to cover for it. And lying badly I might add.

— Luke Thompson (@ltthompso) February 15, 2019
It seems that, once again, there was more to the tweet than meets the eye.
This article has been updated.