United Nations Ambassador Nikki Haley resigned from her position on Tuesday during a public appearance with President Donald Trump.
Haley is the latest in a number of high-profile resignations to occur during Trump's tenure. The former ambassador discussed her resignation with the president last week, Axios reports.
Haley was once a vocal critic of Trump, but she joined his administration as the ambassador to the United Nations and became a staunch supporter—including defending the president after an anonymous New York Times op-ed was published where the author claimed there was a resistance inside the White House.
"At the end of the year Nikki will be leaving," Trump said, later adding: "We will miss you… and you've done a fantastic job."
Haley also addressed the media and said she will not leave her position until the end of this year.
Shortly before the announcement, the former ambassador deleted any reference to her position in her Twitter bio.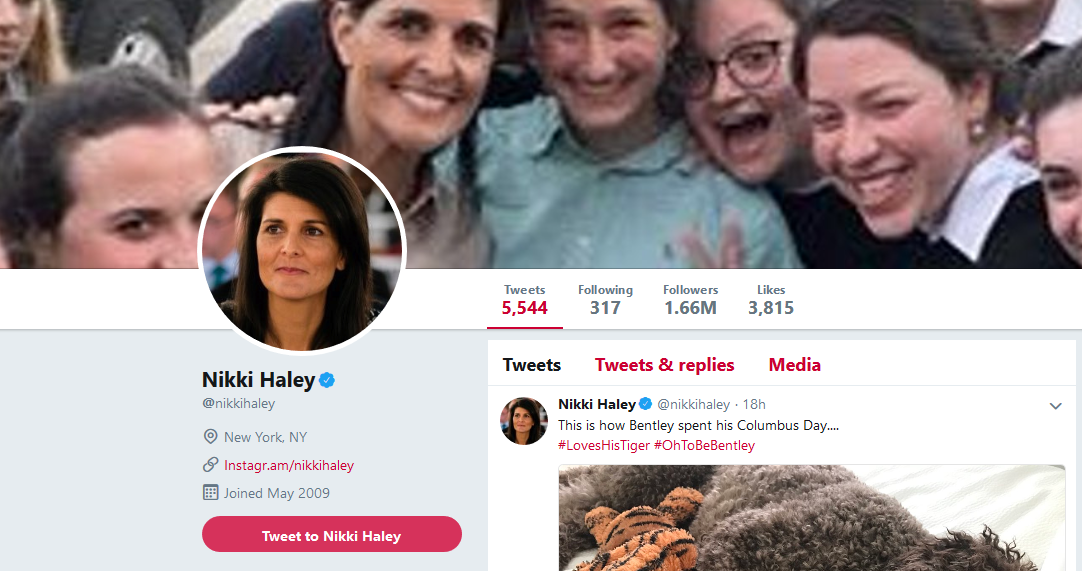 The unexpected resignation immediately sparked intrigue on Twitter, with some wondering if Haley has more political ambitions in the future—either for Senate or challenging the president in the 2020 Republican primaries. Other people speculated she may be a choice to replace Vice President Mike Pence on the ticket in 2020.
During the meeting, the ambassador said she was not running in 2020.
While the president said during the presser that"many people" were interested in the job, one name came to everyone's mind.
According to @Trumpsalert, @IvankaTrump started following a lot of Defense Department accounts yesterday pic.twitter.com/J3ZtngjloG

— Dave Brown (@dave_brown24) October 9, 2018
Based on the speculation I've seen on TV, Trump will fire Jeff Sessions, who will be replaced by Lindsey Graham, who will be replaced by Nikki Haley, who will be replaced by Ivanka Trump.

— Keith Boykin (@keithboykin) October 9, 2018
Trump should replace Nikki Haley with Ivanka.

— Ann Coulter (@AnnCoulter) October 9, 2018
https://twitter.com/wordsbyana/status/1049674127093760000
Now that Nikki Haley is out, Trump is going to appoint Ivanka to be UN Ambassador. Then he's going to dump Pence in 2020 on the ticket for Ivanka. And it will be just like House of Cards.

— Scott Challeen (@ScottChalleen) October 9, 2018
https://twitter.com/geobliss/status/1049671523471159302
https://twitter.com/allicat1214/status/1049668458563194880
Prediction: Ivanka will step in to replace Nikki Haley, get some "foreign policy" experience to add to her resume as they continue to prep her for a run for President / continuation of the "Trump Dynasty". Possibly even in 2020, Trump may not run again so he doesn't have the loss

— Scott Brown (@ScottBrownDC) October 9, 2018
Ugh. Nikki Haley resigned as U.N. Ambassador and now the media is speculating that Ivanka Trump will take the position. The ultimate in privilege, particularly of the unqualified. Nausea. Just one more sign that our country has crashed and continues to burn.

— Christine A. Rodriguez (@CRodLaw) October 9, 2018
Can you IMAGINE if Nikki Haley is replaced by Ivanka Trump???? OMFG

— Liddle Dee (@DiagnoDee) October 9, 2018
Even if it is Ivanka Trump, the position still needs to be confirmed by the Senate.
READ MORE: