Dirty Delete is a weekly column that goes deep into the social media history of politicians that runs on Thursdays in the Daily Dot's web_crawlr newsletter. If you want to get this column a day before we publish it, subscribe to web_crawlr, where you'll get the daily scoop of internet culture delivered straight to your inbox.
Analysis
Nikki Haley might be the last moderate Republican.
It's all but certain that Haley will announce she's running for president next week. She's probably hoping that the stench of working for former President Donald Trump doesn't haunt her campaign.
Haley's decades of public service have given her political savvy that extends to her online presence.
Her posts are heavy on exclamation marks, family pics, and photo ops with mainstream Republicans—with a bit of Democrat bashing thrown in for funsies. She called Vice President Kamala Harris "unprofessional and unfit" for the high crime of telling people to enjoy Memorial Day weekend.
Haley has never been the type to yell about antifa or Jewish space lasers. But she holds some public positions that are in line with the hard core Republican base.
In 2010, Haley took to Twitter to tout her endorsement from an anti-abortion group. And she was A-OK with the Confederate flag before mass murder Dylann Roof "hijacked" it.
Haley wasn't on board with Trump in his first campaign, however. She lobbed a "bless your heart" at Trump on Twitter—a Southern colloquialism that loosely translates to "go fuck yourself."
Archives from Haley's nuked Twitter account shows that she supported Sen. Marco Rubio (R-Fla.) instead.
Like the rest of the party, Haley fell in line when Trump won.
Even after she left his administration where she served as ambassador to the United Nations, Haley sang Trump's praises. In a 2020 tweet, she said she was "proud" of his "selfless leadership." Cause that's what Trump's known for. Selflessness.
Haley joined her cohorts whining about election fraud after Trump lost in 2020. She tweeted about what Republicans call "ballot harvesting." But mostly she stayed out of it, and later went on to condemn the Capitol riot.
This week Haley released an ad that managed to straddle both sides of the Republican fence. It both portrayed her as a middle-of-the-road type and winked fondly at the far-right's grudges towards the movement to reform the police and punish Big Tech.
Online, you'll find Haley on the mainstream platforms: Twitter, Facebook, Instagram, and YouTube. There are Gettr and Parler accounts in her name, but she doesn't appear to control or use them.
Dirtiest Delete
Haley doesn't flub up much on social media. ProPublica reports that she has a paltry number of deleted tweets compared to most politicians.
If there is one post she could take back, it'd be the time Haley, who has a degree in accounting, made an embarrassing math fail in an attempt to own President Joe Biden.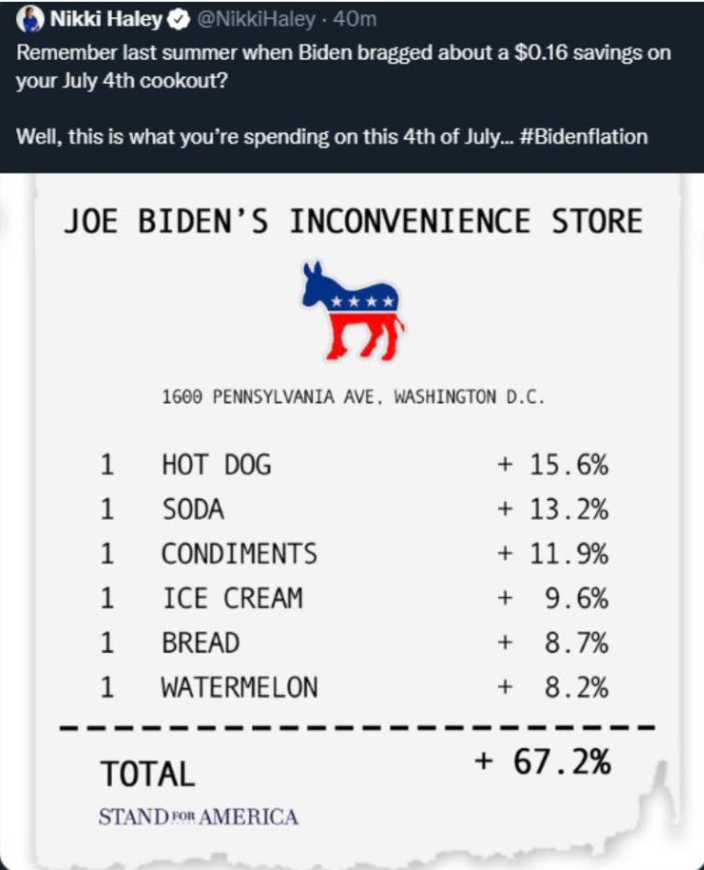 Like what you are reading?
Sign up to receive web_crawlr, a daily newsletter
from the Daily Dot, in your inbox each morning.