Around the newsroom it was called "the other office."
About six miles away from Syracuse's Clinton Square, home to local paper The Post-Standard, was a small corporate suite. It occupied an office complex not much different from the dingy workspace of The Office's Dunder Mifflin.
Inside was the staff of Syracuse.com, the newspaper's very own viral content machine.
While the newspaper's 90-person newsroom covered local news and politics, Syracuse.com's four producers were tasked with one goal: driving traffic through aggregating popular content from around the Web and collecting Internet ad revenue.
In early 2011, this combination of giving Syracuse residents what they need (shoe leather journalism) and want (Justin Bieber's latest arrest) for free online was working for The Post-Standard. Every story produced by Syracuse.com collected 20,000 pageviews, on average.
On Thursday, BuzzFeed leaked a 96-page internal New York Times document written by nearly a dozen Times staffers. The authors described how the storied paper was struggling to compete in the digital space, and how it needed to "pivot from the original mission." Readership had fallen "significantly," the report noted, and Times needed to move fast against competitors because "digital media is getting more crowded."
The Times, in other words, seems to have finally realized what the much smaller Post-Standard figured out years ago. But while the Syracuse paper was able to easily reinvent its digital footprint with a tiny four-person office, the Times has made this task far more difficult, despite its deeper pockets and larger staff.
To read more than 10 articles a month from the Times, you've got to pony up about $195 a year.
And, partially as a result of that paywall, the Times' online readership has splintered off to relative newcomers, like Vice and Business Insider and a half-dozen other free sites—most of whom will often aggregate New York Times scoops, in addition to publishing their own original reporting.
The Times' pay model has been successful from a business standpoint. But its also the biggest obstacle to compete. The following image might as well be a giant detour sign for Huffington Post or Business Insider.
From those sites, readers share the articles they like on social media—and, overwhelmingly, Facebook. As a Pew Research Center study unveiled in November, roughly 64 percent of American adults use Facebook, and half are getting their news from the site. That means roughly 102 million people and counting access news via Facebook. And people don't share articles that they can't read in the first place.
It's refreshing that the Times recognizes that papers like the Washington Post and USA Today are no longer its only competitors. But its plans to compete against them are toothless. And they indicate the paper is still in the midst of a long-running existential crisis. How can it compete against the likes of Buzzfeed, who churn out easily digestible fluff easy as they're also producing high-quality, original reporting.
"Buzzfeed and Upworthy continued their relentless growth while making new investments in quality journalism," the report states. "Digital-first is the new mantra from the old guard."
To fix the problems, nearly everything—from how stories are promoted to a redesign of its homepage (again)—is on the table. What's not going to change, however, is the Times' commitment to "producing great journalism." Or its paywall. But these are the two most important parts of the Times business that, if tweaked properly, could allow it to compete.
The Times' content is both its greatest asset and biggest obstacle.
Over the course its 163-year history, the Times has been uncompromising in its pursuit of hard news. It has won a record 112 Pulitzer Prizes and, as any college history professor will tell you, has been instrumental in shaping laws and uncovering grave injustices.
When newspapers turned their noses up at the Internet in the mid-1990s, the Times cannonballed into the pool and hasn't left since. It has innovated with dynamic presentations like "Snow Fall" and made its simple homepage design a media standard. There you can find news, videos, opinion pieces, and features touching every corner of the planet.
What you won't find on the Times is anything on Beyoncé's sister Solange throwing down with Jay Z. That grainy elevator video and its aftermath became the week's most popular storyline.
The footage, first released by TMZ, was a monstrous hit. That day alone, the phrase "TMZ" was searched more than 5 million times on Google, driving significant traffic to news organizations reporting on the scuffle—including nearly every one of the Times's competitors.
BuzzFeed, for example, published at least four different pieces (here, here, here, and here) covering the video, the memes, and the theories behind what happened. This particular story on the video brought the site a windfall of traffic.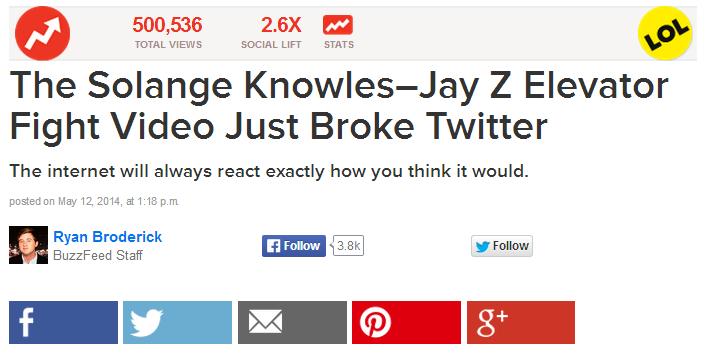 A day after the news broke, the Times linked to a Daily News article in a series called "New York Today: Talent Underground." That's the only reference to the story you'll find on the site. It also appears nowhere in its timeline of Jay Z coverage.
This is where the Times's great content conundrum resides.
As a news organization built on reporting hard facts and avoiding speculation, the Times risks its reputation by writing about a poorly lit video allegedly showing two of the world's biggest celebrities (especially when you never know if Jimmy Kimmel will appear behind some door).
Then there's the issue of branding. Does the Times, a bastion of the fourth estate, want to cheapen its image with what amounts to a few platitudes and an embedded video? Even if the answer is a resounding no, there's still a way for the Times to give readers some candy, cash in on the increased ad revenue, and retain its integrity.
Look no further than the Washington Post. The paper, recently purchased by Amazon founder Jeff Bezos, has found one answer to the content problem. Know More, launched by Ezra Klein in October, is a free, Upworthy-inspired site that aggregates all the Internet's lowest-hanging fruit, with a little Post branding. This is done through simply posting a video of a cat saving a boy from a dog attack and one sentence explaining where it was captured.
Three weeks after Klein launched Know More, it was the most visited blog on the Post and earned writer Dylan Matthews the newspaper's "Publisher's Award."
"On some days, KnowMore draws more traffic than Wonkblog [Klein's successful Post blog on public policy]," read an internal Post memo. "It is consistently in the top five. Single KnowMore items can do enormous traffic; one on the pope drew more than a million page views in two days."
The Post isn't the first print news organization to have success experimenting with new content models. In 2012 Forbes changed its online contributor model, giving bloggers an opportunity to submit their own original content to the site to potentially get paid.
Today Forbes.com collects more than 55 million unique visitors a month and ranks as one of the top 100 visited sites in the U.S.
One possible solution for the Times is to simply get over itself, to go toe-to-toe with the aggregators—albeit under different branding. The cost of running a site like Upworthy is orders of magnitudes smaller than the Times, but the traffic is roughly equivalent. What if the Times were to launch its own Know More, an Upworthy type clone with a more serious bent that rakes in traffic via subdomain and skips the paywall as a whole. Newspapers of the past were one giant, ungainly beast: Maybe the paper of the future needs to be a many-headed hydra.
…
In May 2011, a day after my colleague and I reported on a scandal involving an overpaid school district official and her salacious affair with her boss, both public servants were summarily fired.
Our newsroom was ecstatic. My Post-Standard colleague, John O'Brien, told me it was one of the greatest pieces of journalism he had worked on in his more than 20 years at the newspaper.
Early that summer, though, the celebrating stopped.
Our publisher had announced that newsroom employees would need to take multiple days off this year without pay. A year later, the newspaper would cut back its print edition, move from its home in Clinton Square, and an added emphasis on producing content for the Web. This doubling down resulted in the creation of the Syracuse Media Group, bringing together Syracuse.com's aggregators and the Post-Standard's journalists under one roof.
Many of the newspaper's veteran journalists took pay cuts or were outright fired as a result.
Syracuse.com wasn't able to save The Post-Standard. But that doesn't mean it failed. Today it's collecting more traffic than ever. If the Times can combine the success of its paid model with its own form of viral content reporting, it could be a deadly combination.
Illustration by Jason Reed