While reporting on both sides of any issue is an essential pillar of news coverage, some truths are essential—like that Freaks and Geeks was canceled far too soon and that no one should ever drink bleach for any reason.
To many, a few words in the first paragraph of a New York Times story about President Donald Trump's suggestion that people consume or inject disinfectant to kill coronavirus displayed a mind-boggling commitment to "both sides" journalism. Those words: "some experts."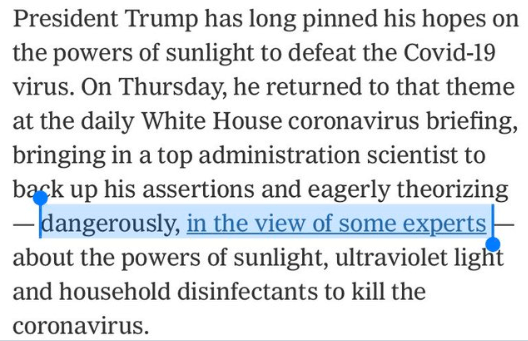 "President Trump has long pinned his hopes on the powers of sunlight to defeat the Covid-19 virus," its reporters wrote.
"On Thursday, he returned to that theme … eagerly theorizing—dangerously, in the view of some experts—about the powers of sunlight, ultraviolet light, and household disinfectants to kill the virus." [Emphasis added.]
People immediately wanted to know who were the "other experts," who presumably think that it isn't dangerous to inject disinfectant to treat coronavirus.
As the backlash grew, the Times quietly deleted the phrase from the story.
Alas, the damage was done. "Some experts" trended on Twitter this morning.
And the tweet the Times originally sent remains.
People had some thoughts, some feelings, some opinions.
"Can household [disinfectants] kill you if you put them inside your body?" the Atlantic's Adam Serwer mocked. "On the one hand, absolutely yes, on the other, a Republican said something different so we have to represent it as a matter of controversy."
Journalist David Klion wondered, "Is the Times aware of specific 'experts' who do not think this would be dangerous?"
"We have a winner of the ultimate both sides headline," tweeted Peter Daou.
The maker of Lysol and Dettol released a statement this morning, urging that "under no circumstance should our disinfectant products be administered into the human body (through injection, ingestion or any other route)."
The Times has not publicly commented on its phrasing.
READ MORE: