When Reddit administrators removed the controversial r/Politics and r/Atheism forums from its coveted default subreddit group, the community at large breathed a sigh of relief. Out with the old, in with the new.
In its place, administrators promoted five other subreddits—r/books, r/earthporn, r/explainlikeimfive, r/television, and r/GIFs—with much fanfare. 
"The new list we've come up with was based off of a few key factors: traffic to the subreddits, rate of subscriber increase, average number of users online, and number of submissions/comments being posted," said community manager Alex Angel (cupcake1713) on the company blog. 
So after one month of being on top of Reddit's world, how have these newly knighted communities fared? Very well.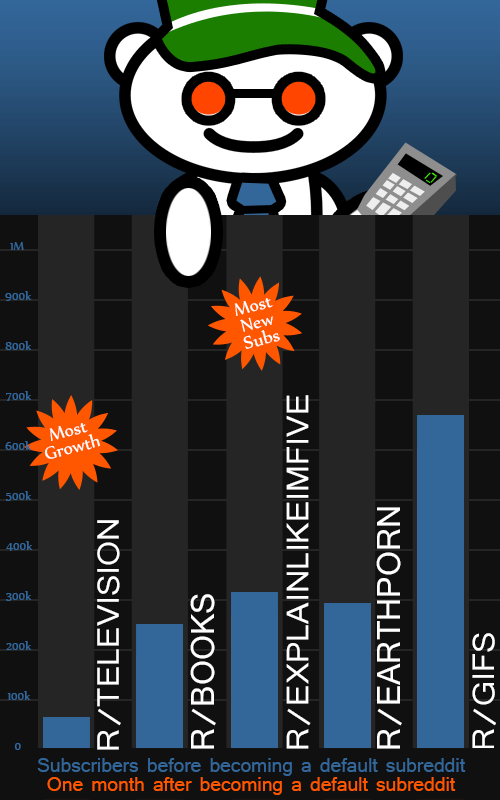 Each has collected more than 200,000 subscribers in the first month. This represents a 24 to 117 percent increase for each group. Yet despite how impressive these numbers may look, their relevancy has come under scrutiny from r/TheoryOfReddit community, a place to discuss meta-Reddit issues. 
Most of the criticism surrounds the nature of default subreddits themselves. When new users register a username on Reddit, they are automatically subscribed to the list of default subreddits. While these users can remove these groups from their subreddit list at any time, most don't and end up never contributing to these communities. This has resulted in subscriber numbers being called a "meaningless statistic."
"I would not be surprised to see one-third of those 4,000,000 accounts inactive or forgotten or barely used," ridddle commented. "If /r/pics or any other default wanted to open up their real statistics (here's an example how it looks like) then we would know how many real subscribers they have."
"A better metric (and one that is used by savvy mods) are unique visitors," TheRedditPope added. "Even still, your base community which consists of active daily readers, submitters, and/or commenters is going to be a fraction of uniques. It's nice to see subreddit growth. Typically the amount of value your subreddit offers to readers can somewhat be gauged by the amount of people who visit your subreddit and return to it again."
Since Reddit was founded in 2007, the list of default subreddits has played an integral part in shaping news narratives and driving tremendous Web traffic. Not only are all new Reddit users subscribed to these groups, any visitor not logged in will see content from these subreddits. A link featured high in any of these default subreddits is also likely to reach Reddit's front page—and exposure to thousands, even millions, of readers.
Photo by scottsnyde | Remix and infographic by Jason Reed