Every day, the Daily Dot finds something that people on Facebook are sharing and, in turn, shares it with you—with a little explanation. Here's today's share.
Speaker of the House Nancy Pelosi (D-CA) shared a photo on Facebook of Republicans holding a House Oversight Committee hearing Thursday on a possible mandate in health care law to provide birth control.
The problem? All five panelists are men. Pelosi posted this accompanying message, which garnered nearly 900 comments and twice as many shares:
"My colleague Rep. Carolyn Maloney (D-NY) who is on the committee, looked at this panel (from which a woman who was the Democratic witness was excluded by the GOP) and asked: where are the women? That's a good question."
A later panel included two women, both of whom were against the mandate.
Soon MSNBC host Rachel Maddow decided to also share the same image, with the caption "Congresswoman Nancy Pelosi (D-California) is sending around this photo from the hearing on birth control today."
Though Pelosi posted the photo first, and Maddow referenced Pelosi's sharing of the image, by Friday morning Maddow's shares outnumbered Pelosi's, 3,100 to 1,900.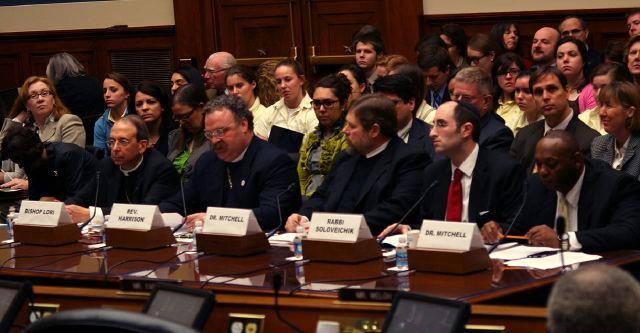 Photo from Facebook