The web addresses of potential future presidential candidates are being scooped up and held for ransom as part of the latest scheme from MSCHF, a mysterious startup company known for its outlandish internet campaigns.
MSCHF, which has repeatedly made headlines for offering exclusive drops of everything from toaster-shaped bathbombs to holy water-filled Nike sneakers, is now aiming to help its followers cash in on the 2024 presidential election.
On Monday, the company announced that it had purchased around 100 URLs related to 44 different prominent figures that could potentially run for president in the coming years.
Not only that, MSCHF allowed its followers to purchase shares for each domain, ensuring that they would get a cut of the bounty if one of those individuals decided to run and purchase a URL.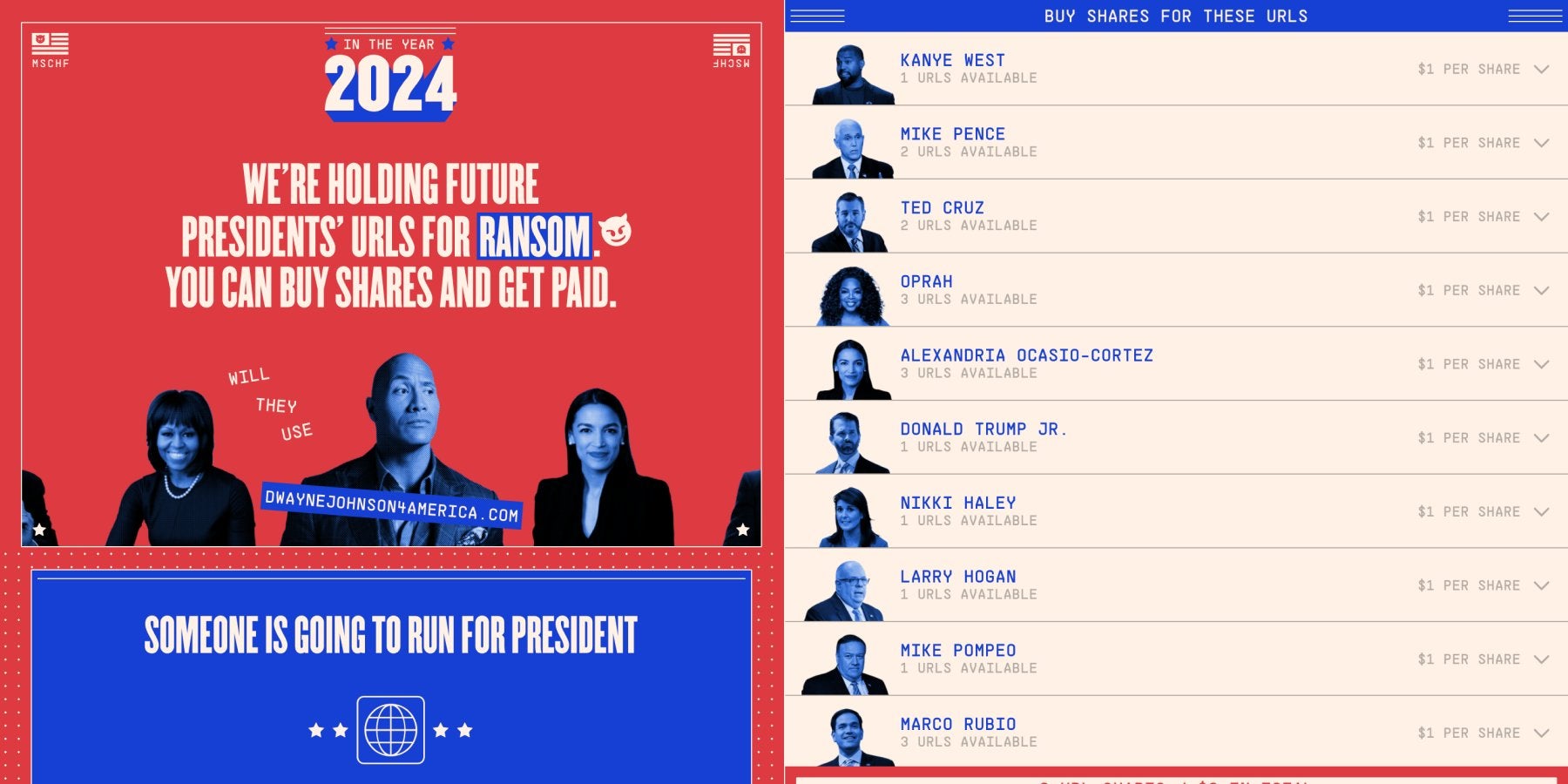 MSCHF managed to secure domains related to entertainers such as Kanye West and Dwayne "The Rock' Johnson as well as political heavyweights like former Secretary of State Hillary Clinton and Sen. Ted Cruz (R-Texas).
An assortment of billionaires are also on the list, including Amazon CEO Jeff Bezos, Facebook CEO Mark Zuckerberg, Microsoft founder Bill Gates, and entrepreneur Mark Cuban.
A manifesto from MSCHF explains that the campaign is intended in part to reveal whether candidates are running out of self-interest or for the public.
"Yang, Kanye, even Trump, have shown that running for office is now a standard piece of brand-building. Universally, however, candidates wear the idea that they are acting 'for the people' loudly on their sleeves," MSCHF writes. "In some small way we can force that to be true: let us collectively hold hostage those assets a campaign needs and force a prospective candidate to pay ransom back to the crowd before commencing their voyage of public aggrandizement."
When clicked, each URL listed—whether OprahWinfrey4America.com or ElectTuckerCarlson.com—send users to a webpage that asks the individual in question to kindly purchase the domain.
"Dear Michelle Obama," one such site for the former first lady says. "We know you want to run for president and you need a URL. If you ever want to use this URL transfer funds to MSCHF."

But for those interested in joining in, it's already too late. Like nearly all of MSCHF's actions, all available shares, approximately 100 per URL, were quickly sold out not long after the campaign went live.
While it's unclear whether any of the individuals listed will run for president in 2024, or if any will decide to purchase one of the aforementioned domains, MSCHF notes that failed 2020 Democratic candidate Mike Bloomberg spent an undisclosed amount of money to obtain MikeBloomberg2020.com after it was snatched up years prior by a URL squatter.
MSCHF also garnered attention last year after launching an internet scavenger hunt for free online subscriptions. Users were given random login credentials and tasked with finding out which websites they worked on. In the end, users who guessed correctly received free subscriptions to an assortment of services including Netflix, Pornhub, Tinder, and Amazon Prime.
---
Read more of the Daily Dot's tech and politics coverage