A Twitter account for Senate Majority Leader Mitch McConnell's reelection campaign was locked earlier this week after it shared a video of a protest against him, according to reports.
The @Team_Mitch Twitter account was temporarily locked because it "violated our violent threats policy, specifically threats involving physical safety," a company spokesperson told the Courier Journal.
The lock came after the account shared a video where protesters shouted profanity outside of the Senate majority leader's home in Kentucky, the newspaper reports, with one person reportedly shouting that he should "have broken his little raggedy… neck" instead of fracturing his shoulder over the weekend.
"This morning, Twitter locked our account for posting the video of real-world, violent threats made against Mitch McConnell," Kevin Golden, the campaign manager for McConnell, told the newspaper. "This is a problem with the speech police in America today. The Lexington Herald-Leader can attack Mitch with cartoon tombstones of his opponents. But we can't mock it."
Golden added:
"Twitter will allow the words of 'Massacre Mitch' to trend nationally on their platform but locks our account for posting actual threats against us. We appealed and Twitter stood by their decision, saying our account will remain locked until we delete the video."
As of Thursday morning, the @Team_Mitch had not tweeted. It's unclear if the account has complied, but Twitter shows the tweet now as "unavailable."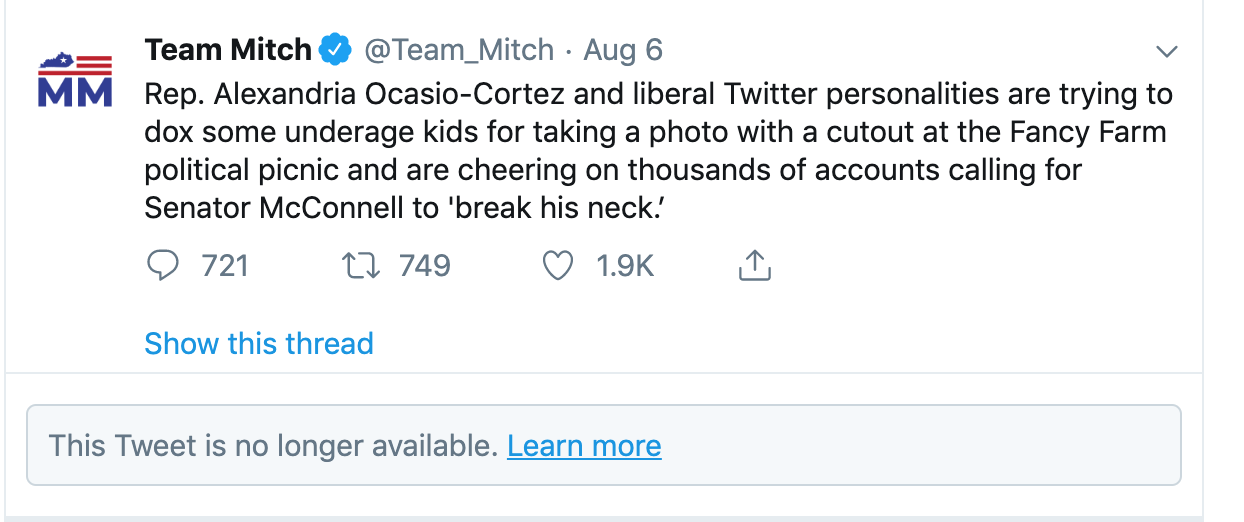 Earlier this week, #MassacreMitch trended online in the wake of his decision not to advance gun reform bills after the deadly shootings in Dayton, Ohio, and El Paso, Texas.
You can read all of the Courier Journal report here.
READ MORE:
Got five minutes? We'd love to hear from you. Help shape our journalism and be entered to win an Amazon gift card by filling out our 2019 reader survey.