Microsoft has a new "affordable flagship" device, the Lumia 830, but it fails to deliver on either of those claims.
Earlier this week, Microsoft unveiled two new smartphone devices, the Lumia 730/735 and Lumia 830. The 730/735 are affordable budget handsets. They've been dubbed Microsoft's "selfie" phone because of its five megapixel front-facing camera. The 830, on the other hand, claims to be the company's new "affordable flagship," meaning it's a device that has specifications of a high-end flagship phone but for a price that's a couple hundred dollars below the competition.
The Lumia 830 is definitely a beautiful handset. It boasts an incredibly thin design with curved Gorilla Glass 3 and a completely flush Zeiss Optics camera. The aluminum border and colored backs really create a striking and unique device. Where the device fails is in its hardware-to-price ratio offerings. Right now, the two most talked about affordable flagships are Google's Nexus 5 and OnePlus's One.
We've thrown together a comparison chart. Note that the Lumia 830 is currently slated to come out in Europe for €330 euros. For comparison's sake, we have converted it to dollars. We are only comparing the 16GB versions of each handset.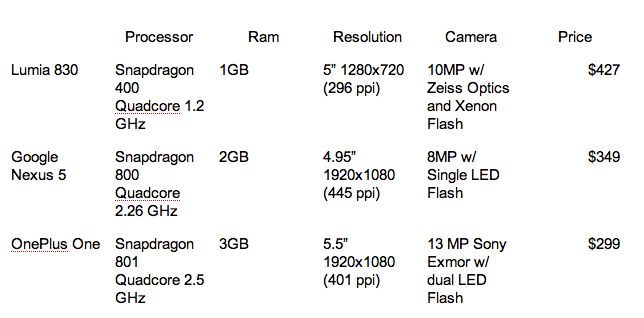 As you can see above, both the Google Nexus 5 and OnePlus One offer tremendous specs for a lower price. Both phones have more than double the RAM and processing power of the Lumia 830 with much higher resolution displays. The only area in which the Lumia 830 pulls ahead is its camera. Even though the OnePlus One has a 13MP camera, it still can't hold a candle to real Zeiss Optics and Xenon Flash.
It's a really foolish move for Microsoft to compete in the sub-$400 high-end category while releasing a phone that's over that price point. In a market that's been harsh to the Windows Phone, Microsoft should be doing more to curb hesitations and release a device that can compete not only in power but in price.
The Windows Phone operating system is incredibly lightweight. It can still run surprisingly well on lesser hardware. But when compared to devices like the Lumia Icon or the Lumia 1520, both sporting Snapdragon 800s, operation is just better. Scrolling is smoother, games run better, and the camera is much snappier. The new HTC One M8 for Windows, with its Snapdragon 801 processor, has been getting rave reviews for its speed.
Clearly, both Google and OnePlus have figured out a way to create a high-end smartphone that doesn't cost $600. Windows Phone is besting Android in the ultra affordable smartphone market, like the Lumia 520 and 630. Both of those devices are around $100 or less and run incredibly well for that price point. Similar $100 Android devices, like the Alcatel OneTouch Fierce, pale in comparison.
In reality, the Lumia 830 should retail for $200-$250. The specs really only warrant that much of a price point. If Microsoft had given the Lumia 830 a Snapdragon 800 with 2GBs of ram and a 1920x1080p display for about $400, then it could go toe-to-toe with Google and OnePlus in the affordable flagship category. It's understandable why Microsoft didn't do that; it would totally undercut its other high-end devices like the Lumia Icon and Lumia 1520, both retailing for about $500 dollars.
Even then, it's obvious that Microsoft can't make a dent in the high-end market when so many users are willing to spend $600 to get a Samsung Galaxy S5 or an iPhone 5S. That market just isn't open to moving to other platforms. Microsoft could easily carve a niche for itself in that sub-$400 market, if it's willing to lose some profitability for more market share and competitiveness.
Image via Nokia/YouTube