Michelle Obama isn't the kindest pinner.
Ever since she joined Pinterest eight hours ago, her pins have been been nothing but rude. She's got a board called Places I Visited & You Can't Afford, boasting about her riches.
"President's Day in Aspen with my daughters. Don't you take long weekends at expensive resort towns during the peak season?" she taunted.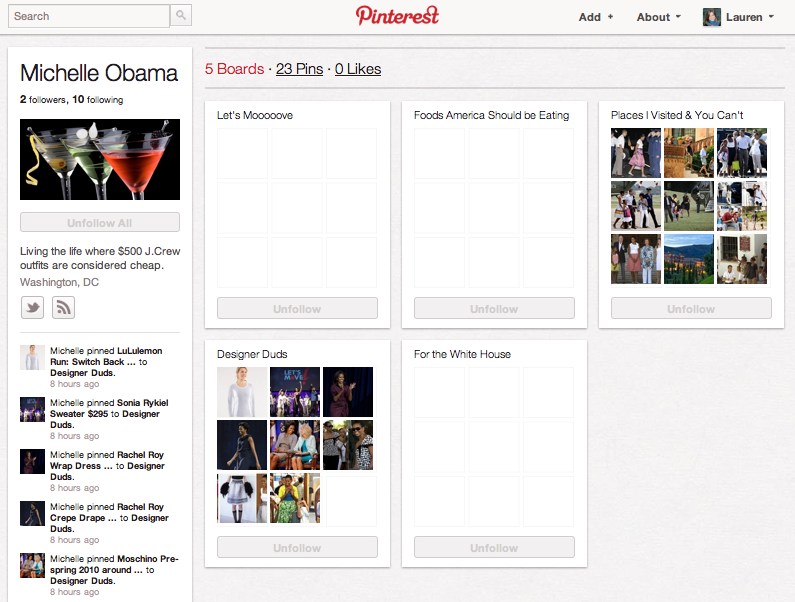 Are we on the brink of a PR nightmare for the White House? Of course not. If you haven't already guessed, Obama's is a parody Pinterest account in the same vein as Fake Mitt Romney.
As the Daily Dot noted in our list of Pinterest celebrities, the image-sharing network doesn't verify popular pinners' identities. That means anyone can impersonate the First Lady if her name is still available.
But if it's not Obama, who is it? According to the Twitter account linked to the profile, the ghost pinner is Adrienne Royer, better known as Cosmopolitan Conservative. The blogger and journalist, who covers politics and feminism, appears to be far from the First Lady's biggest fan, mocking her fitness campaign and "designer duds."
We've contacted Royer for an interview. Until then, we'll be watching for the real Obama's response to this snarky board.
Will she follow in Mitt Romney's footsteps and demand Pinterest rename the profile as parody?
Or will she have a good chuckle? Either way, we can't wait to find out.
Photo via Twitter