Last night, President Donald Trump accepted the Republican nomination for president.
During his more than hourlong speech, the president took swings at his opponent Joe Biden, promised a COVID-19 vaccine before 2021, and condemned the Black Lives Matter protests erupting around the country. People around the nation tuned in to watch his remarks but ended up distracted by Melania Trump—and her choice of attire.
First, Melania and Ivanka Trump's awkward exchange spoke volumes: As many wrote on Twitter, they don't seem to like each other very much.
The first lady strutted into the convention in a striking lime-green dress that reached nearly to the floor. The color of the dress was certainly eye-catching, but it was the meme potential behind it that really got people excited. In no time, photos and videos of Melania's green screen gown had been overlaid with coronavirus statistics, jabs at the president, and footage of Biden and Sen. Kamala Harris (D-Calif.).
Melania Trump's green dress, memed
The meme potential was too good for many to pass up. As the president spoke, memers were hard at work creatively reworking the dress into something they found more appropriate. Like a lovely COVID-19 frock.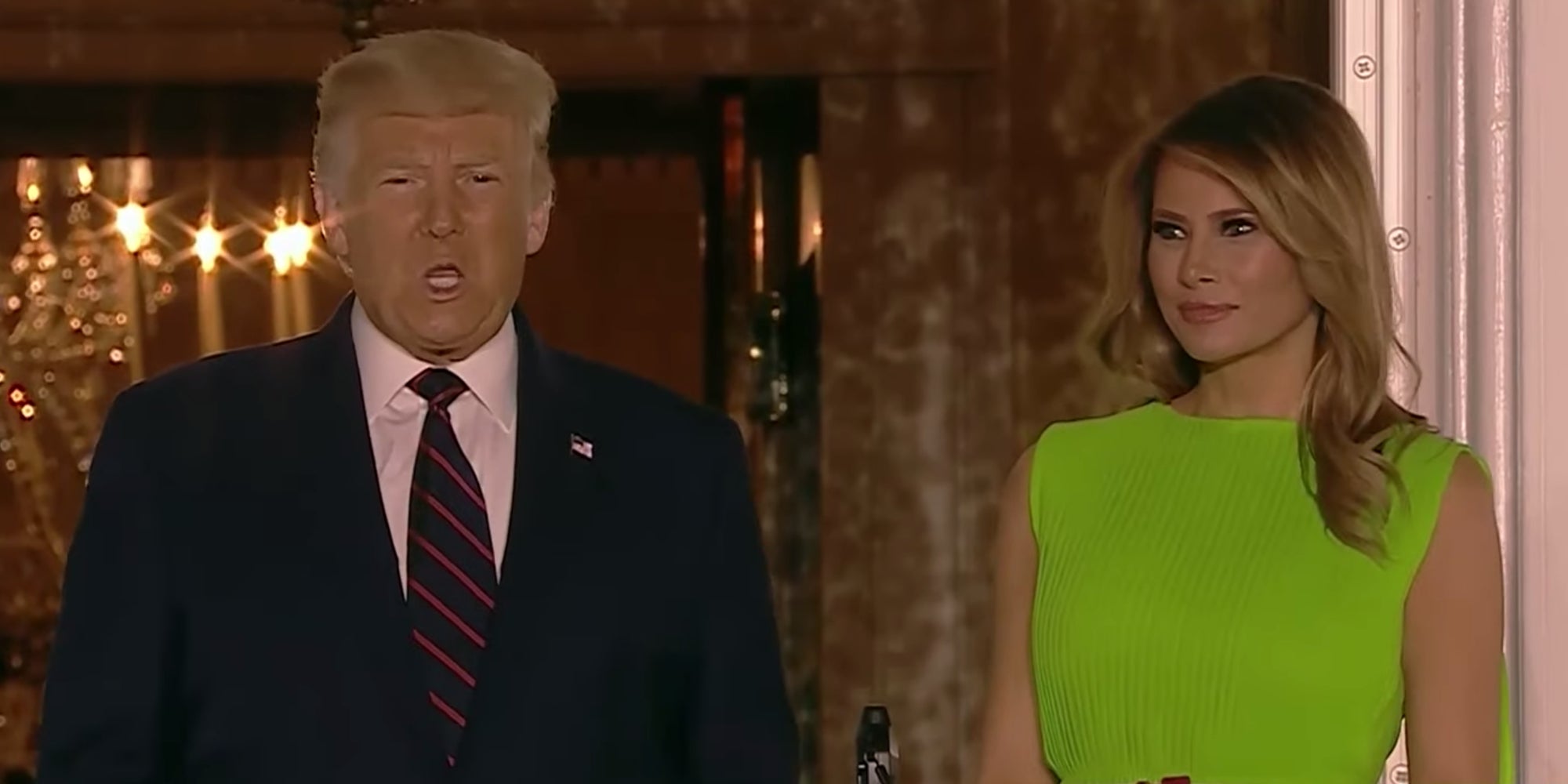 Or somewhat distracting charts and statistics, detailing the coronavirus deaths the U.S. has suffered under Trump's watch. (More than 184,000 in the country as of Friday morning.)
Some of the memes got dark. Videos of the riots spurred by recent police killings of Black men soon made their way onto her gown.
As did children in cages. Even Jeffrey Epstein made a show.
One of the best meme compilations of the night came via Stephen Colbert and The Late Show. His team compiled a number of memes onto the dress, ending on Melania's ill-advised "I really don't care, do u" outfit choice from 2018.
Eventually, the Melania meme made it full circle as Monday's Kim Guilfoyle-as-Rita-Repulsa meme from the RNC was photoshopped onto the dress. It is now a meme within a meme. Meme-ception, if you will.
Many people questioned how Melania failed to learn from the queen's similarly meme-worthy fashion gaffe from 2016. Bright green is never a good call.
Maybe this incident will remind Melania to go for a safer color next time.