'Pharma Bro' Martin Shkreli, one of the internet's most hated figures, is asking his Facebook followers to get hair samples from Hillary Clinton that he wants to use to prove she's a murderer.
"The Clinton Foundation is willing to KILL to protect its secrets," Shkreli wrote on Facebook. "So on HRC's book tour, try and grab a hair from her. I must confirm the sequences I have."
Shkreli, who was found guilty of securities fraud last month, is offering $5,000  per hair—only after the "sequences" match. He is infamous for his pharmaceutical company drastically raising the price of a drug used by HIV patients from $13.50 to $750 per pill.
Clinton is about to embark on a tour promoting her new book, What Happened, which reflects on the 2016 presidential election and her primary battle with Sen. Bernie Sanders (I-Vt.).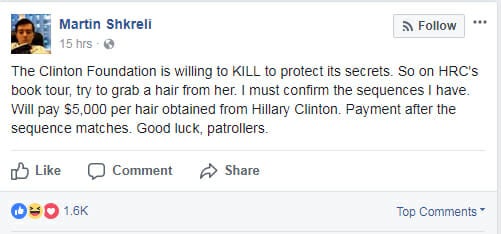 Some people responding to Shkreli's Facebook post appeared willing to try to get the hair, amid a deluge of sexist comments about Clinton.
Shkreli harassing women is nothing new.
His Twitter account was suspended after he changed his profile's header image to a collage of photos of Teen Vogue writer Lauren Duca and his profile photo to one of Duca sitting next to her husband with Shkreli's face Photoshopped onto his.
The harassment of Duca followed her viral piece for the magazine called "Donald Trump is Gaslighting America" and an antagonistic interview with Fox News host Tucker Carlson. Shkreli invited Duca to Trump's inauguration, which she swiftly rejected—prompting the bizarre Twitter changes.
Shkreli says he plans to appeal his conviction, for which he faces up to 20 years in prison.