Rep. Marjorie Taylor Greene (R-Ga.) has finally had enough of America. Launched in 1776 as an experiment in representative democracy, the nation has endured its fair share of fights and fractures but nevertheless endured.
Greene announced today, though, that the confederation of states should be dissolved. Or, as she put it, have a national divorce. Greene, who is a representative of the United States, advocates cleaving the country into two sides: one liberal, one conservative.
"We need a national divorce," Greene tweeted Monday morning. "We need to separate by red states and blue states and shrink the federal government."
She claimed that "everyone" she talks to agrees.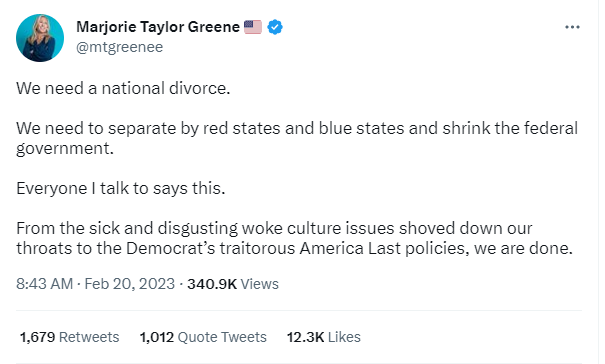 If the rhetoric sounds familiar, that's because it's happened before. What Greene's essentially calling for is a second Civil War.
Naturally, Greene blames Democrats, whom she accused of shoving "sick and disgusting woke culture … down our throats" and advocating "traitorous America Last policies."
The "America Last" claim comes on the heels of President Joe Biden's visit to Ukraine, which has upset conservatives.
"…[W]e are done," she added, presumably referring to Republicans.
People reacted with a mix of mockery and alarm. Multiple Twitter users brought up the fact that Greene herself was recently divorced. "Why is divorce such a trend for you?" @ClayOnAir joked.
Others wondered where Greene would move to in the unlikely event that her calls for a national divorce are heeded. Given Georgia's shift towards Democrats in recent years, she'd presumably likely need to relocate to a "red state."
A few of her hard-core supporters are on board with the idea, but more people feel that separating citizens into states that correspond with their political views is un-American.
The language by Greene, shocking as it may be, is not out of the ordinary for far-right conservatives. Extremist Republicans and QAnon followers like Greene frequently fantasize about another Civil War.
"'National divorce' has to be the stupidest possible way of saying 'bring back the Confederacy,'" @JoshuaPHill tweeted.
"This is treasonous. Period," commented @DeanObeidallah.
Another person referred to her as "the poster child for toxic anti-Americanism."
Even some of Greene's fellow Republicans were appalled by her comment.
Former congressman Denver Riggleman opined, "I would think that this alone would disqualify a sitting member of Congress from serving on the Committee for Homeland Security. It's a ludicrous statement."
This isn't the first time Greene has mused about a national divorce. Just over a year ago, she wrote a thread arguing that Democrats make everything worse and thus are unwelcome in conservative communities.
At the time, Greene, whose divorce was recently finalized, said that she's "not in favor of divorce" but advocated threatening one as a "wake up call" to the other party.
"National divorce is not civil war," she wrote, adding, "I don't want a National Divorce, but I not will tolerate is Democratic Communism."
"Leave your blue votes in your blue states. If you move to a red state, learn from your blue state experience that your Democrat ways failed. Then we welcome you," concluded Greene, whose state is represented by two Democratic senators and voted Democratic in the last presidential election.


We crawl the web so you don't have to.
Sign up for the Daily Dot newsletter to get the best and worst of the internet in your inbox every day.