Mail Online, the Internet offshoot of U.K. tabloid The Daily Mail, is one of the most popular news sites in the world. And now, it's publishing articles that were paid for by the British government.
If you spend any time reading online media (and we assume you do because, well, you're here), then you'll probably have noticed the rise of native advertising. This can be something as simple as a promoted tweet showing up in your Twitter timeline, but the more obvious version comes in the form of articles that look like a normal news story but were sponsored by an outsider source. One infamous example is when the Atlantic published (and then quickly retracted) an article sponsored by the Church of Scientology.
Native advertising content is typically labeled with a clear visual cue to let readers know that they're reading an ad, but is purposefully written in a way that blends in with the style of the newspaper or website. The New York Times was criticised recently for shrinking the labels on paid content, which could lead to more people mistaking ads for uninfluenced journalism.
Written by Daily Mail journalists in the style of a normal article, the new government-funded Mail Online content is marked out by a "sponsored by…" subheading. The first example is an article about slavery, sponsored by the U.K. Home Office.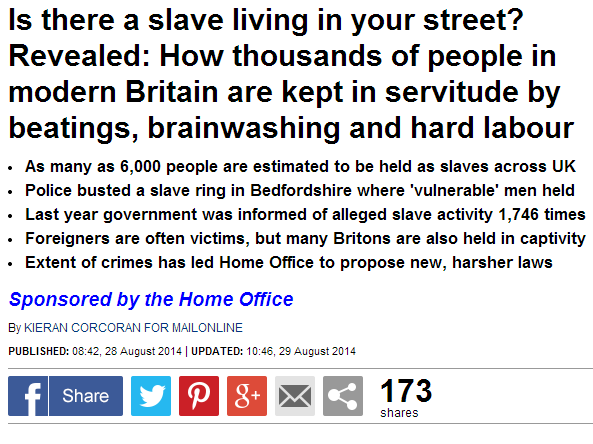 Screenshot via Mail Online
Native advertising will likely always going to be controversial because many people feel that its purpose is to trick readers. Earlier this year the New York Times ran a 1500-word article about female incarceration, including infographics and video, which was in fact a native advertisement for Orange is the New Black. 
If you failed to notice the label at the top of that Orange is the New Black article, then you might be annoyed to find out that you hadn't been reading a genuine news story. However, making the same mistake over a government-sponsored article is another matter entirely. It's very easy to imagine how this kind of arrangement could be used for more than driving sign-ups to Netflix.
Photo via Wikimedia Commons (PD)