A Louisiana congressman called for killing "radicalized Islamic suspects" on his verified Facebook account on Sunday morning.
Rep. Clay Higgins (R-La.) posted a photo of what appears to be British soldiers standing over the bodies of victims of the London terrorist attack on Saturday. The post, which has generated hundreds of comments, was addressed to "all Christendom," and says they are at "war with Islamic horror."
Higgins also calls for the same people to be hunted down and killed "for the sake of all that is good and righteous."
Higgins represents Louisiana's third congressional district, which he won as a result of a runoff election in December.
Here's the entire post:
The free world… all of Christendom… is at war with Islamic horror. Not one penny of American treasure should be granted to any nation who harbors these heathen animals. Not a single radicalized Islamic suspect should be granted any measure of quarter. Their intended entry to the American homeland should be summarily denied. Every conceivable measure should be engaged to hunt them down. Hunt them, identity them, and kill them. Kill them all. For the sake of all that is good and righteous. Kill them all. -Captain Clay Higgins
A spokesperson for Higgins confirmed the authenticity of the Facebook post and tried to clarify its meaning when contacted by Mother Jones.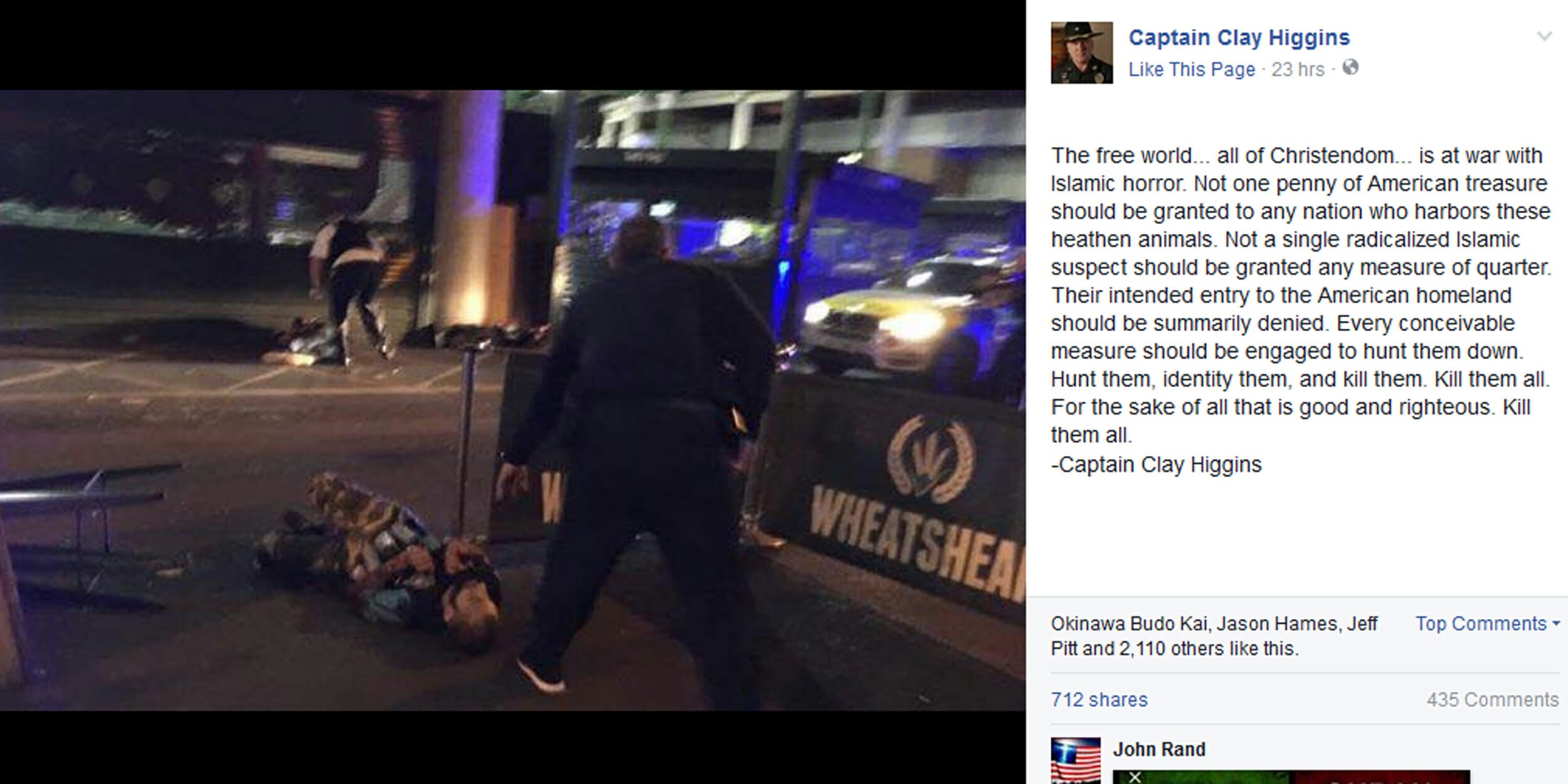 "Rep. Higgins is referring to terrorists," the spokesperson told Mother Jones. "He's advocating for hunting down and killing all of the terrorists. This is an idea all of America and Britain should be united behind."
People dug in on Higgins' incendiary remarks after he posted the photo and message.
"Wow, you are no better than a terrorist. I'm more afraid of people like you than a refugee who was vetted for 2 years by 7 Intel agencies. I think we need better vetting for our representatives. You are an unhinged lunatic and playing right into what ISIS wants," one person wrote.
"This is extremely hateful," another wrote. "I didn't vote for you, but you represent me and I'd like to hear a lot less hateful speech from the politicians that serve me. Your disparaging rhetoric is disheartening and it's prime propaganda verbiage for the folks you're advocating we kill."
Higgins has a history of saying less-than-respectful things. He resigned as a captain from the St. Landry Parish Sheriff's Office in February after his boss ordered him to tone down the rhetoric in his "CrimeStopper" videos he made where he made inappropriate comments.
"I don't do well reined in," Higgins said at the time. "Although I love and respect my sheriff, I must resign."
H/T Gizmodo