"My light's on. I'm looking for a fare. When the traffic moves, I'll move."
Paul's black cab was parked lengthways across Northumberland Avenue, just off Trafalgar Square in central London. Just as cab drivers blocked the roads in Paris, Berlin, and Madrid, drivers of London's historic black cabs brought the city's streets to a standstill as a protest against car-sharing apps like Uber and Hailo.
"How would I get arrested?" said Paul, the 35-year veteran cab driver, after a talk with the police. "I don't think they will."
An estimaged 5,000 cabs and motorcycle couriers snared up the city of Westminster. Moving as slowly as possible, and adamant that driving on a sunny afternoon wasn't a criminal offense, cabbies showed their contempt for London's transport authority with signs mocking Transport for London (TFL) for failing to enforce a law that regulates who can pick up passengers and charge using a meter in the U.K. capital.
Don't be threatened, it is not an offence to drive in London on a weds PM Remember this when the Police ak for help:-pic.twitter.com/DM2HbVXaSc

— The LTDA (@TheLTDA) June 9, 2014
The agency is, according to the signs, "Totally Failing London." Uber is "Under Boris" Johnson, the mayor of London who supports big business, "Exempt From Regulations."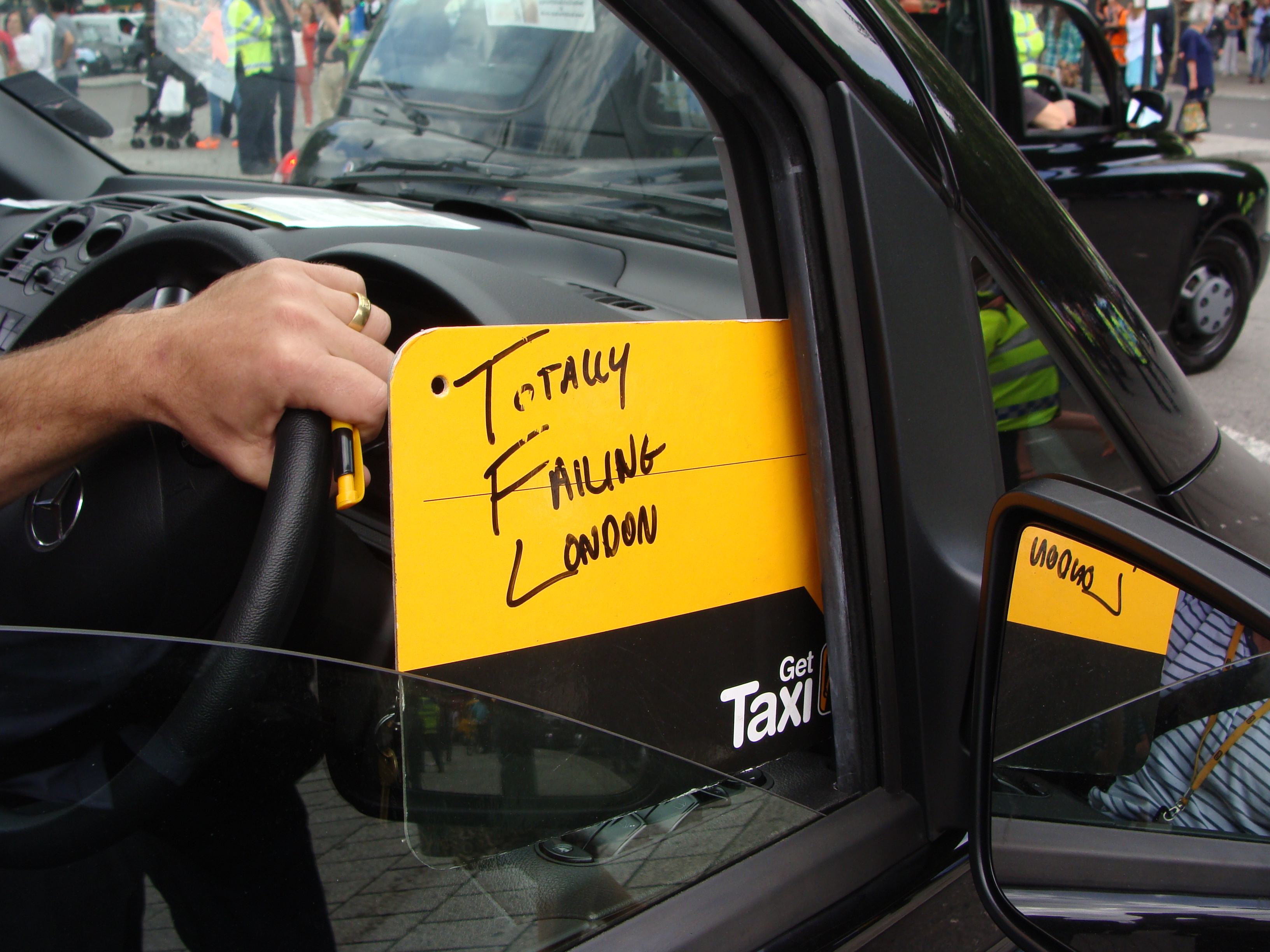 Later this year, England's High Court will decide if the smartphone app that Uber drivers use to calculate fares is essentially a taxi meter, which could send the multibillion-dollar firm back to the drawing board—in London at least.
"It calculates the time and distance. That's a meter to me," said Glen Chapman, a cabbie from south London.
Drivers also poured scorn on Hailo, another booking app for black cabs, after the company's "betrayal," when it opened the app to minicabs.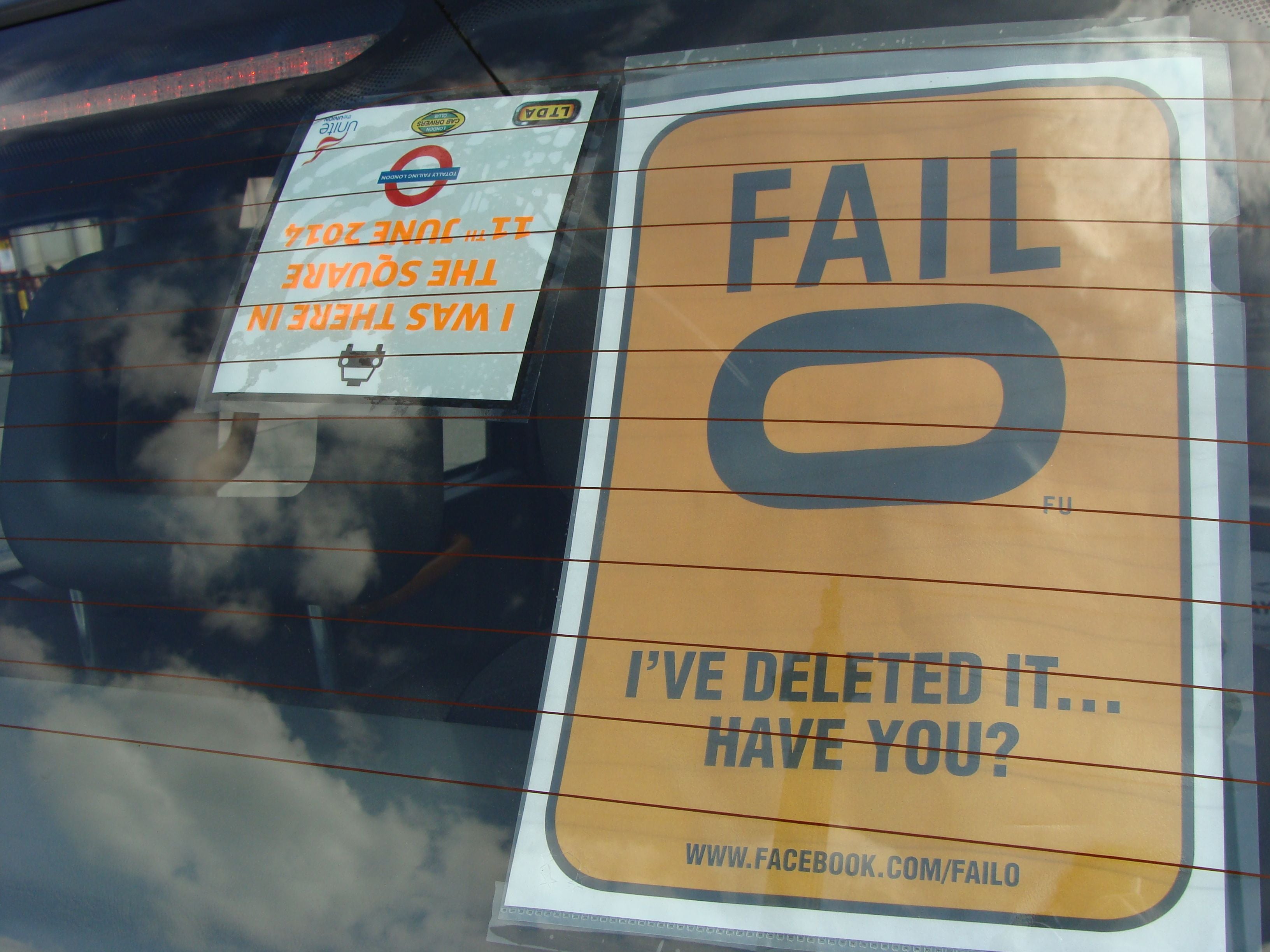 Chapman is one of the few London cabbies to still use Hailo. He had just heard about UberTAXI, the firm's new service for black cab drivers, which was launched on the same day as the protest.
"How much are they charging—5 percent? Yeah, I'll probably use them."
But in the meantime, Chapman thinks Uber is gaming the system. "What this protest is about is enforcing the law. If you have a law it has to be enforced."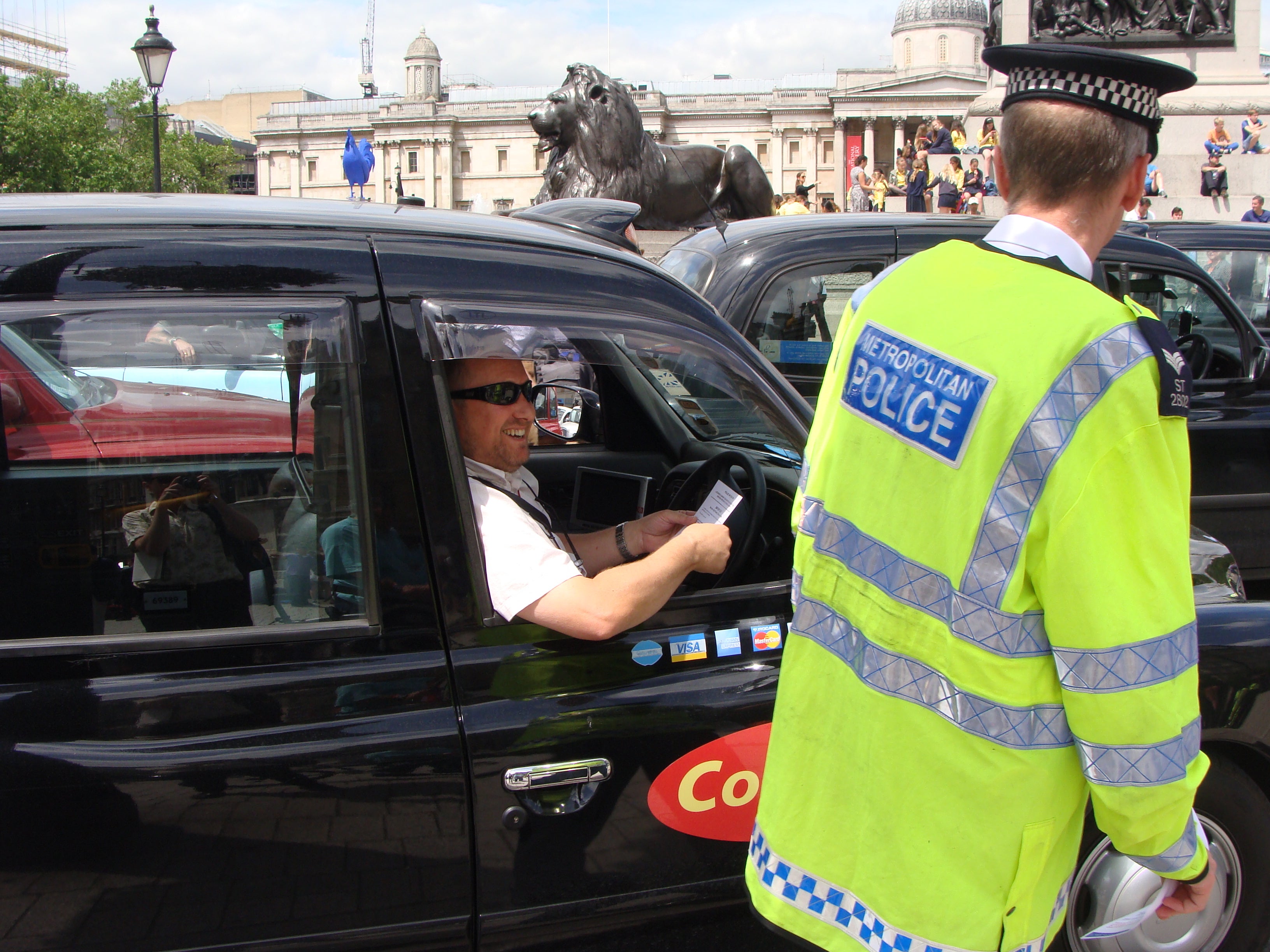 "Look at this cab. It's got to have strenuous tests. I've got to buy this cab, have all these meters, the insurance is a lot of money. And yet you can go and get a Prius and do the same job now. You don't need to have any knowledge of London. Either enforce the law or scrap it all together, have a free for all."
The regulations giving black-cab drivers special use of meters is a privilege that many cabbies, however, are less willing to give up or share with their big American rival.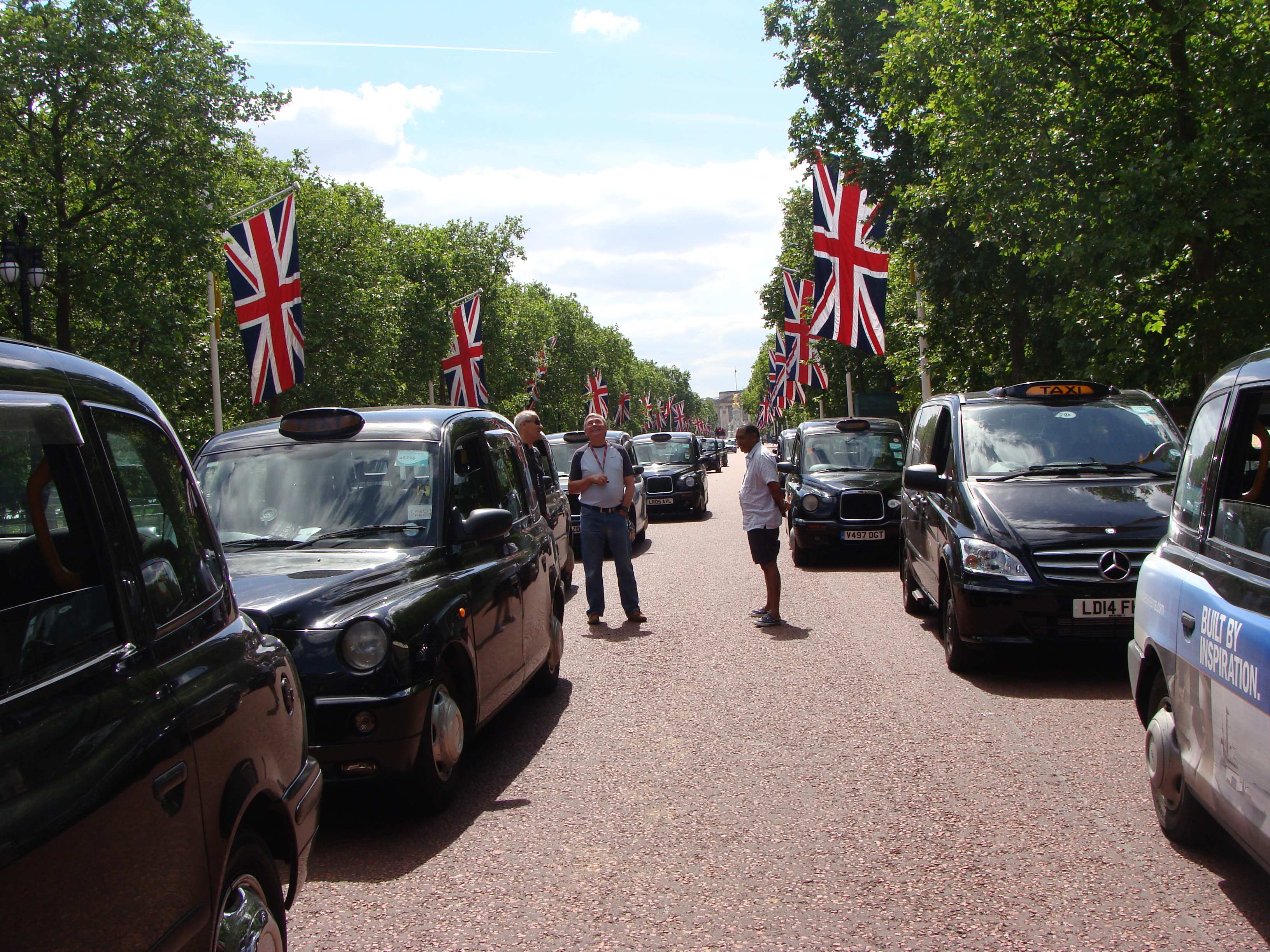 "It's not a monopoly," Paul insisted as the traffic around Trafalgar Square was being diverted by police. "We're governed by transport regulations. We have a meter set by the government. If people want to get in a minicab and be charged whatever firms want to charge, that's up to them."
"We've done the Knowledge," Paul referred to the notorious test that black cab drivers have to pass before they can get a licence.
"Name me a road in London and I'll tell you where it is. Have you ever used GPS? Has it ever taken you the wrong way down a one-way street? That's why. We don't need that."
When the Telegraph tested black cabs against Uber's minicabs this week, it found black cabs to be quicker. Unlike the Uber drivers, they weren't baffled by a dodgy GPS system. The fare on the meter was just under a third more for a trip across London, although cabbies say their meters are more transparent than Uber's prices, which have been criticized for surging dramatically during busy times.
But John Kearns, a 53-year-old who happened to be passing through London, made it known that the knowledge isn't everything nowadays, which is why he didn't complete his training as a cabbie. "I could see these changes coming," he said. "These changes are here to stay."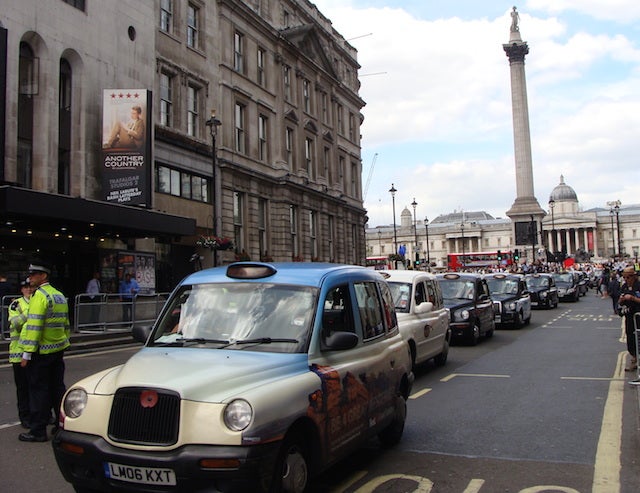 At the stroke of 3pm, the cabbies jamming the Mall leading to Buckingham palace got back in their cabs, started their engines and began to disperse; their hour of allocated protest time was over, and as one cabbie said, "We're not going to start a riot."
At the end of this summer's day in London, it may have been Uber, the firm backed by Google and Goldman Sachs, that had its day in the sun. "Today we're seeing an 850 percent increase in sign-ups compared to last Wednesday," Jo Bertram, the firm's U.K. and Ireland general manager, said.
After claiming that London was "voting with its fingers" by installing the app after seeing the protests, Bertram accused the London Taxi Drivers Association, which organized the protests, of "being stuck in the dark ages" and "holding London to ransom."
Uber sees 850% increase in app downloads in last 12 hours, thanks to the #LTDA's terrifically helpful cab protest pic.twitter.com/BqYY6MWPld

— Asa Bennett (@asabenn) June 11, 2014
With Rail, Maritime and Transport (RMT) Union officials shouting loudest above the din of car horns, comparing the plight of cabbies to those of dockers and miners, London's drivers feared their trade was becoming a museum piece.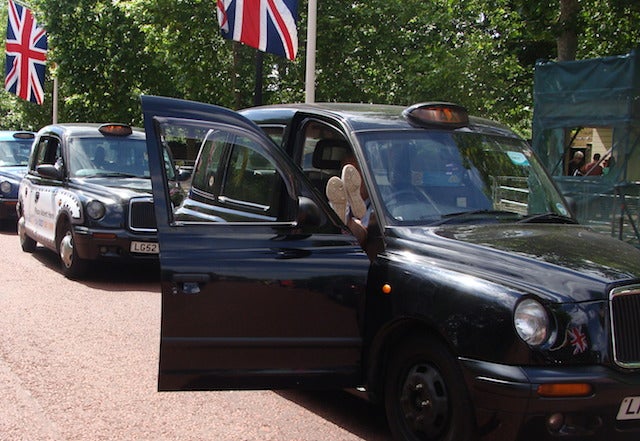 "It will be sad to see the old black taxi as an icon disappear," said John Kearns, warning cabbies blocking Trafalgar Square not to scorn technology. "In the same vein, you could use the old telephone boxes. Most of the old red telephone boxes got shipped abroad. But tourists still come over and like to go in them."
For London's cabbies, despite a day of gridlock, the traffic still appears to be moving around them.
All photos via Lewis Parker