Rep. Liz Cheney (R-Wy.) made her views abundantly clear about a potential pardon for Edward Snowden on Sunday night, and her assertion that he put "our troops and our nation at risk" is causing a lot of people to remind her of who her father is.
Over the weekend, President Donald Trump said he was going to "take a very good look at" pardoning Snowden, the former NSA contractor who leaked classified documents about the sprawling surveillance apparatus in the U.S.
Trump's comments echoed ones from late last week, where he told the New York Post "there are a lot of people that think he is not being treated fairly."
The president's most recent remarks are starkly different than one's he held against Snowden in the past, where he called him a "terrible threat" and a "traitor" in 2013.
But it appears that Cheney, the daughter of former Vice President Dick Cheney, isn't a fan of a potential pardon of the whistleblower, and shares some of the same feelings Trump had seven years ago.
"Edward Snowden is a traitor. He is responsible for the largest and most damaging release of classified info in US history. He handed over US secrets to Russian and Chinese intelligence putting our troops and our nation at risk," Cheney tweeted on Sunday night. "Pardoning him would be unconscionable."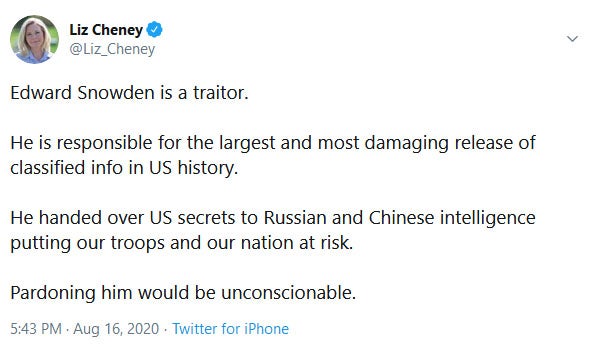 But Cheney's remarks about "putting our troops and our nation at risk" struck a nerve for a lot of people online. (This isn't the first time Cheney's views on policy have been mocked given her family ties.)
Cheney's father, while vice president, was part of an administration that pushed the U.S. into the war in Iraq, which was built on the false narrative that then-president Saddam Hussein had "weapons of mass destruction."
The disastrous two-decades-long Iraq War led to thousands of U.S. troops dying.
People were quick to point that out in response to Cheney's tweet about Snowden.
Even Snowden himself noticed Cheney's tweet.
"twitter: the museum of the confidently incorrect," he tweeted on Monday morning.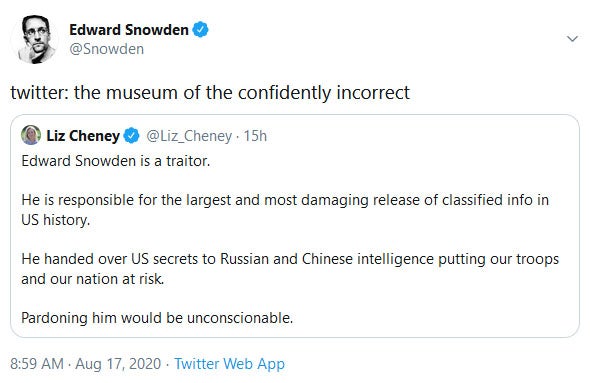 ---
Read more of the Daily Dot's tech and politics coverage