Make no mistake: Lena Dunham did vote in the 2012 presidential election.
In probably the most important tweets of this generation, the Girls creator took to Twitter Thursday to refute a crazy claim that she failed to cast a ballot.
Alleged real website Room Eight breathlessly reported that "a Lena Dunham registered to vote in Brooklyn did not vote in the 2012 general election or in any local elections since she moved from her prior address in Tribeca."
The post begins by a creepy retelling of Dunham's story about her losing her virginity to Rookie Mag. Gatemouth, the author's pseudonym, described her story as "semi-public" (since someone else walked in) and "somewhat disappointing."
"[The] story … eerily parallels Dunham's political history," it gushed. The reason? Well, it comes down to an Obama campaign ad where she lustfully describes her losing it for her "first time." "It" being her electoral virginity and not a mesh tank top she so frequently wears on her HBO show.
Gatemouth probably thought he/she had the scoop of the generation that would rock the millennial's world. Welp, nope. Dunham took aim at the "some people" on Internet and called the voting system a "steampunk cornmaze."
Since she was in India during the election, she described her harrowing tale of voting.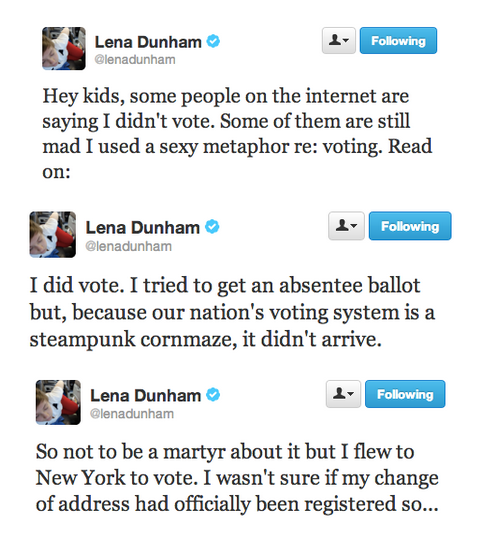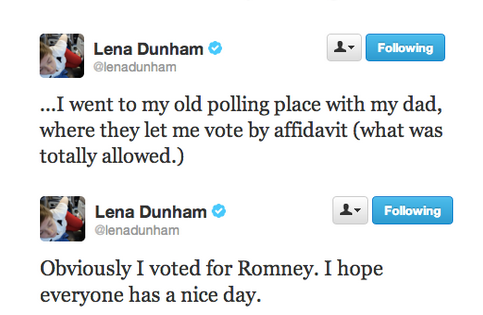 This sounds like a perfect reflection piece for Jazzhate.com, Lena.
Tweets via Mediaite // Photo via Lena Dunham/Instagram