Ladar Levison, the founder of Lavabit, Edward Snowden's email of choice, shut his company down in August because of pressure from the Federal Bureau of Investigation, which had served the company with an information. A judge ruled that Levison had to turn over his encryption keys to the service. Levison chose to shut down his company and trash the servers rather than comply. 
Less than a month later, Levison made the decision to appeal the judge's ruling, in the attempt to keep the service viable. 
Now a document has come to light, a letter by Levison to the Assistant U.S. Attorney, that shows Levison offered the authorities information on user accounts—possibly, though not certainly, including Snowden—a request that was legally made and legally binding, if Lavabit were allowed to "capture the required data (themselves) and provide it to the FBI."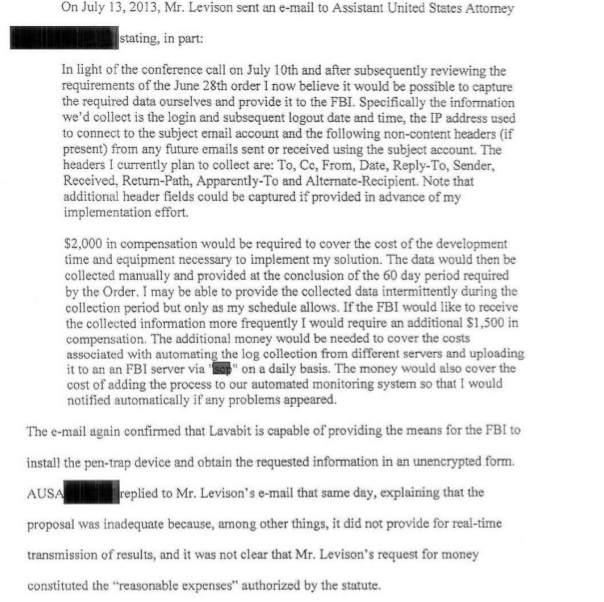 A decision made regarding Levison's appeal has allowed him to make an announcement on his Facebook page, acknowledging the appeal (so much of these secret cases are illegal to share, including most of the time, the mere fact that they exist), and announcing that "Although most of the documents have been redacted, 23 court orders, pleadings, and other documents are now available to the public while the case is on appeal in the Fourth Circuit."
The agency wanted to "tap" the metadata of certain email accounts. Given the timing, early August, they were quite possibly after Snowden's location. 
He offered to collect information on the FBI target's accounts—including the To, CC, From, Date, Reply-To, Sender, Received, Return-Path, Apparently-To, and Alternate-Recipient fields—and deliver it to the FBI by the end of the 60 period of the Department of Justice court order for $2,000. If the FBI wanted the information on the accounts more often, Levison offered to provide it for an additional $1,500, a figure he said he'd need to cover "automating the log collection and uploading it to FBI servers." 
The FBI provides compliance funds to companies it requires information from, to cover the their expenses. 
Levison's proposal was ostensibly rejected, in part because "it did not provide for real-time transmission of results." But it was also deemed "inadequate" because "it was not clear that Mr. Levison's request for money constituted the 'reasonable expense' authorized by the statute."
When presented with the order for his encryption keys, the judge also added a $5,000-per-day contempt-of-court citation for each day he delayed handing them over. 
So Levison did in fact provide them. In 11 pages of four-point font. 
The five keys totalled 2,560 characters and the result was a document the FBI called "illegible." Not to mention, if one keystroke were made incorrectly (or altered), none of it would work—and the process of troubleshooting it would begin to eat up no end of time.
H/T Chris Soghoian | Photo by Gage Skidmore/Flickr