Far-right conspiracy theorist Laura Loomer likes calling herself "the most banned woman in the world."
Unlike many of her claims, this one holds water. She's been banned by Twitter, Facebook, Instagram, GoFundMe, Venmo, PayPal, Uber, Lyft, and more.
The Twitter ban must've stung, because she handcuffed herself to the company's headquarters in protest. Rather than press charges, Twitter let her stay there until she tired herself out shouting that her ban was "a human rights issue" and went home.
Last night, jaws dropped when Loomer won the Republican primary for a south Florida congressional seat. She now faces incumbent Rep. Lois Frankel (D-Fla.) in the heavily Democratic district.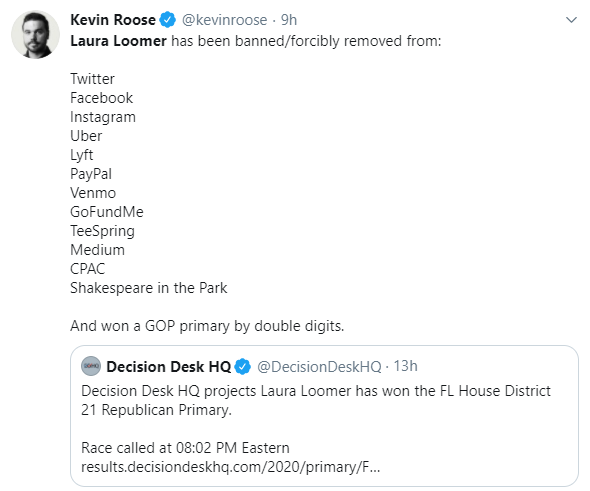 While other congressional candidates have been banned, Loomer seems to be the only one to have won a primary. Almost every candidate running for office these days has a Twitter presence. Loomer not being allowed one—despite her antics—could be considered Twitter unfairly tipping the scales.
So now that she's won the GOP nomination, some are wondering if Twitter will reconsider Loomer's permanent suspension.
Loomer's fans certainly hope to see her return. To them, she is a symbol of conservative censorship on social media.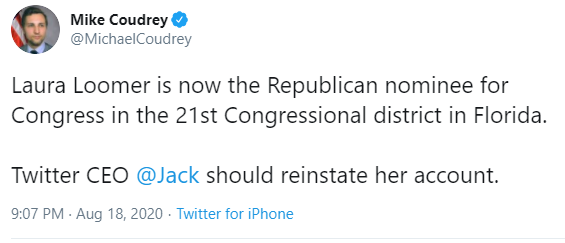 To others, Loomer is a sideshow extremist as bizarre as her conspiracy theories are dangerous.
Loomer made a name for herself by being willing to do just about anything to get attention.
She's jumped fences at the California Governor's Mansion and Rep. Nancy Pelosi's (D-Calif.) house, the latter with some dudes she met at a Home Depot. Disrupting congressional hearings, book promotions, and plays is in her bag of tricks. So is sneaking into high-profile trials and filing frivolous lawsuits.
Loomer often has someone film her antics—which she calls "activism"—so she can post them on the internet.
Social media is Laura Loomer's natural habitat.
In addition to videos of her various stunts, like putting a burqa on the Fearless Girl statue, she has a penchant for sharing conspiracy theories, slander, and Islamophobia. A daylong anti-Muslim rant on Twitter earned her bans from Lyft and Uber in 2017.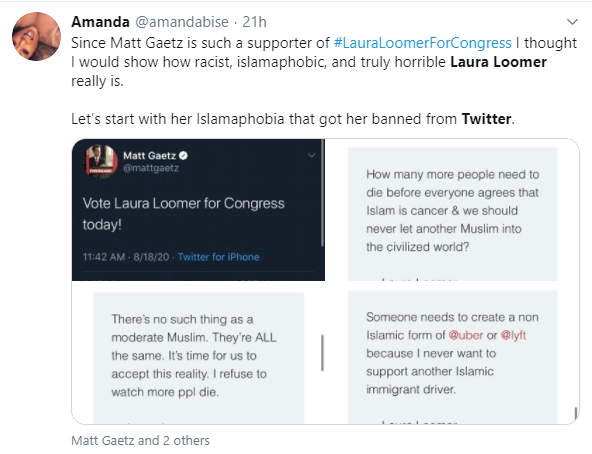 Over the years, Loomer's antics have earned her a motley crew of conservative bedfellows and fans.
Sex scandal hoaxster Jacob Wohl is a pal. Ezra Levant, her then-employer at the far-right website Rebel Media, solicited donations for Loomer when she was arrested for disrupting Shakespeare in the Park. Jack Posobiec was by her side on that memorable occasion. InfoWars correspondent Millie Weaver was wearing a Loomer shirt when she was recently arrested.
Former presidential campaign adviser and convicted felon Roger Stone, along with far-right troll Milo Yiannopoulos, were by Loomer's side when she won the primary last night.
Not all of Loomer's cohorts have been criminally indicted (yet).
President Donald Trump is domiciled in Loomer's district, which includes Mar-a-Lago. Trump may even have voted (by mail) for her. Earlier this year, his campaign used her email list to solicit donations.
Following her win, the president tweeted congratulations.
"Great going Laura. You have a great chance against a Pelosi puppet!" Trump said.
It is unknown whether a presidential endorsement will sway Twitter.
Update 3:01pm CT: A Twitter spokesperson told the Daily Dot that Loomer "was permanently suspended for repeated violations of the Twitter Rules, and we do not plan to reverse that enforcement action."