U.S. Secretary of Homeland Security Kirstjen Nielsen came under fire today for seemingly endorsing President Donald Trump's controversial comments regarding last year's Charlottesville rally while speaking at a forum on security in Aspen, Colorado.
Following the violent rally last year, Trump made statements explaining that there "were fine people on both sides," at the "Unite the Right" white nationalist rally. The event resulted in the death of Heather Heyer after a man with ties to white nationalist groups rammed his car into a group of people protesting white supremacy.
Nielsen seemingly agreed with the president's previous statements, saying that, "I have to work with everyone to help communities understand, what are the warning signs? What are the ways in which we can prepare, and that's no matter who it is," she said when asked if the president's tone on the issue has made her job difficult on Thursday at the Aspen Security Forum. "I think what's important about that conversation is that it's not that one side was right and one side was wrong. Anybody that is advocating violence, we need to work to mitigate," she continued.
.@SecNielsen echoes Trump's #BothSides comments about violent white supremacist rally in Charlottesville: "I think what's important about that conversation is, it's not that one side is right, one side is wrong — anybody that is advocating violence, we need to work to mitigate." pic.twitter.com/ezpLTuUAsY

— Aaron Rupar (@atrupar) July 19, 2018
Nielsen's attitude of indifference and attempt at nuance about the topic is sparking outrage for many who feel that condemnation of white supremacist violence is necessary from the country's head of Homeland Security.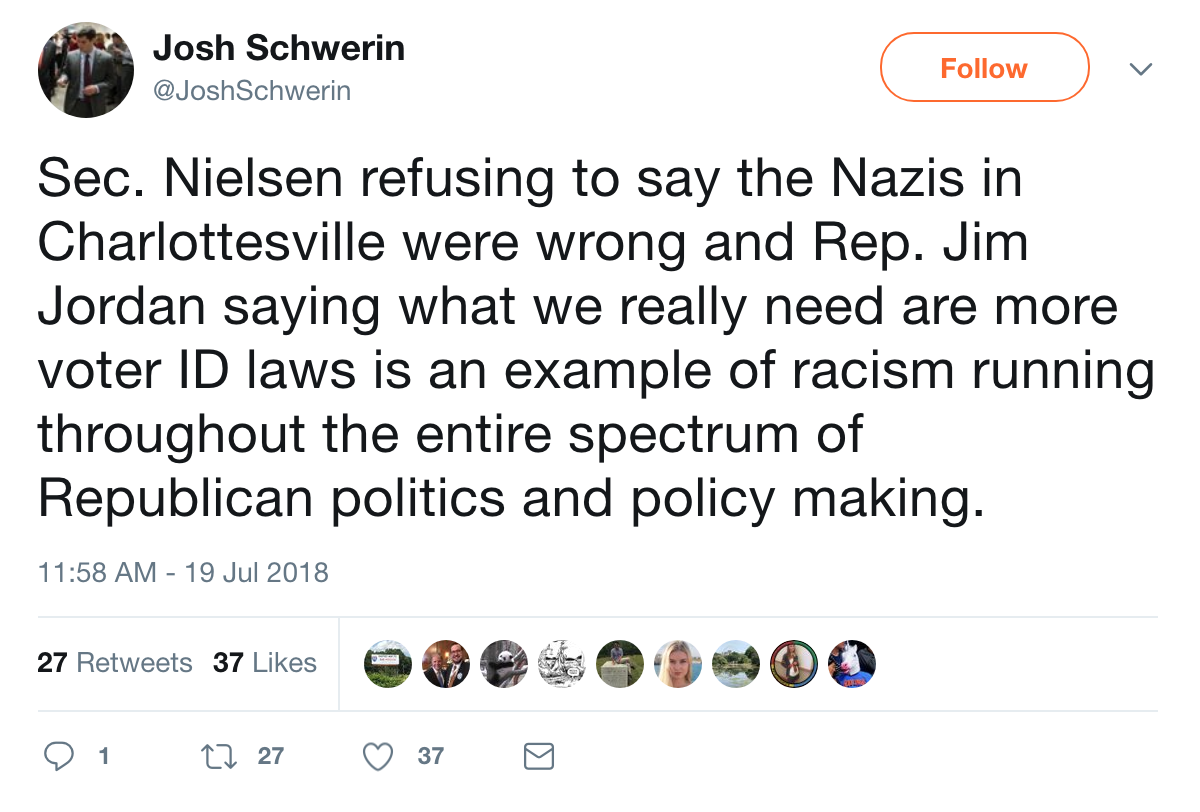 In addition to her comments on Charlottesville, Nielsen also said that she "hasn't seen any evidence" that Russia may tried to help Trump win the 2016 presidential election, according to the Huffington Post. In an interview with CBS News earlier this week, Trump confirmed that he bought the U.S. assessment that Russia did interfere with the election, but denied it helped his victory.
August will mark one year since the tragedy and Unite the Right is set to hold an anniversary rally on Aug. 11-12 in Washington D.C. near the White House.