Wednesday's Veronica Mars chaos may be just the kick in the pants the Kickstarter community needs to get its crowdfunding chops back to the high levels of popularity it enjoyed last summer.
Rob Thomas' crowdfunded movie project based on the popular cult TV show Veronica Mars went absolutely gangbusters yesterday, exceeding its $2 million goal in a matter of hours and ending its first full day on Kickstarter with a resounding $2.6 million in the funding bank.
The total makes The Veronica Mars Movie Project both the fastest project to ever reach $1 million and the most funded Film & Video project of all time—by nearly $2 million. It also makes Mars the most buzzed about Kickstarter project in months, a campaign whose surrounding conversation one could liken to Pebble Technology's great E-Paper watch campaign last May or Rich Berlew's "Order of the Stick Reprint Drive" in Feb. 2012.
Thomas' current success comes at a great time for Kickstarter, the largest online crowdfunding hub in a sea of 500. Once considered a verifiable dream maker whose wildly creative campaigns served as a consistent source of "Oh My Gosh" Internet fodder, Kickstarter's mainstream presence has plummeted lately, losing the battle against other viral trend makers thanks to overpopulation and under policing.
And while the number of projects currently accepting pledges continues to rise—up to 89,000 in Feb. after hovering closer to 60,000 last June—a recent study by NextMarket Insights analyst Michael Wolf finds that the number of new projects being launched has dropped noticeably. 4,000 new projects launched in the month of July 2012 alone. In December, that monthly tally was down to 2,366.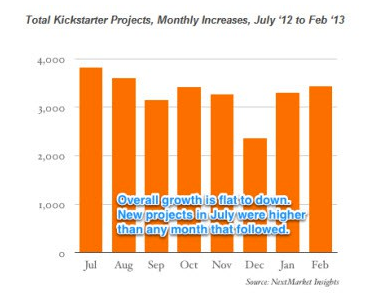 What's more, the revenue brought into the site's structure by new campaigns has also dropped somewhat drastically. Last August, Kickstarter helped raise more than $35 million for campaigns launched during that month. Now, that number's below $30 million.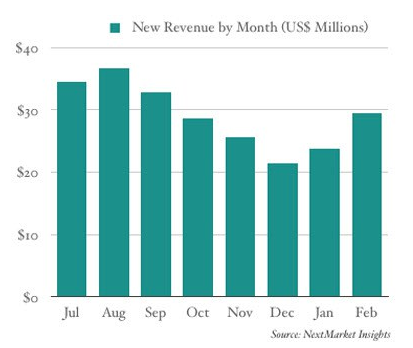 Reached by VentureBeat, a Kickstarter spokesman suggested that the site's relative youth may be to blame for the scattered figures.
"Kickstarter is still so new and this is just the beginning of the first chapter," the spokesman said. "We're committed to sharing our stats and hope it helps everyone understand the Kickstarter community better."
One man who may have mastered that community's nature is Veronica Mars creator Rob Thomas, who woke Thursday morning to see that his campaign's funding totals keep climbing.
"Holy cow, what a day," he wrote to donors just after 4am Thursday morning. "We couldn't be happier.
"We can't believe we've topped out on so many of our bigger reward packages. We're working on coming up with some new high end rewards. This might also take a few days, but more will appear. Thank you so much."
Photo via Veronica Mars/Facebook