Burning Man starts and ends with nothing.
But for a week starting August 26, Nevada's Black Rock Desert will be transformed into a psychedelic city, a sublime gathering of independent thinkers getting their collective freak on. "There was nothing," a friend once told me, "and all of a sudden you have an ice shop, a corner jazz band, a postal service."
For artists around the word, the festival's "leave no trace" ethos provides a unique set of challenges, from transport and logistics to cleanup, one heightened by the community's general disdain for corporate sponsorship.
Now more than ever, crowdfunding efforts are changing the way Burning Man operates, making it possible to pull of grand-scale projects. Members of the community are turning to platforms like Indiegogo and Kickstarter to fund everything from enormous vagina sculptures to the return of the grand  "Temple," one of the more ambitious projects undertaken every year.
"We've always had fundraising within the Burning Man community," Will Chase, a member of Burning Man's communication team, told the Daily Dot. "People were doing very ad-hoc efforts from Paypal buckets to 'Hey, email me some money.'"  
But, Chase noted, "there was no standardization for people to safely and securely give money."
That's changed in the last three years with the rise of Indiegogo and Kickstarter. Both crowdfunding platforms operate basically the same way: Artists create campaigns with set financial goals, and in return for contributing, patrons are rewarded in some fashion with perks, based on their level of commitment. Patrons are only charged if the campaign reaches its goal, so it's a simple way of testing the market before going live with an idea.
The crowdfunding streamlined Burning Man's ad-hoc process, and added transparency to the mix. "It's a convenient tool set used to create a consistent, reliable bucket," Chase said. "And it has absolutely blown up since we first started it."
Kickstarter, in particular, "jives with how our community works," Chase said, stressing the creativity of the projects and the community participation.
Funding for Burning Man projects isn't left entirely to the crowd, however. An art grant funded by ticket sales awards "3/4 of a million dollars in art grants every year," Chase said. The catch is that even for the 30 to 45 projects funded, Burning Man "intentionally do(es) not provide the full funding an artist is asking for," Chase noted.
"It's up to them to raise the rest, and that encourages them to reach out to their community and make those new connections."
The Charcade by Toronto's Site 3 coLaboratory, for example, is $10,000 on Kickstarter to supplement its grant. The group aims to bring their live action, flame-spewing arcade games to the "playa," the word commonly used to denote the central area of Black Rock City where the magic and mayhem take place. Games will include last year's popular Super Street Fire, as well as Dance Dance Immolation and several others. (While some of the Charcade's games have visited the playa before, this will be the first year the entire arcade will be available for Burners to experience.)
"Five of the seven fire games within the Charcade have been to Black Rock City in previous years, but never before have fire art games joined forces to create something even bigger and more impactful," explained Site 3 team member Sara Vinten. "We have been fortunate enough to have been awarded Honourarium Status [the Burning Man grant] two years in a row now, but we always have some additional fundraising to do.  Having such an accessible crowd-funding platform has been invaluable to the success of our projects, and will for years to come."
Like Site 3, the makers of the Beezus Christ—a "mobile bee mutant vehicle" featuring a honey and mead bar on deck—couldn't do it alone. Funding her first art car in 2011 through Kickstarter, Beezus co-creator Michelle "SmallFry" Lessans felt emboldened by that success enough to try again and sought to $3,750 on the site.  
"Even though it's stressful, I kind of like the 'all-or-nothing' approach," she said.  "For a project that's going to be otherwise self-funded on a social worker's salary, you basically need the whole shebang."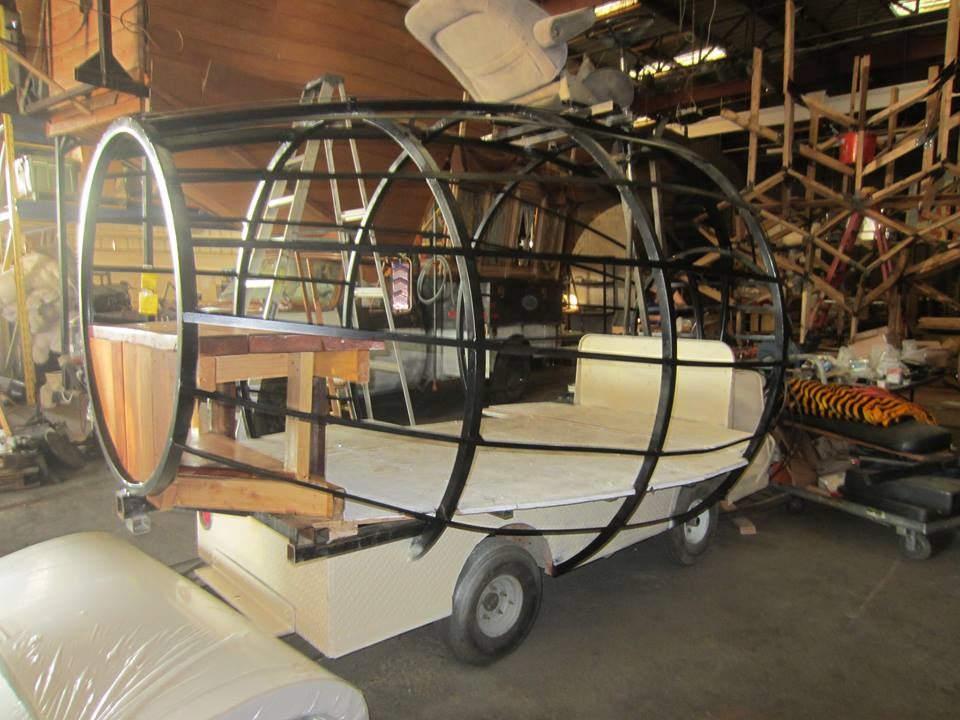 There is a potential downside to the burgeoning crowdsource model. "We're starting to see donor fatigue, and that's just the nature of the game," Chase acknowledged. "It's a little overwhelming, but it's a great tool for our community."  
But Burning Man has a rare characteristic that separates it from other crowdfunded projects: The ability to showcase and enjoy the end result for one splendid week—together.
Photos via Kickstarter