Kerri Harris is a part of the story playing out across America in the post-2016 landscape. She's a member of the Democratic Socialist branch that's pulling the party leftward in the hopes a more progressive platform can fix its election failures. The Air Force veteran is challenging Sen. Tom Carper in Delaware and she's running on ideas that are becoming increasingly common.
What we know about Kerri Harris
Harris supports Medicare for All and prison reform. She wants to raise the minimum wage to $15 an hour and forgive college loans. A few years ago, these were shocking ideas and while today they still send plenty of Fox News pundits into screams of socialism, they've taken hold with grassroots organizers.
In Delaware, Harris is supported by Justice Democrats—a political action committee set up to shun corporate donors. The group has found success running candidates with progressive agendas, including Alexandria Ocasio-Cortez, who recently unseated Congressman Joe Crowley (D-N.Y.). Their other notable candidates include Cynthia Nixon in the New York gubernatorial race and Randy Bryce, who is hoping to take Paul Ryan's seat in Wisconsin.
Shunning corporate donations has become a litmus test for Democrats with just about every 2020 hopeful vowing not to accept corporate PAC money. And Harris has been hitting Carper hard on his corporate backing, arguing that he doesn't represent his constituents.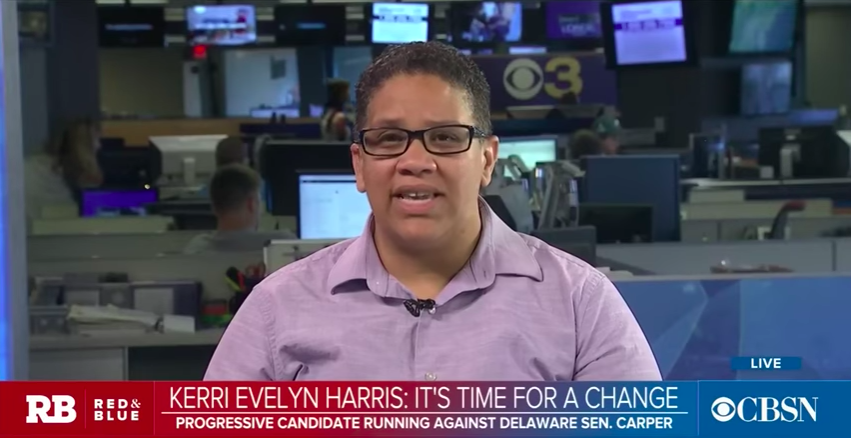 READ MORE:
Can Kerri Harris beat Tom Carper?
Even if she isn't able to spring an upset on Tom Carper, Harris has succeeded in changing the conversation. A spokesperson for Carper's office told the Daily Dot that he supports raising the minimum wage to $15 and that he supports universal healthcare coverage.
When asked Kerri Harris about the idea that she's pushing a 35-year politician further to the left, Harris retorted "we're pushing him closer to the people."
Harris recently held a rally in Wilmington, Delaware. It was a particularly enticing event because Ocasio-Cortez was also slated to speak. It's a testament to the leftist movement in the party that Ocasio-Cortez is now a kingmaker. She's not even a congresswoman yet and she's doling out endorsements and hitting the campaign trail with Bernie Sanders.
The community center where Harris held her rally was overflowing with a crowd standing in the back of the room. Ocasio-Cortez began by priming the audience with applause lines like "virtually every American voter knows that money in politics is a problem and we've got to do something about it" and talking generally about "the movement."
At the microphone, Harris parroted many of the talking points of  Democratic Socialist candidates and rode the energy in the room, one that's been percolating since the presidential campaign of Senator Bernie Sanders.
READ MORE:
Will Harris become another Democratic Socialist success story?
Before Ocasio-Cortez, the successful unification of Democratic Socialist policies was a glimmer on the horizon, but now it's very much here and Harris is only one of the many names that political watchers are eyeing as the next upset. Already, they've seen success—in Massachusetts, progressive challenger Ayanna Pressley defeated a ten-term incumbent congressman and Andrew Gillum is on the ballot for governor in Florida. 
Could Harris be another?
The differentiating factor in Harris' race against Carper is that Carper is well-liked in Delaware. While the senator has been on Capitol Hill since 2001, he's not some absent lawmaker—he lives in Delaware and commutes to Washington every morning. Delaware's paper, the News-Journal, endorsed Carper, reasoning that they want an experienced voice in Washington to fight Trump's policies.
Like most of the other races where progressives are challenging Democratic incumbents, Delaware is a traditionally blue state. The state legislature is led by Democrats and both of their senators are on the left side of the aisle. But they're definitely more Republican than the Queens district where Ocasio-Cortez scored her upset, which means that even if she wins, Harris' road to Washington won't end with Tom Carper.
But even if she doesn't win, it's very clear that her mark is being made.