Kathy Griffin is no stranger to controversy, particularly in the Trump era.
In fact, the reason we've seen far less of the 59-year-old comedian over the last several years is tied to a Trump-related controversy. Two years ago, Griffin's choice to pose with what appeared to be the president's severed head got her unofficially "canceled." Now, a different controversial decision is threatening to do the same, after Griffin tweeted that President Trump should be given a "syringe with nothing but air."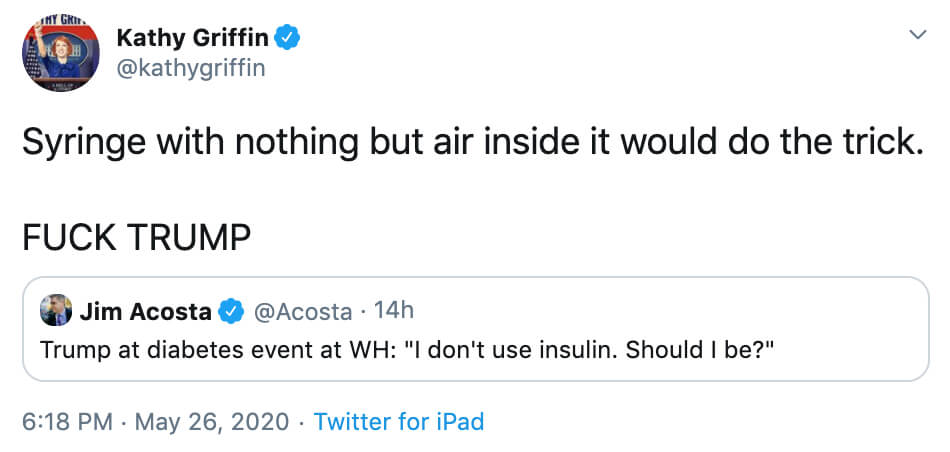 Griffin tweeted out the sentiment following remarks from Trump. Discussing slashed insulin prices with reporters at the Rose Garden on Tuesday, Trump, who is non-diabetic, noted "I don't use insulin. Should I be?"
Soon, Griffin's tweet had divided the internet. A large chunk of the web, frustrated with the president's response to the pandemic and looking for an outlet, stood with Griffin. The other side viewed the tweet as an outright threat to the president and are demanding that it be treated as such.
An injection of cold air into the bloodstream could be fatal, but Griffin appears unconcerned by this fact.
When the Washington Examiner tweeted out a story about her tweet, she responded in the affirmative. "I SURE DID, F*CKER," Griffin wrote, incorporating the hashtag #TrumpLiedPeopleDied. She seemed unconcerned by the hordes of commenters who flooded her page, accusing her of making a threat to the president.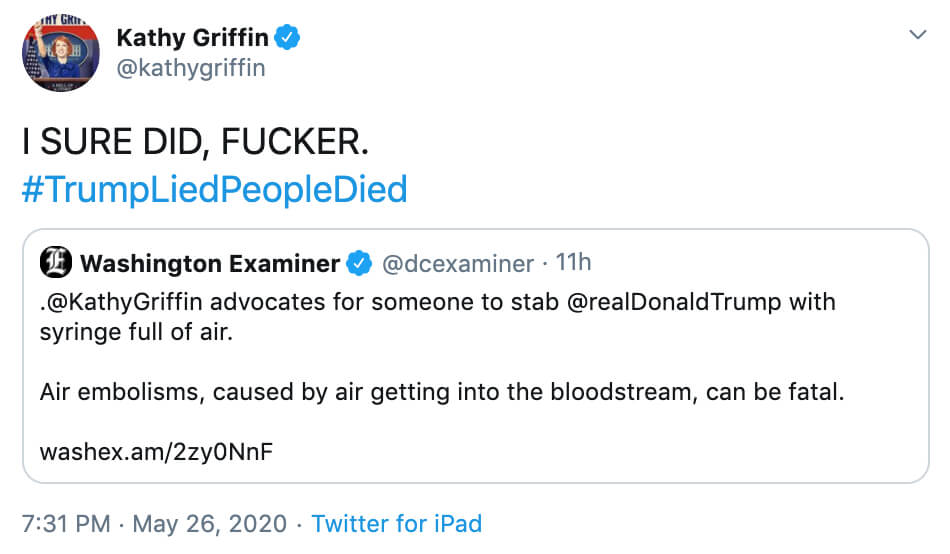 A few hours later, a DC Examiner reporter posted that Twitter intended to "look into" whether the tweet "violated their violent threats policy." Griffin boldly retweeted the claim with her own sentiment attached.
"Go f*ck yourself," she wrote. "Do you wanna tussle with me, you f*cking amateur?"
This time, she leaned on a different hashtag: #100ThousandDead.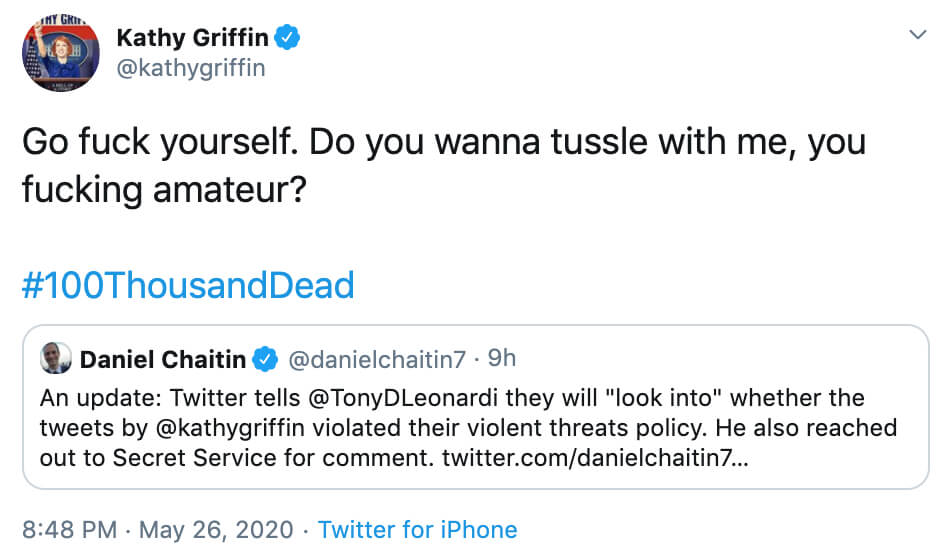 Unsurprisingly, Griffin seems unconcerned with the backlash her comments have received. As usual, the foul-mouthed comedian is fully willing to share her opinions, regardless of whom she may offend along the way.
READ MORE:
H/T Independent