In December, congressional hopeful Rob Zerban raised nearly $50,000 thanks largely to posts on Reddit. Now other politicians have picked up the fundraising scent. The political invasion has begun.
This weekend saw two congressional hopefuls jump on to the bandwagon, clearly hoping the influential social news site could help increase their public profiles and the size of their political war chests.
One is a Reddit newcomer, the other an old friend to the social news site, but both are running against entrenched Stop Online Piracy Act (SOPA) cosponsors: Lamar Smith and Bob Goodlatte.
Karen Kwiatkowski is a Republican and retired Air Force lieutenant colonel who's hoping to unseat Goodlatte in Virgina's 6th Congressional district this year. Her lack of familiarity with the site might explain why she scheduled her "ask me anything" (AMA) during last night's Super Bowl. But Kwiatkowski  gets props for answering dozens of questions with gusto. Her opposition to SOPA not withstanding, however, Kwiatkowski found that redditors are a tough audience to sway—especially on topics such as health care and abortion.
The downvote bandwagon appears to have started with her response to this question from redditor ohsweetmoses: "Are you in favor of a free healthcare system for all, [similar]to the National Healthcare System in the UK?"
In a response that brought around 32 downvotes, Kwiatkowski wrote: "No, I am not in favor of that. I'd like to see free market health care, much as we have seen in the areas of plastic surgery, opthamalogy, nutrition, and exercise fields."
"So next time I'm involved in a car accident and I am without health insurance because I have a pre-existing condition, which charity out there would you suggest to help pay my medical bill?" redditor DamnCats responded.
Redditors spoke with their votes. They also showered Kwiatkowski with disapproval for her stance on the Internet as a human right (it's not, she believes) and public education ("The money spent under and miseducating these kids is largely wasted and misapplied," she wrote). By the end of the night, nearly half of Kwiatkowski's comments had been downvoted to zero or below—a rare feat in a popular AMA.
Texas Republican Sheriff Mack's fared far better.
Mack's opponent is Lamar Smith, possibly the most reviled man on Reddit, due to his role as cosponsor of SOPA and the Protecting Children From Internet Pornographers Act. So a week ago, redditors decided it was time to take out Smith, and Mack became the anointed one, pretty much by default.
The political marriage has been bumpy. The San Antonio Republican's stance on gun laws and abortion hardly meshes with Reddit's socially liberal mainstream. But that didn't stop redditors from creating a subreddit, or section of the site, devoted to getting Mack elected and unseating Smith.
On Saturday, Mack finally took to his long-promised AMA. It was a smart choice. It seems Mack and redditors see eye to eye on a lot of issues.
After redditor joojy prodded the sheriff on his stance on the war on drugs. Mack responded:
"Having been an undercover narcotics officer, I discovered first hand the futility and failure of the war on drugs. There's two parts to that: First, I do not want our nation's police officers pretending that they should protect us from our own stupidity or appetites. Secondly, we should not be asking officers to risk their lives for such ridiculous reasons."
That spawned an exchange that many redditors apparently found quite endearing. The 60-year-old conservative has a sense of humor, it turns out.
"I hope you are not talking out of your ass, because I like you," GAFMisat0 wrote.
"No, I am sitting on it," Mack replied, gathering a couple thousand upvotes.
We've no idea if Mack understands the rage face phenomenon. But the sheriff was no doubt surprised to see this popular image posted as a reply by redditor GruxKing.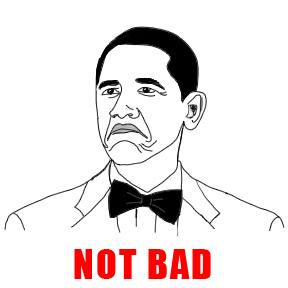 It's politics in the age of Reddit, where conversations see-saw between thoughtful discussions on the war on drugs to cartoon emoticons of the sitting president.
That makes us curious. Which rage face would Sheriff Mack choose to represent his feelings after he only managed to raise $2,500 thanks to his AMA?
"My staff has just informed me that we have more total upvotes than dollars," Mack wrote in an edit to his original post.
We're thinking Okay Guy.