On Monday, Jeff Bezos announced that he was launching a $10 billion fund dedicated to combating the effects of climate change. On Instagram, the billionaire Amazon founder wrote that the Bezos Earth Fund " will fund scientists, activists, NGOs—any effort that offers a real possibility to help preserve and protect the natural world."
Kim Kardashian West praised Bezos for the move. "Sooooo Amazing!!!" she tweeted last night over a tweet linking to a CNBC piece about the fund.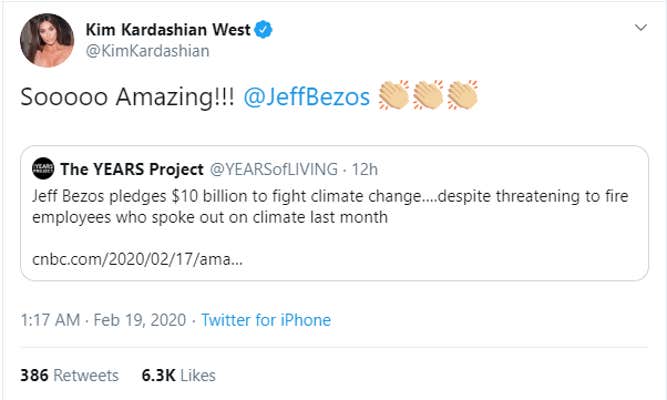 People were quick to point out that the second half of the headline of the story linked in the tweet reads that Bezos made this pledge "…despite threatening to fire employees who spoke out on climate last month."
As the headline states, last year, hundreds of Amazon employees signed a Medium post that was critical of the company's prohibition against staff speaking publicly about its policies. The post, which was also published by advocacy group Amazon Employees for Climate Justice, further criticized the company's use of fossil fuels that help cause climate change.
After the open letter was published, nearly 1,000 Amazon employees staged a walkout to protest the company's role exacerbating climate change. Last month, news broke that the company had threatened to fire some of the employees for speaking out.
Reactions to Kardashian West's tweet quickly came streaming in. People seemed to think that a person studying to become a lawyer should read the whole headline before posting an article.
"Definitely didn't read the whole of that did you," commented A Man's World author Helen Wood.
"Well she read the $10 billion part and that was more than enough hahahaha," @itmetom11 said.
"Replying because this tweet will reach legendary status," said @faerycute.
"Guaranteed she gone delete this after her publicist see it," predicted @BigKidSid.
This proved to be a sage prediction. This morning, Kardashian West did delete the tweet.
READ MORE: