Shortly after Joe Biden announced that Sen. Kamala Harris (D-Calif.) will be his running mate in the upcoming presidential election, "Kampala Harris" began trending on Twitter.
In case you needed any refresher: it's "Kamala Harris," not "Kampala Harris."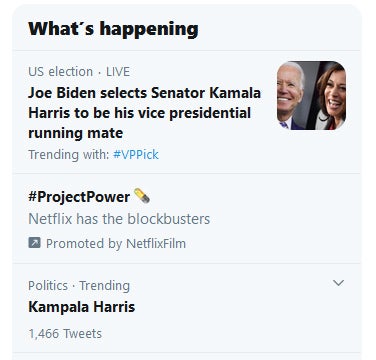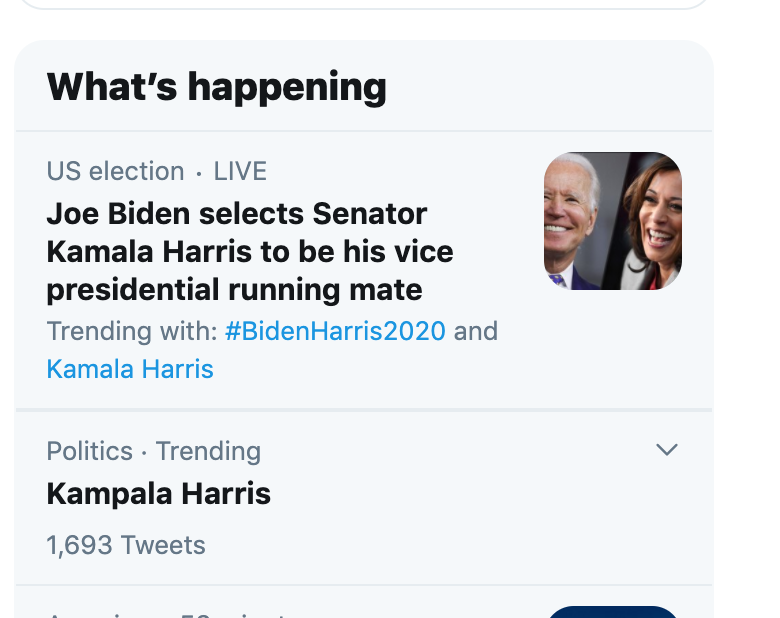 Of course, the likely reason "Kampala Harris" is trending is that some operating systems autocorrect "Kamala" to "Kampala" (an experience verified by the Daily Dot on TweetDeck.)
But then it continues trending on Twitter because many tweets begin questioning why it's trending on Twitter.
It's a vicious cycle.
Many appropriately pegged the problem on auto-correct. With people reacting to the news of the VP nod, some people may have neglected to check their spelling.
Some people foresaw memes in the future as the topic continued to trend and gain more tweets.
That Twitter would let a misspelling of "Kamala" trend though throws a slight wrench in the conservative Twitter conspiracy that the social media site is in the tank for Harris.
But looking past silly spelling mistakes and odd trending algorithms: Harris is the first Black woman to be part of a major party's presidential ticket. She is also the first Asian-American vice-presidential nominee.
READ MORE: