Just days after GitHub's former CEO and cofounder resigned, former employee Julie Ann Horvath lashed out at the company for denying that her allegations of workplace harassment were true.
Horvath came out swinging Thursday on Twitter, where she decided to name additional names and add even more details to the already vague-but-troubling laundry list of allegations against former CEO Tom Preston-Werner, his wife, Theresa Preston-Werner, and an unnamed male coder.
These employees each apparently made Horvath uncomfortable throughout her tenure at GitHub, although GitHub stated earlier this week that an independent investigation conducted by a third party had found no evidence to substantiate her claims of sexist bullying, harassment, or a hostile work environment.
The expanded list of names Horvath aired included current and former GitHub employees, along with details of the bullying Horvath says she endured while serving as GitHub's first female coder and head of its Passions Project outreach program for women in tech. The new allegations have further polarized the tech community and sent dozens of people scrambling to relocate their code repositories off of GitHub in solidarity with Horvath.
Good morning, Internet. Today I have decided to name my harassers and those complicit in their abuse of power: https://t.co/4V0GPfCRgb

— Julie Ann Horvath (@nrrrdcore) April 24, 2014
Don't do business with @mojombo, @tpdubs2, @tnm, @timothyclem, or @holman.

— Julie Ann Horvath (@nrrrdcore) April 24, 2014
When Valleywag's Nitasha Tiku asked Horvath to elaborate on her accusations, she received a litany of anecdotal allegations about each of the following people associated with GitHub:
1) Tom Preston-Werner and Heather Baldry. In addition to the previous detailed claims that Horvath made, in which she accused GitHub's former CEO of joining with his wife to make her uncomfortable, Horvath now adds the following accusations about both Preston-Werner and Baldry, who was GitHub's informal HR leader until January:
She alleges that Preston-Werner forbade her from having a requested third party, GitHub's other co-founder PJ Hyett, attend a private meeting with her in December of 2012. As evidence she presents what she claims is the screencap of Preston-Werner's email to her forbidding her to have any other person present in the meeting besides Baldry:

Screengrab via Valleywag/Gawker
Horvath seems to be alleging that after Preston-Werner called the meeting and denied her request to have PJ Hyett attend, Baldry seemed reluctant, despite her role as HR intermediary, to attend in his place. She produces a chat log as evidence, during which Baldry refers to the meeting as "a mess" and asks Horvath to suggest someone else to attend in Hyett's place; however, it should be noted that by Horvath's own admission, Baldry did attend the meeting.
Horvath claims that one of the topics in her meeting with Preston-Werner and Baldry was a company-wide rumor. The rumor recently went public as part of an unsourced post on Medium claiming to be from GitHub insiders. The rumor GitHub employeees allegedly believed Horvath to be spreading at the time was a personal rumor concerning Preston-Werner's wife—namely, that she had cheated extensively on her husband.

Horvath, who has denied any truth to the Medium post, alleges that in the December 2012 meeting, Preston-Werner "blamed and harassed" her for allegedly having initiated the rumor, while Baldry sat silent, making no move to stop him or intervene.
Horvath alleges that Baldry "conducted a witch hunt for female employees whom [Preston-Werner's wife] felt threatened by" at Preston-Werner's behest. Horvath also alleges that Baldry "was complicit in the abuse I suffered as a GitHub employee."

Horvath does not offer specifics for either of these assertions apart from the details previously noted. However, Valleywag has previously cited an anonymous GitHub employee who claimed the Preston-Werners had harassed a previous female employee into resigning. An apology Theresa Preston-Werner made on Medium after her husband's resignation does not mention this allegation. Instead, it partially substantiates the anonymous employee's claim that she may have attempted to pressure GitHub staff into doing pro bono work for her, possibly inadvertently. This work is not a detail Horvath has mentioned in her own allegations against the Preston-Werners.
2) Ted Nyman. Nyman is the previously unnamed developer about whom Horvath has spoken in her previous allegations. Today, Horvath claimed that Nyman "systematically bullied me out of our code base because I wouldn't fuck and/or date him."
3) Timothy Clem. According to Horvath, Clem, a long-time developer at the company, was Preston-Werner's "right-hand man." Horvath made the following unsubstantiated allegations against Clem:
He allegedly bullied her along with multiple women who worked at GitHub, "eventually targeting" Horvath. Horvath alleged that Clem's behavior towards her included chastisement and tone-policing. 
He allegedly leaked private and internal communications to outside companies. Horvath doesn't specify whether these were exchanges with her or other GitHub employees. While Horvath provided screencaps of communications with the CEO of the outside company she names, Geeklist, these do not provide context for or substantiate her claims that Clem leaked private documents.
Clem allegedly sent an email to one or more of Horvath's female colleagues implying that they were threatened by the potential hiring of another female developer. An alleged quote Horvath says Clem sent to the women reads, "Do you no [sic] want to hire [a female candidate] because all of the boys [here] want to date her?" 
4) Zach Holman. Perhaps the biggest surprise of Horvath's allegations is the statement she makes about her former partner. Holman, a popular GitHub engineer and public speaker, was mentioned in her previous allegations as someone who had been subject to internal pressure and investigation while at GitHub because of his relationship with Horvath. 
Now, again without getting into specifics, Horvath claimes that Holman:
"was complicit in the actions of both Tom and Theresa Preston-Werner and even admitted to plotting with Theresa Preston-Werner to get women at the company fired. He should be let go from GitHub and I regret being kind to him in previous interviews."
As evidence of this complicity, she presents a plaintive screengrab of messages she sent to her then-partner after allegedly being accosted by Theresa Preston-Werner. Horvath's texts claim that Holman discussed Horvath with Theresa Preston-Werner, after which Holman appears to ignore her: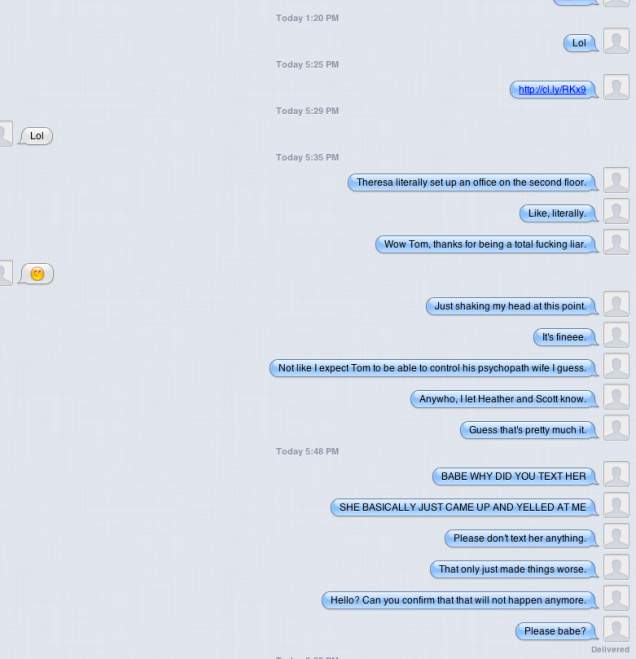 So far, these allegations seem to have no substantiation apart from Horvath's provided emails, texts, and chat logs—and out of context, it seems difficult to prove that they constitute a hostile work environment. This could, perhaps, be why Tech Crunch posted a brief summary of Horvath's claims, then deleted the article yesterday evening.
But for some members of the tech community, Thursday's allegations seem to be the last straw. Numerous members of Horvath's community of support declared that they had moved their private code repositories off of GitHub and would no longer be supporting the company financially.
Meanwhile, Horvath declared she was "poor and tired" and suggested that GitHub could take steps to remedy its alleged issues by "an objective investigation, removing all abusers from GitHub, and a public apology." 
While GitHub is unlikely to take such steps after announcing the results of its investigation, it seems a certainty that members of the tech community will be watching the company and its culture closely to determine whether its commitment to gender equality will hold up after Horvath's departure. As ReadWrite's Lauren Orsini notes, "GitHub users aren't dumb … [They] won't soon forget this incident, in which a working environment got so bad it convinced an outstanding female developer to quit, and announced it all as "nothing." It's a black mark on GitHub's relationship with women and minority developers." 
In fact, last night two of Horvath's supporters noticed that at some point since it was initially banned in December, GitHub appears to have quietly restored access to an anti-feminist troll repository allegedly spawned from 4chan.
@needshortername hahahaha I knew github was pandering.

— Insidious Misandrist (@computionist) April 25, 2014
@needshortername @nrrrdcore seriously. They've dropped any pretense whatsoever.

— Insidious Misandrist (@computionist) April 25, 2014
In its acknowledgment that it still has "more work to do," GitHub seemed sincere. But ultimately, if Horvath's allegations remain unsourced, then in a tech culture that struggles to combat its own deeply entrenched culture of sexism, her claims may do more to feed the sexist trolls than bring about real change.
Photo via mathias/Flickr; CC BY-SA-2.0