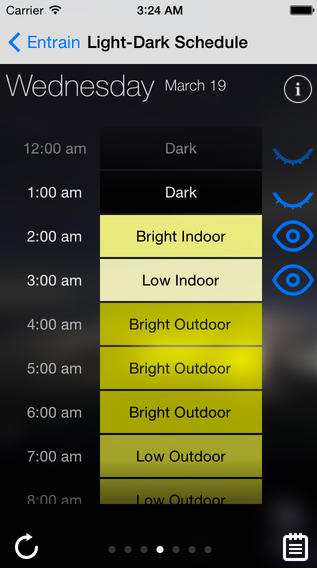 Feeling jet lagged after a long plane ride is like feeling hungover after a raucous birthday party: A nasty side effect of a generally positive experience. Like hangovers, most people just struggle through feelings of jet lag, chalking the fatigue and torpor up as an inevitable nuisance.
But scientists at the University of Michigan are not content letting their jet-setting peers wallow in the malaise of transcontinental exhaustion. That's why they created Entrain, a free iOS app to help frequent fliers ease the effects of jet lag. Entrain uses mathematical models to tell users when they should stay away from the sun and attempt to snooze once they've landed, and when they should try to hit the ground running. The app calculated the best schedules for whatever time zone you've entered, and the researchers describe the schedules as "mathematically proven to adjust you to new time zones as quickly as possible."
Jet lag affects people because it messes with circadian rhythms, the roughly 24-hour cycles our bodies use to gauge when to sleep, wake, eat, and adjust in a number of ways. People with frequently disrupted circadian rhythms are vulnerable to a host of scary health problems, from depression to heart disease. One trip abroad won't ruin your health, but this app could be a major health tool for people with jobs that require constant time zone jumping. Circadian rhythms are still mysterious, but scientists know that light exposure has a major impact on them, so Entrain mainly helps people figure out when they should avoid or embrace sunshine (of course, this means the app won't be as much help if you have frequent business trips to Iceland in the dead of winter, although they recommend using a 10,000 lux lamp when sunlight is in short supply).
Now if only they'd come up with an app to minimize the aftermath of consuming a party pitcher of sangria your first night in Madrid.
H/T Popular Science | Illustration by Jason Reed