From the always indispensable Trump Alert, which tracks the behavior of the first family on Twitter:
IvankaTrump liked this tweet: https://t.co/xhIk8TC4Lk

— Trump Alert (@TrumpsAlert) June 13, 2018
That's adult film star Tommy Pistol, talking about … well, it's not entirely clear.
He's responding to this tweet, which is talking about the use of Agent Orange?
https://twitter.com/JonClem310/status/1006957061765193733
In response to what seems like maybe a deleted tweet by Pistol about something (maybe?) relating to Trump tweeting about "Fake News."
So funny to watch the Fake News, especially NBC and CNN. They are fighting hard to downplay the deal with North Korea. 500 days ago they would have "begged" for this deal-looked like war would break out. Our Country's biggest enemy is the Fake News so easily promulgated by fools!

— Donald J. Trump (@realDonaldTrump) June 13, 2018
Pistol's innocuous statement "I don't support Trump in anyway. Just to be clear," somehow—out of 34,000 responses—drew Ivanka's eye.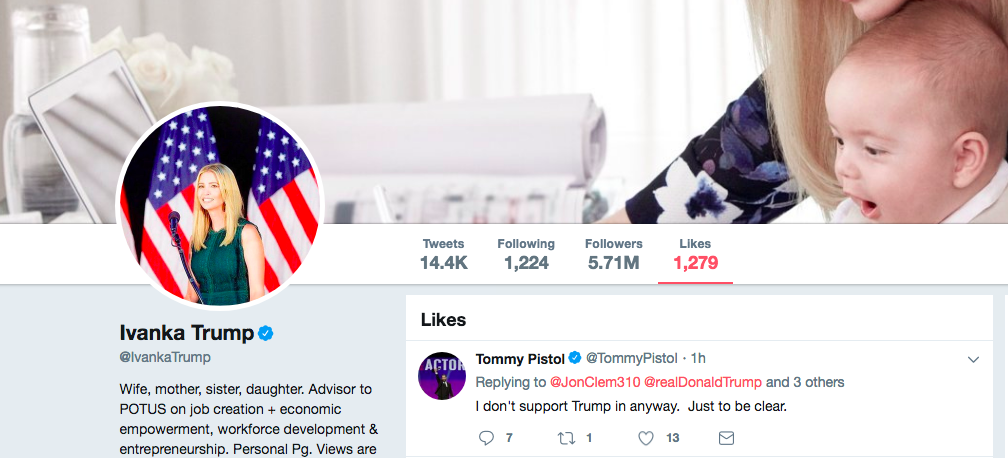 Pistol's other tweets today have been retweets have been screengrabs from the film "Anal Baptism," which Pistol stars in.
Ivanka's like not the first porn-related Twitter behavior by the Trump family, as it was once revealed Don Jr. followed an account that did some porn tweets.
While it's not necessarily an endorsement (accidental faves happen all the time, and she might just be flagging it for something else), Ivanka Trump's favorite of a porn star's opinion stands in direct rebuke to her father's lawyer, Rudy Giuliani, who said he did not respect the opinions of women who worked in porn.
Pistol's stance on Trump, however, could not be clearer.
@realDonaldTrump will you find a fucking clue on how to do your job already?

— Tommy Pistol vs トミーピストル (@TommyPistol) June 11, 2018