Typically, the "Influencers in the Wild" social media accounts offer some lighthearted ribbing of the ways people perform for content. But in light of the recent news and protests in the United States, the brand's most popular posts have taken on a more serious tone—with serious repercussions.
After the police killing of George Floyd sparked protests across the country, there was a rush to social media. Many turned to the platforms to organize, amplify, raise awareness, and show support for the movement.
Of course, there were also performative trends. There were also celebrities, brands, and influencers called out over their actions and words (or lack thereof).
Then, there were those who failed to recognize this moment as anything more than an opportunity to chase clout.
Jake Paul became one of the earliest examples of what not to do after videos revealed he was filming in a shopping mall as it was being looted. Paul is now facing two misdemeanor charges.
A few days later, the internet erupted over a series of cell phone videos, curated by Influencers in the Wild, and shared with the account's millions of fans.
In one, a woman was caught pretending to board up a building.
In another, a woman posed in front of a looted T-Mobile.
More followed. People stepping in front of marching crowds and police officers or taking advantage of barricaded streets as backdrops for their content. The accused "influencers" in the posts were primarily women, and they were primarily white.
"Stop treating the protests like Coachella!" pleaded Influencers in the Wild on Twitter, before retweeting its own posts of these videos. They were shared by celebrities, racking up millions of views.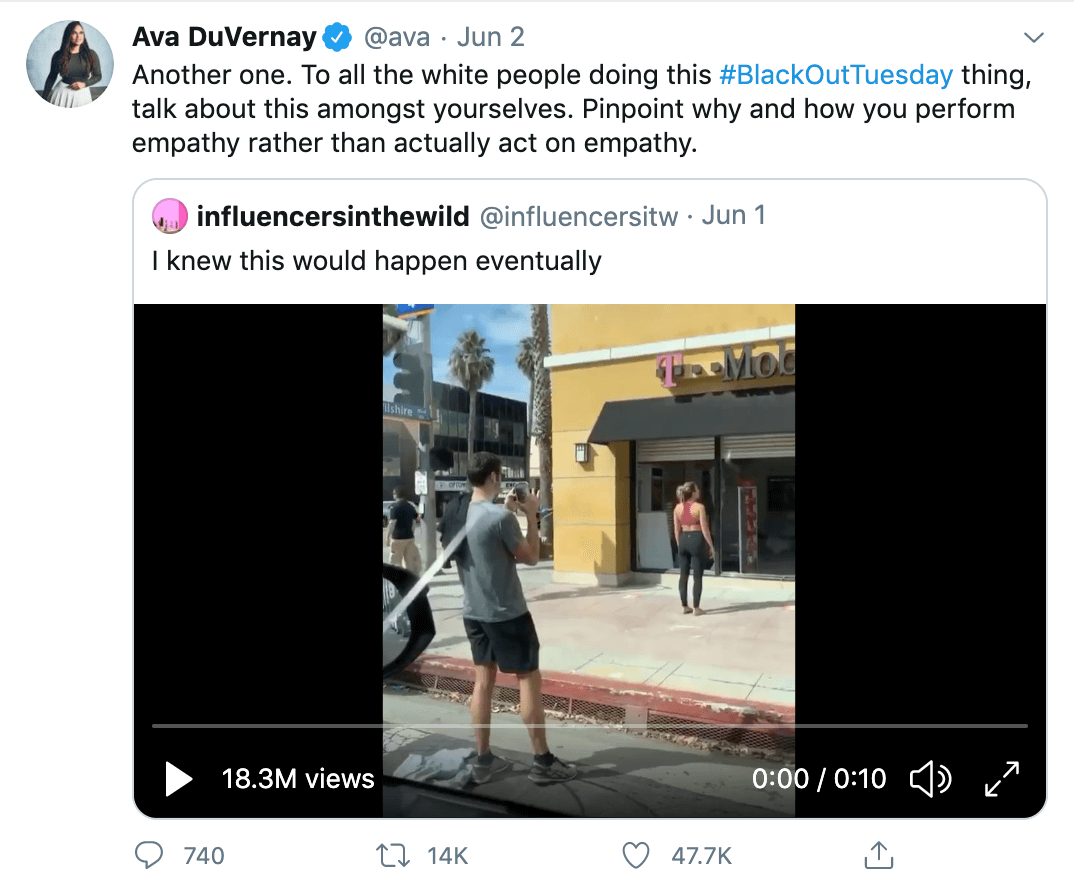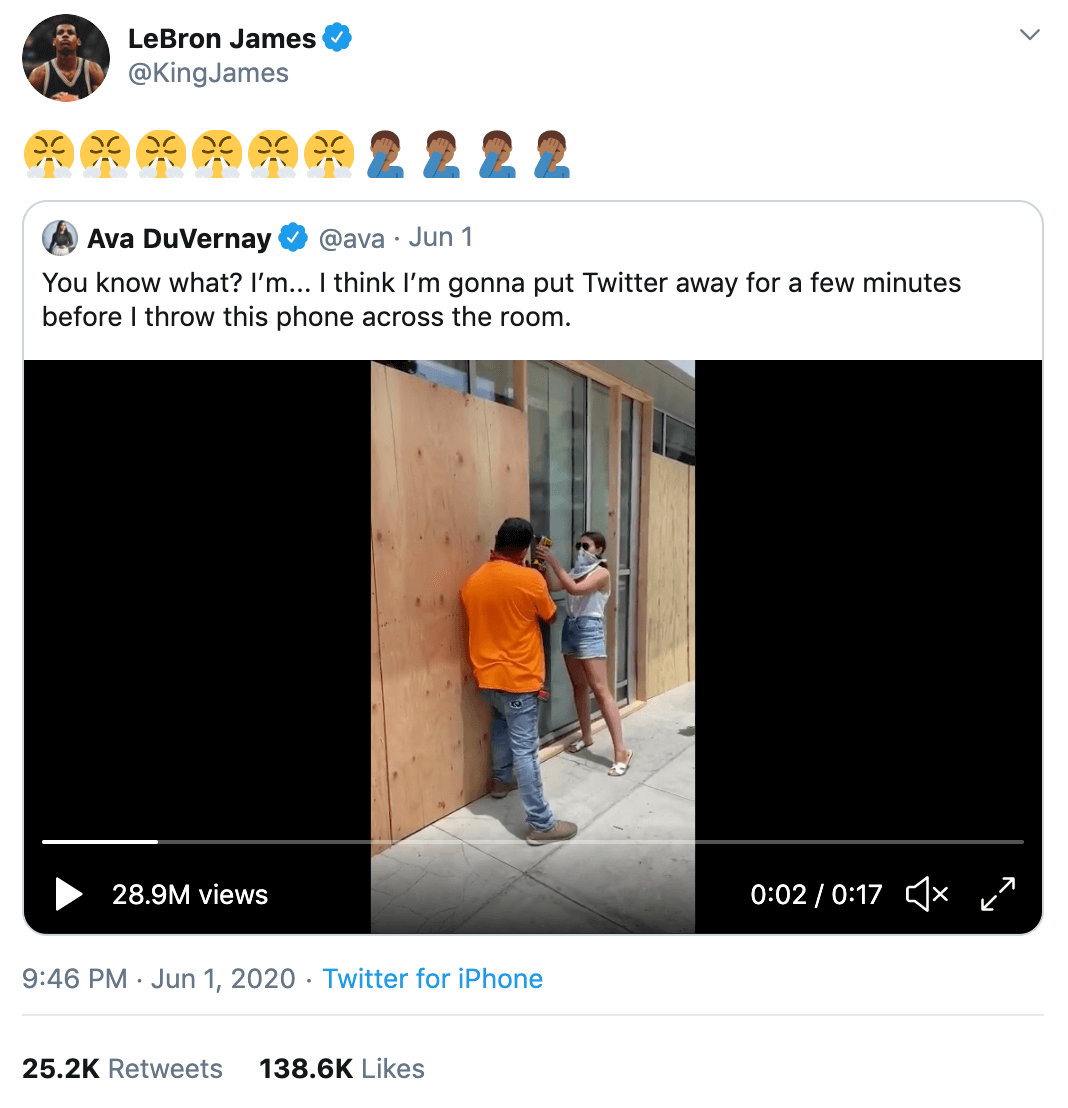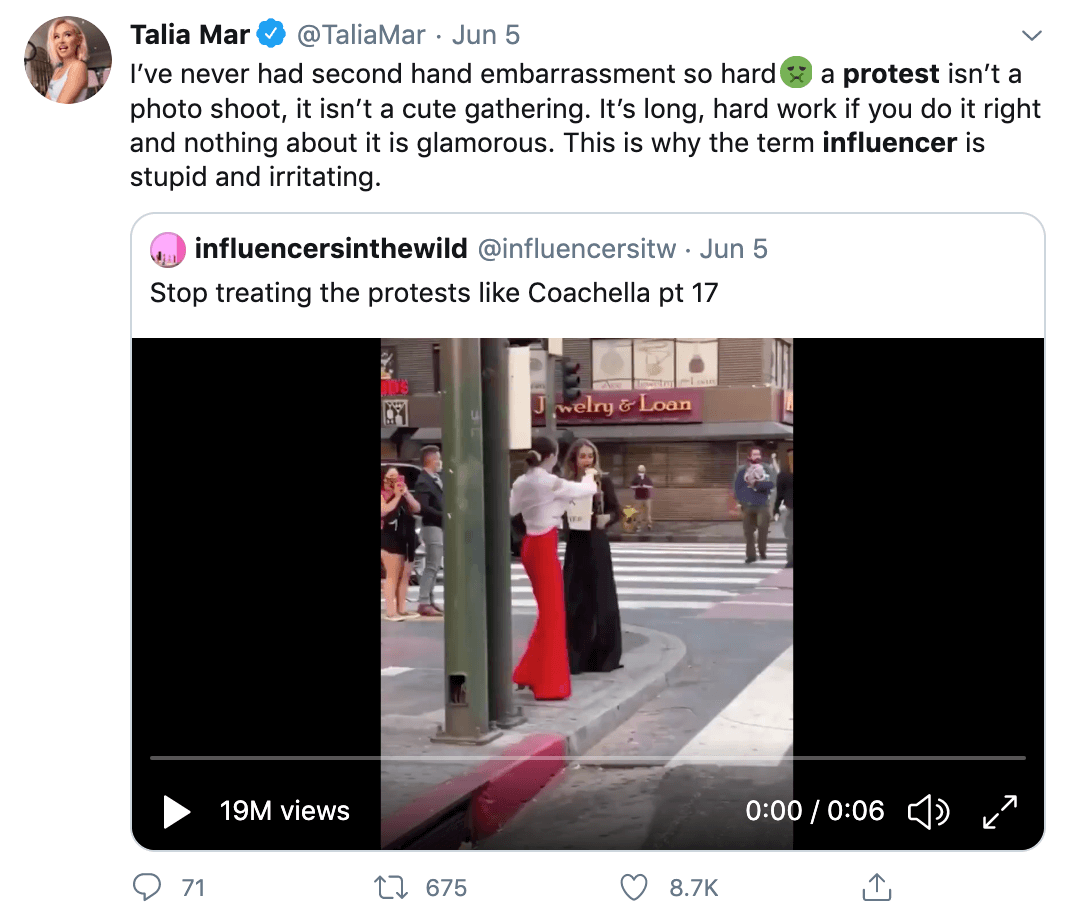 Some, like Ava DuVernay, went further to explain why they found them so problematic.
"Pinpoint why and how you perform empathy rather than act on empathy," she tweeted, directing her comments at white people participating in #BlackOutTuesday.
"The card says BLACK LIVES MATTER. The action tells me INSTA LIKES MATTER MORE" tweeted @dimuthuj7.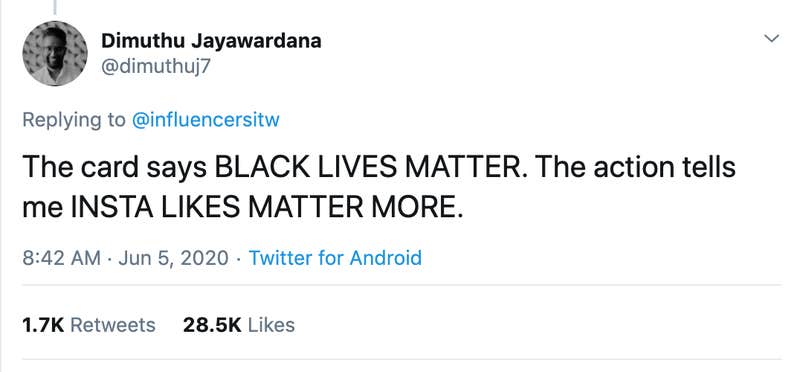 For others, the response was not only to share the offending posts, but to identify the offenders. Replies and comments quickly turned into amateur sleuthing sessions, with users tracing the content back to social media accounts and even surfacing personal contact information.
The backlash was swift, with a number of those doxed quickly deleting their accounts.
A few ventured apologies, including micro-influencer @serafina.0, who had joked about getting drunk before going to the protest in a "riot outfit."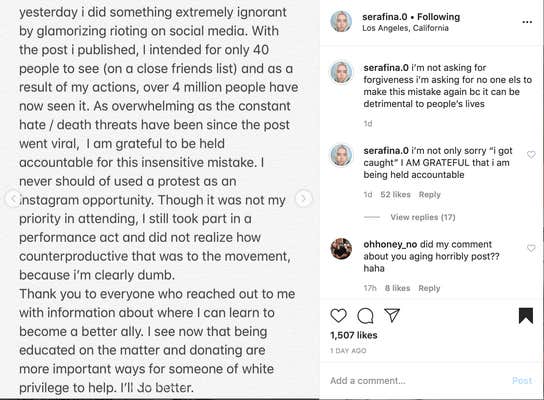 "I received thousands and thousands of messages of people threatening to dox me, rob me and kill me," she added in the next image. "I see, hear and except [sic] everyone's anger. I fully deserved this and again am grateful to have had my eyes opened in a public way so other people of privilege won't act this dumb again."
Kris Schatzel, identified posing at a protest from this viral video, also chose to keep her pages active, even posting the photo in question.
"My intentions was never to disrespect the movement but to add to the movement the way that I know how," Schatzel wrote in the caption, adding in the post itself, "In conclusion, I truly believe this level on [sic] intolerance and hateful comments are detrimental to the movement and what we are all trying to achieve for black and brown communities."
In the days since, Schatzel has posted screenshots and comments of some of the responses she received, which include death threats.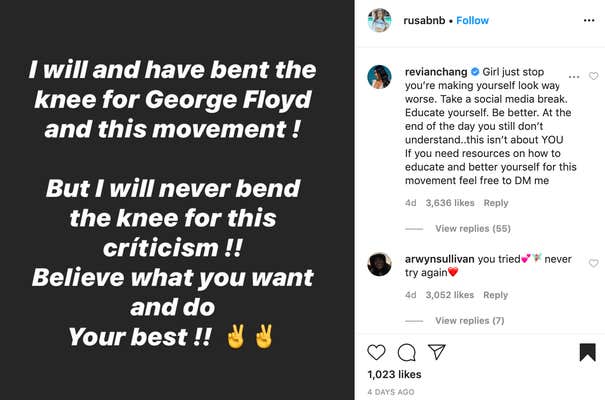 "I will and have bent the knee for George Floyd and this movement! But I will never bend the knee for this criticism!!" the influencer posted at one point. Commenters can be seen urging her to "take a social media break" and "educate yourself."
On Monday, Influencers in the Wild founder Tank Sinatra responded to the harassment that has now become the norm following these protest posts.
"Over this past week, some people have co-opted the BLM movement in order to get content, and I think the problem with that, the people that have enraged people so much, is that it's the single most egregious act of cultural appropriation you could possibly image," the meme influencer said in a video. "But, I did see people start to look for their Instagram handles or where they worked, or in one case, I saw people post someone's full name, phone number, and address."
He went on to note he is "not in the life-ruining business," and that he would consider changing the "purpose of the page" if the targeted personal attacks continue.
"My purpose was to expose the behavior, not the individual," he concluded.
While the post was directed at his followers, it's an important reminder for these influencers, too—this is a time when it really shouldn't be about you.
READ MORE: