This article contains graphic content that may be NSFW.
If you visit meethum.com, the teaser site for the forthcoming sex toy Hum, you'll see what looks like a small bowling pin with a mustache, accompanied by a photo of a sultry brunette wearing fishnets and smoking a cigarette in an old-fashioned holder. "Meet Hum: The world's first robotic, artificial intelligence vibrator," says the site.
The brunette on the website is Sunny Allen, a biohacker and self-described "starving entrepreneur in Silicon Valley and Kentucky McCoy," according to Hum's newsletter. She's also the co-creator of Hum, a smart, sensor-equipped vibrator that she hopes will ultimately become "the iPhone of vibrators."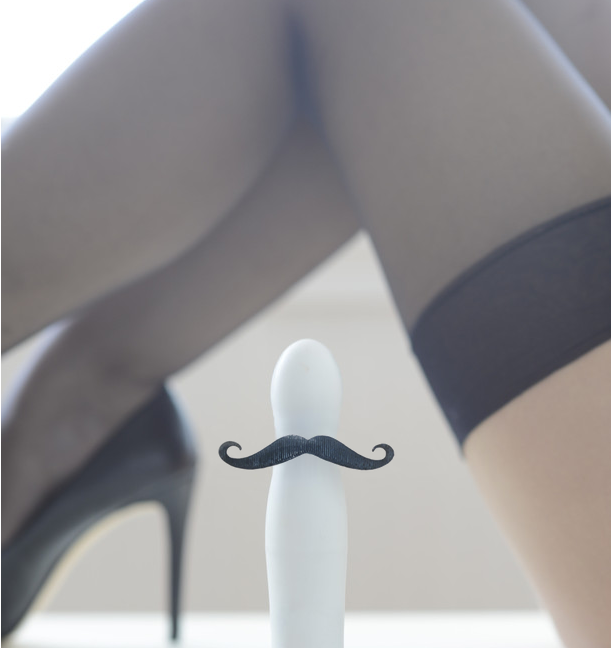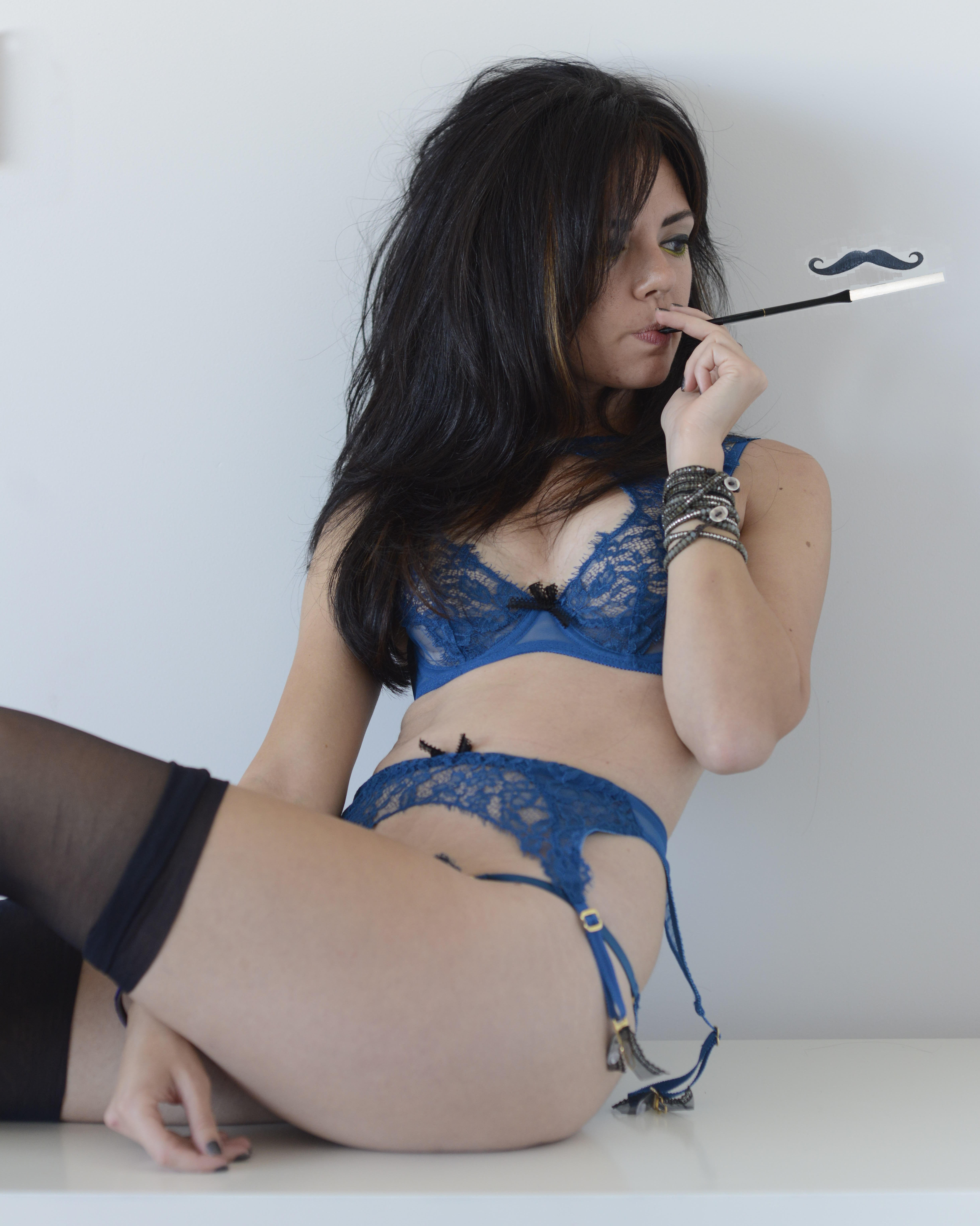 Photos via Goodface Provocateur
For the past year, Allen has been living in a hacker house in the Bay Area (she says her life is exactly like the HBO show Silicon Valley) with Hum's co-creator, physicist Aaron Hammack. Hammack and fellow physicist Jonathan Driscoll (there's also a CFO who wishes to remain anonymous) have been working on Hum for the past two years.
While there are a handful of connected vibrators and dildos marketed as "smart" sex toys, Hum is a smart vibrator in the ultimate sense of the word: It learns what your body likes, and it responds accordingly, delivering varying frequencies of vibrations in response to how much pressure is exerted. Unlike most vibrators, which typically only let you cycle through a few set levels of speeds and vibration patterns, Hum responds to its user's movements to provide a unique sexual experience that mimics what it's like to be with an actual human partner.  
"The first time I tested it out, I sent an email back saying 'Congratulations, boys, you have just invented a new kind of sex,'" says Allen. "It's like we've invented a new kind of restaurant to eat at, when the only thing there was before was Applebee's."
The idea for a responsive, artificially intelligent vibrator originated with Driscoll, a physicist who has previously worked on heart sensor technology and other medical devices. He was browsing sex toys with his girlfriend, and he says the first time he turned one on "it just started doing it's own thing, just pulsing in its own world, like 'whee! whee! whee!'" he told me via email. "Dude, really?"
The sex toys available on the market "made me think of a crappy lover," says Driscoll. "You know, totally self-absorbed, with not a care in the world about how it's affecting the other person… the best lovers feel you.  They respond, and notice, and learn, and explore… so I thought, well, can you put that into a sex toy?  What's the computer code equivalent to being a good lover?"
With this lofty aim in mind, Hammack and Driscoll, who'd previously worked together on building high-end niche audio engineering products, started tossing around the idea of building a smart vibrator with adaptive feedback, dubbing it "Hum" after the quiet humming noise it makes. (According to Hammack, Hum's motors are encased in a custom enclosure that minimizes the amount of noise the gadget emits.)
Photo via Goodface Provacateur
Allen came on earlier this year to help write code for the prototype and head up marketing. She was also the first to test-drive the device, recording the data from her session. (The group eventually hopes to release some of that data after Hum launches: "Have you ever seen a plot of pressure and motion sensors going crazy during an orgasm?" says Driscoll, likening it to the original "data porn.") 
Hum is equipped with motion and pressure sensors that differentiate between different types of pressure. Allen describes the sensors as being so sensitive that even if you graze the surface with a fingertip, it'll respond. As pressure increases around the vibrator, the vibrations of the motor increase and become stronger, and the motors rev up back and forth and front to back. So as the vibrations increase in intensity, "it also gives you a sensation of being fucked back in rhythm with what you're doing with your body," says Allen.
Conceptually, Hum is a bit similar to the Ambrosia Vibe, the responsive strap-on dildo launched by the sex toy company Orgasmatronics earlier this year. While it can theoretically be controlled by another partner wirelessly, much like OhMiBod's BlueMotion or the VibeEase wearable vibrator, it's ostensibly intended for solo use. But unlike the vast majority of vibrators on the market, there's no need to control the levels of the vibrations with buttons or a remote app: While Hum has buttons, the idea is that you simply turn it on, and it'll do all the work for you.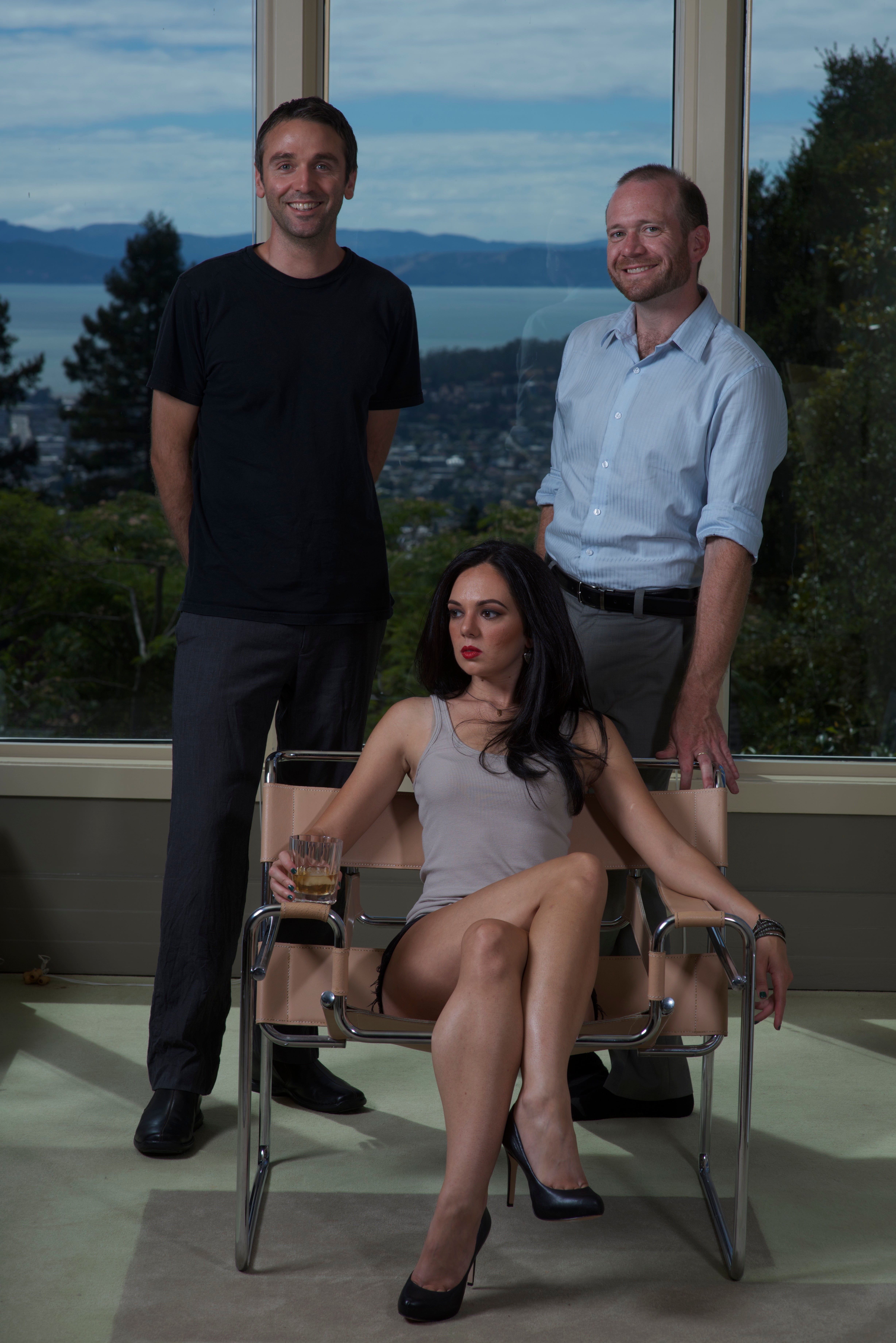 Photo via Goodface Provocateur
Despite its sophisticated internal structure, Hum's design is fairly straightforward: It's a plain, white, phallic-looking device with a little mustache on the head. "We wanted to build a minimal device that does the maximum number of things with the simplest interface, like the iPhone," says Hammack. "We didn't want it to be like the Swiss Army dildo." But unlike other sex toys designed to resemble other objects, such as the Vesper pendant necklace or the infamous rubber ducky vibe, there's no ambiguity about Hum's function. It is very clearly a sex toy, designed explicitly for a woman's pleasure.
"In my experience, I either see vibrators that are extremely raunchy, like big veiny donkey cocks, and the other direction is this very whitewashed, sanitized, 'this is for your health' type of product, and they don't talk about pleasure whatsoever," says Allen. "We're trying to take a different path. We're trying to be understandably sexy without veering into raunch or ever being so ashamed that we veer into sanitized, neutral territory."
Considering how ghettoized sex tech is in Silicon Valley, it's understandable that other sex toy startups would want to err on the side of caution. While the creators of Hum say there's been support for their device, there have been some red flags: A patent lawyer who was consulted about Hum's pressure-sensing technology, for instance, told the team they'd never be able to get VC money. Additionally, Kickstarter rejected Hum's crowdfunding campaign, due to the website's ambiguous and often self-contradictory policy regarding sex toys and adult products.
At the time that Hum was trying to obtain approval from Kickstarter, there was also a separate Kickstarter campaign for the kGoal, the smart Kegel-exercising device marketed as a "sexual health" product. "What Kickstarter basically said is, 'It's OK if we have a sanitized, 'this is for your health, this is not a sex toy' type of product,'" Allen says, with more than a hint of derision. "'Where we draw the line is when women enjoy it.'"
Despite these initial hiccups, Hum is planning to launch a crowdfunding campaign on Indiegogo over the next few weeks. They've already attracted more attention than anticipated from their soft PR launch.
As a woman acting as the public face of a sex tech startup in a culture notoriously infused with sexism, Allen, who previously worked on a project building bioreactors for the International Space Station, is hyperconscious of the fact that she's automatically going to be sexualized by her peers. This is a source of concern for her, especially because she plans to keep one foot in biotech while simultaneously working on Hum. She acknowledges it'll be an uphill climb.
"I am simultaneously trying to say 'respect me as a cofounder,' and 'yeah, I am the woman in lingerie on the website,'" she says. "And I will have to fight for that, despite [the fact] that I know I can navigate both those worlds successfully… [but I want to prove] I don't have to choose. I can do both. There are two things I love: sex and technology. I can say 'fuck yeah, robots,' and 'fuck yeah, sex technology,' and be both of those things in a person and in a company successfully."  
Illustration by Jason Reed