Analysis
Over the weekend, new data from the Centers for Disease Control that went viral in the right-wing Twittersphere noted the predominance of "underlying conditions" in deaths from coronavirus.
The jarring numbers indicated that only 6% of all U.S. deaths from the pandemic were caused solely by the coronavirus, and thus, the U.S death toll should only be put at 9,210.
There's a touch of veracity to it. The data includes updated numbers for comorbidities, which show what other ailments people had died after being diagnosed with the coronavirus. But the findings also lump in hypertension and obesity with malignant tumors and kidney failure.
Nevertheless, the data went viral on Sunday with prominent conservative pundits using it to call for economic shutdowns to end and for hysteria over coronavirus to be a thing of the past.
One prominent (former) Republican stalwart who should probably be sitting this discourse out is Herman Cain.
Cain, who ran for president in 2012, died from coronavirus after attending a rally for President Donald Trump. But the news site his team runs still uses his old Twitter account to push out stories. @THEHermanCain shared the news of the day on Sunday.
The result is this man who died from coronavirus tweeting, after his death, that coronavirus isn't all that deadly.
"It looks like the virus is not as deadly as the mainstream media first made it out to be," the tweet said.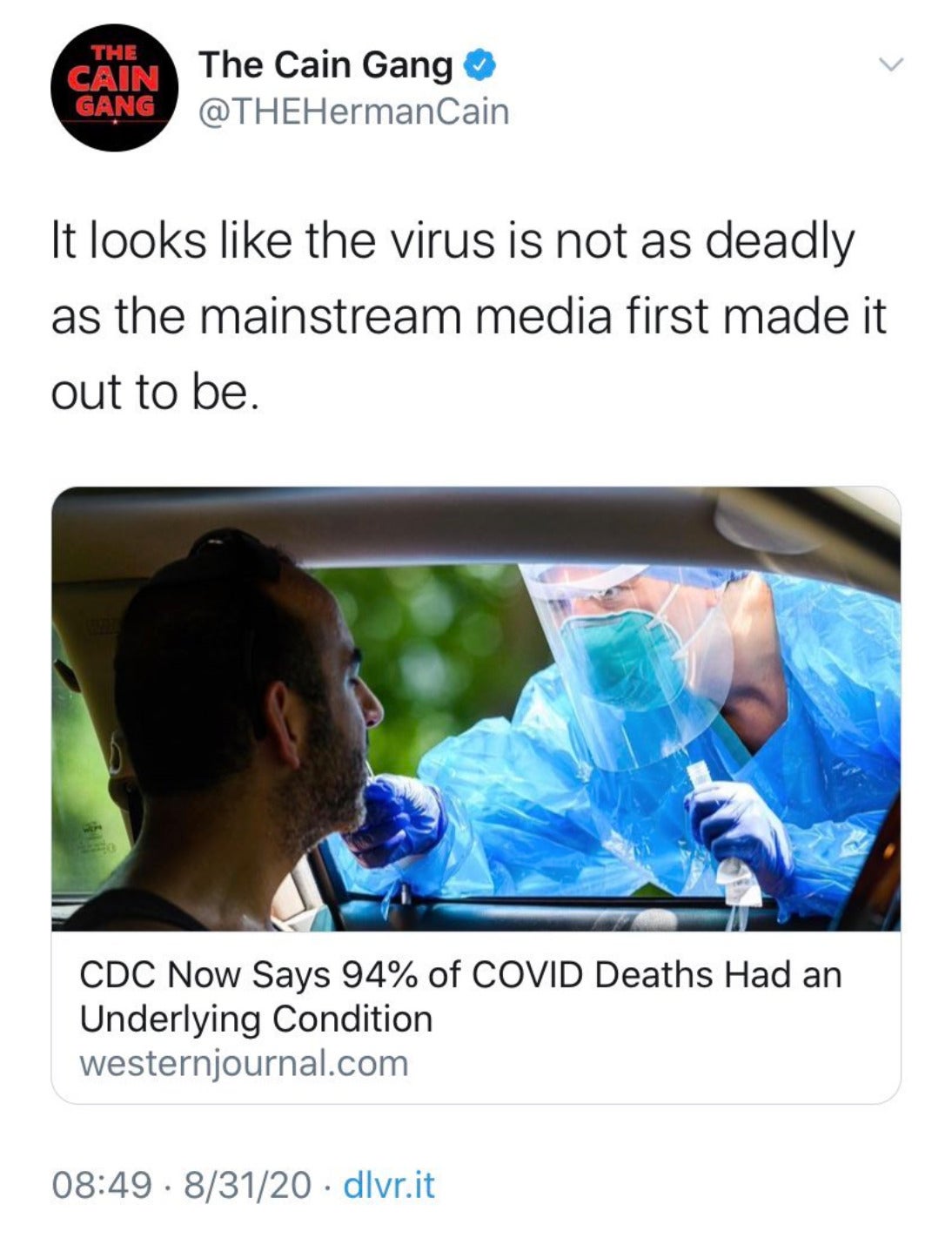 Perhaps Cain did have an underlying condition—or he was one of the unlucky 6%.
But his team didn't stand by it, deleting the take after other Twitter users noticed.
And they say irony is dead.
---
From our friends at Nautilus