Ten years ago, when she was working for the Parks & Recreation department in New York City, Mariellé Anzelone got used to answering confounding questions from her city neighbors.
"'The tree outside my building is dropping stuff on the ground and making it dirty,'" they'd grouse. "'What can you do about that to stop it?'"
"It's [seen as] urban infrastructure instead of a biological thing," she reflects. "It's alive and outside your building. That's kind of awesome."
At least it was for her. A New Jersey native who wrote her graduate thesis on endangered wildlife, she long ago fell in love with the pockets of nature in New York City. She was the plant ecologist with Parks & Recreation when she'd take those phone calls from distraught locals. There, she was responsible for the study and sustainability of New York City wildlife. The city is one-eighth wildlife, she notes, though most don't realize it. To those blowing up her phone line, the street trees along the sidewalks were generally used just for lining garbage up on trash day or as a toilet bowl for puppies.
To Anzelone, those street trees weren't just infrastructure. They were the foothills for vast swaths of nature bubbling up in joyous pockets. And New York City—bustling metropolis that it is—is filled with what Anzelone calls her special places. In corners of Queens and around Brooklyn, you can find old trees and state-listed rare wildflowers, meadows filled with overgrown brush, and plots of marshland.
"New York City is on the Atlantic flyway," she explains. "We have spring and fall migrations: dragonflies, monarchs, other butterflies. I think a lot of people look out their windows and just see sidewalks and buildings. There's a ton of stuff that we don't support in any way."
Anzelone left the Parks department in 2007, after six years with the city. She's been an educator since then, working as a researcher, lecturer, foundation advocate, and organizer. She ran NYC Wildflower Week and wrote articles and op-eds for the New York Times about botany and extinct flora. She wrote about mountain mint and autumn and the perils of urban gardening. Then a few years ago, she started thinking about how she could get the city to love wildlife like she did.
PopUp Forest, which Anzelone and her colleague, environmental analyst and urban garden designer Hugh Reed, funded through Kickstarter in April, is the most ambitious effort she has ever undertaken—a multiyear effort to plant a forest in New York City. The immersive, natural project will devote more than $40,000 to installing a neighborhood's worth of living, breathing nature in the middle of Times Square. "Towering trees, native wildflowers, and ferns underfoot," Anzelone wrote on the Kickstarter campaign's pitch page: a slice of the wild in the middle of Manhattan's madness.
Anzelone continues via telephone: "Times Square is one of the most iconic places in the world, but no one ever thinks there's any nature there. I've seen butterflies floating through Times Square, dragonflies floating through Times Square. That's nature. They're sad. They're looking for a place with nectar and there's nowhere to go.
"The environment is hostile to butterflies, but what if it weren't? What if we could create cities and environments that weren't so hostile to butterflies? It's not that hard. It's actually really easy."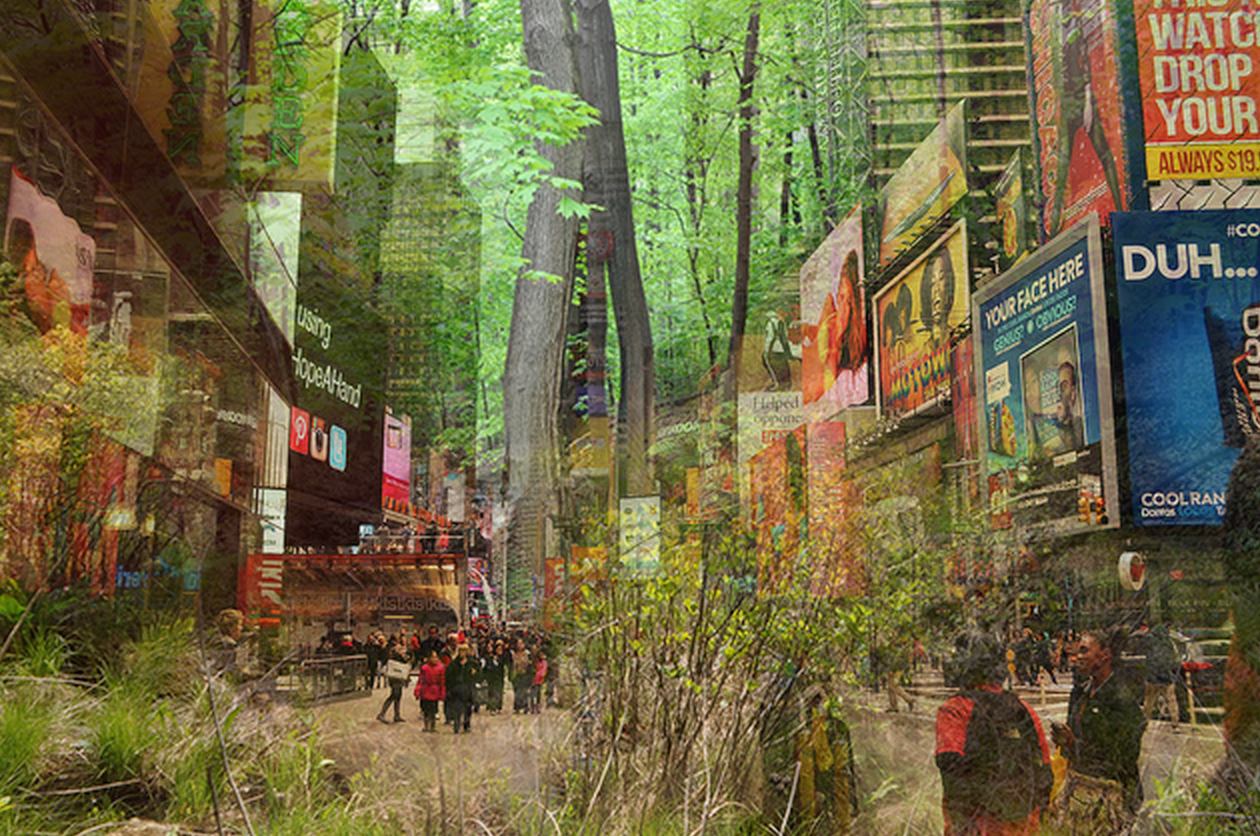 Teaming with the Manhattan sustainable architecture firm Cookfox, Anzelone has begun preliminary considerations for what an urban wildlife installation would look like. She's schemed about moss piles, flowering shrubs for birds and insects—and how to install everything in a city block that attracts half a million people every day. Anzelone says she's been meeting with the Times Square Alliance and will continue intermittently until the installation comes to fruition. She's spent the past two years communicating with Sherry Dobbin, the Alliance's director of public art, and will soon deliver her first proposal for the project. Should it receive approval, Anzelone and her team will get to work on the design, with installation coming either this May or the next.
Anzelone plans to break the installation down before resetting it around various neighborhoods throughout the city. So Fort Greene may get some marshland, and a street in Greenwich Village will get some shrubbery. You'll end up finding wild grass in Harlem and a group of trees on Staten Island.
"A lot of this has to do with how we define cities," says Anzelone.
"Do we define cities as being limited to artscapes and humans, or is there more to it than that? This is about broadening your perspective about what a city can be. I think that's important when you think about the decisions you make."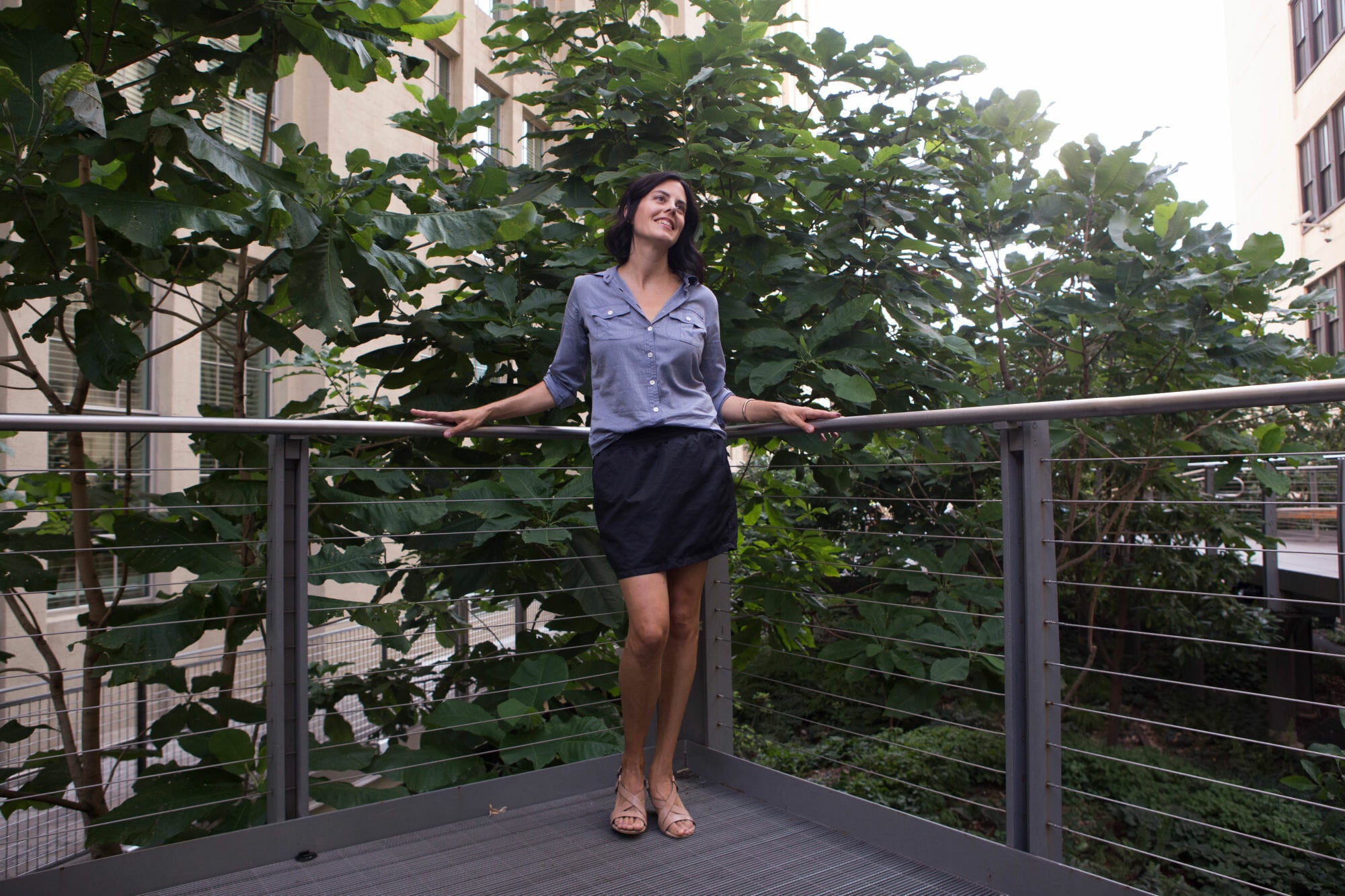 The big show in Times Square, however, comes thanks to $15,000 in additional funding Anzelone and Reed didn't originally anticipate receiving. Earlier plans called for a smaller installation in Gowanus for $25,000, but Anzelone and Reed decided to go bigger when funding exceeded their goal. They laid out their stretch goal—$40,000—with a simple sales pitch: more money means more nature. Anzelone predicts that roughly 50 percent of the final tally will go toward architectural renderings of the project, with $8,500 saved for a pilot in the Brooklyn neighborhood and just over $5,000 for marketing, outreach, and legal.
Anzelone says she wants the final product to "punch you a little" and trigger an emotional response that brings a little stop in one's step as people make their ways to work. "That's how I feel with nature," she says. "We want people to walk in and fall in love with it and think 'Where am I?' then remember, 'Oh yeah, I'm in Times Square.' Those two feelings are not exclusive."
Hopefully then, those immersed within Anzelone's PopUp Forest will realize that they too need nature—that there's something to be gleaned from trees and marsh and places of unkempt greenland.
"There's a lot of talk about resilience and livability," Anzelone closes. "No one talks about biodiversity or ecosystem services. It's critical to human health and well-being, but there's no conversation happening at all. Nature should be more of a continuum. You should have a cool tree to go to where you can sit and read your book. There should be more elements of green woven in.
"That's what I want this to accomplish. If we're trying to define how cities are built, it's critical to be thinking about these things."
A special thanks to Emily Lobsenz of Daggewood Films for providing video and imagery for this article.
This Daily Dot article was made possible by Heineken. The City Kickstarts editorial series has no formal relationship with Kickstarter. The project featured, POPUP FOREST, is independent and is in no way affiliated with or funded by Heineken or the Daily Dot.