The World Wide Web Foundation's Web Index Report details how the Web impacts and influences different countries around the world. This year, the report explored the Internet's engagement with global politics, human rights, and censorship.
The entire report is well worth the read. Its findings not only detail how the Web functions across the globe, but they also stand as a proxy measures of the freedoms and hardships of each nation's citizens
Here's a round-up of a few key findings:
Broadly, the Web Index measures the quality of online life for 81 countries across four categories: "Universal Access," "Freedom and Openness," "Relevant Content," and "Empowerment."
The top countries were Sweden, Norway, United Kingdom, United States, and New Zealand. Interestingly, the latter three countries were implicated in large-scale online spying operations by former intelligence contractor Edward Snowden. The bottom-ranking countries were Pakistan, ZImbabwe, Mali, Ethiopia and Yemen. See the study for complete rankings.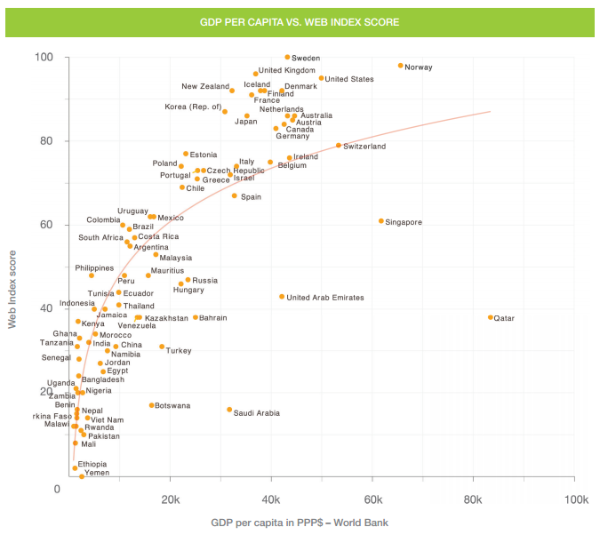 Graph via World Wide Web Foundation
 
The study also explored how the Web influenced political elections and processes. On the heat map below, those countries colored dark red had their politics influenced in a major way by social media. For those in light red, the influence was minor.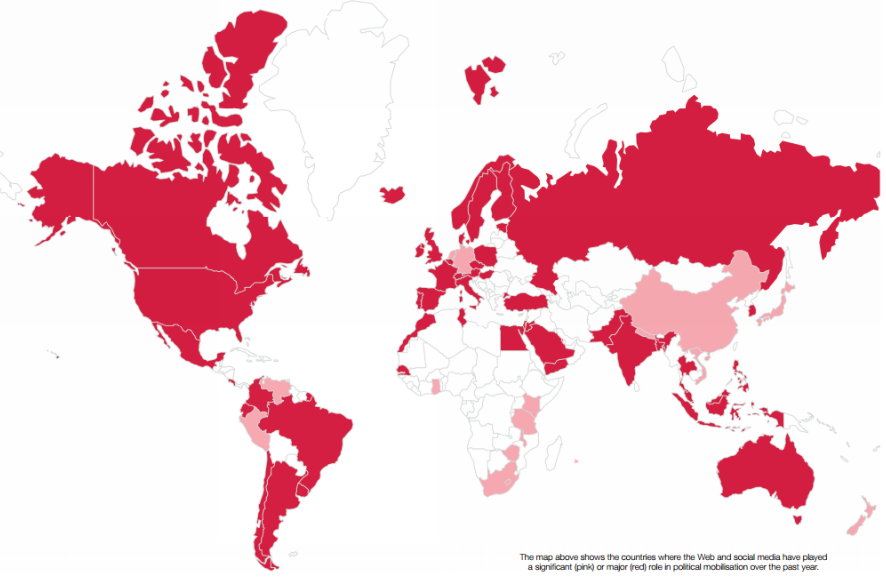 Illustration via World Wide Web Foundation
 
Censorship has become a major political issue in the wake of Snowden's leaks about how the U.S. National Security Agency and other international equivalents spy on Internet users. On the following heat map, countries in red are deemed to have inadequate protections from mass government surveillance. Those in brown censor politically sensitive content and those in black are guilty of both offenses.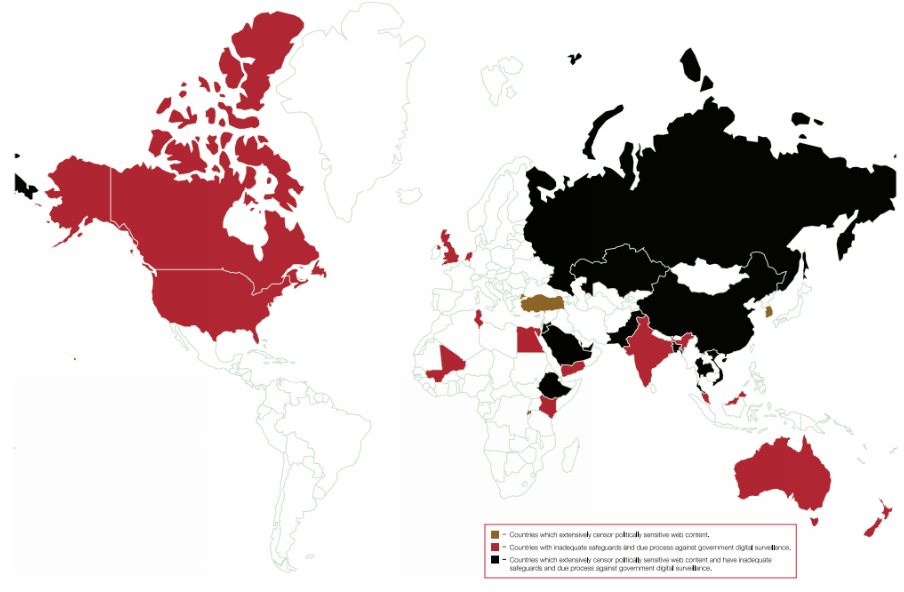 Illustration via World Wide Web Foundation
 
To address the shortcomings visible in these (and other) charts, the World Wide Web Foundation concludes that government and civil leaders must ensure Internet education and access across all ages and genders, make broadband access more affordable, educate people on how to use the Internet and exercise their online rights while doing so, and "reverse the tide" of online censorship and government surveillance.
Photo via cote/Flickr