Former general and CIA Director Michael Hayden couldn't contain himself on Wednesday when commenting on President Donald Trump's flip-flop on what he meant during a press conference with Russian President Vladimir Putin earlier this week.
In an emoji-filled tweet, Hayden responded to a tweet from Washington Post columnist Max Boot who said that Trump's claiming he merely misspoke during his refusal to condemn Russia for its alleged 2016 election interference was because the president is "deathly afraid of being laughed at."
Boot continued:
"News flash, Mr President: The world is laughing at you. This is the silliest spin ever!"
Hayden apparently found the tweet amusing, because his response was filled with emojis–actually, just in time to celebrate "World Emoji Day" with the branches of the United States military.
Within the (several) emojis in Hayden's response, he said: "I'm not laughing. Oh, hell. YES I AM."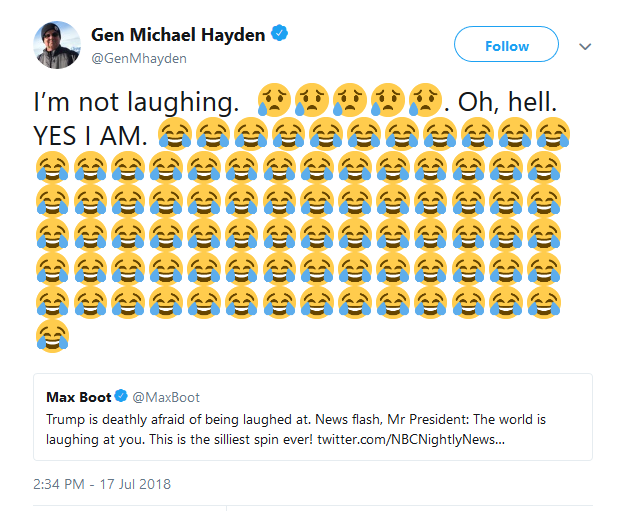 Hayden's tweet appears to have struck a chord with people on Twitter, garnering more than 4,000 retweets and 15,000 likes, as of Wednesday evening.
The former general is just one of many people in Washington D.C. who criticized the president's remarks in Russia during a press conference in Helsinki on Monday.
He's also one of many people laughing. Trump's response on Tuesday—where he said he should have said "wouldn't" instead of "would"—has already become a meme.
READ MORE: