Far-right Fox News pundit Sean Hannity quickly backpedaled his rant on Thursday night against a New York Times report detailing how President Donald Trump tried to fire Special Counsel Robert Mueller last June.
Speaking on his nightly show, Hannity originally said the Times story was trying to "distract" people from more pressing news—namely a slew of text messages from FBI agents that were recently discovered—and even tried to discredit the report by saying his "sources" would not confirm the Times reporting.
"And our sources, and I've checked in with many of them, they're not confirming that tonight," Hannity said. "And the president's attorney dismissed the story, and says, 'Nope, no comment. We're not going there.' And how many times has the New York Times and others gotten it wrong?"
Until they did.
"Alright, so we have sources tonight just confirming… that yeah, maybe, Donald Trump wanted to fire the special counsel for conflict. Does he not have the right to raise those questions? You know, we'll deal with this tomorrow night."
Sean Hannity had to hit reverse tonight pic.twitter.com/EROhXbDC28

— Axios (@axios) January 26, 2018
While his backtracking on air was clearly evident, Hannity doubled down on Twitter.
https://twitter.com/seanhannity/status/956753946164391936
But Hannity wasn't the only right-wing media personality who immediately jumped to try and cast doubt on the Times reporting.
In recent weeks, conservatives have tried to discredit Mueller's investigation and paint it as an anti-Trump witch hunt.
Text messages between Peter Strzok and Lisa Page, two FBI agents, have been at the center of the campaign, with conservatives arguing that the mention of a "secret society" in one text message could be evidence of a conspiracy against the president in the highest levels of law enforcement.
It was later reported that the "secret society" message was likely a joke.
After a glitch caused five months of messages between Strzok and Page to go missing, a #FindTheTexts hashtag caught like wildfire among conservatives. On Thursday, the Department of Justice's inspector general said the texts had been recovered.
Conservatives have also rallied around #ReleaseTheMemo, a memo created by Rep. Devin Nunes (R-Calif.) that apparently is damaging to Mueller's investigation. Democrats have called the memo "rife with factual inaccuracies."
With the news that Trump ordered Mueller to be fired last year, but backed off his demand after White House Counsel Don McGahn threatened to quit, conservatives quickly jumped to try and throw cold water on the implications from the Times report.
Their defense was much the same as Hannity: the Times report is a distraction.
"The Mueller story is 6 months old. Why is the Left suddenly acting like it just broke – and why did they do it the same day as 7 pgs of FBI texts were released?" Jack Posobiec, a far-right Twitter personality and ardent supporter of Trump wrote.
Meanwhile, Breitbart writer Allum Bokhari seemed to think the story was "misdirection."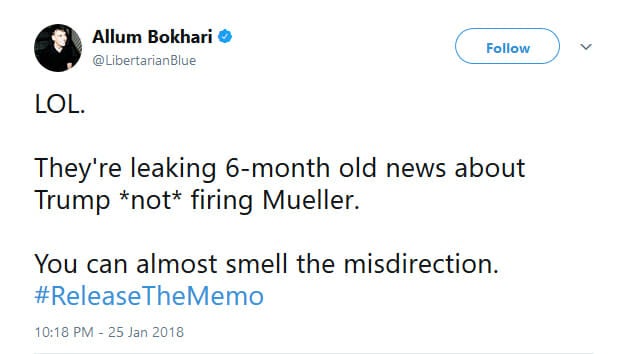 Mike Cernovich, the far right-wing provocateur, also didn't think it was a coincidence that the Trump-Mueller news came out the same day as Strzok and Page's text messages were discovered.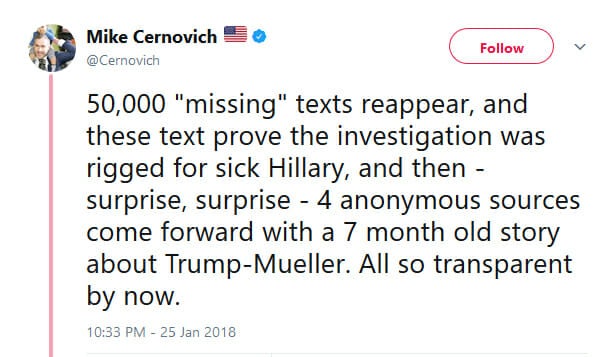 Of course, Donald Trump Jr. also was quickly trying to downplay the Times report, calling it a "shiny thing for the haters to chase."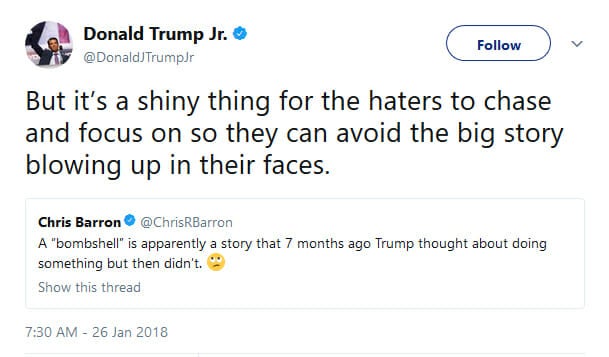 The president himself dismissed it as "fake news." And despite Hannity, confirming it, Trump's favorite show, Fox & Friends, tried to cast doubt on it.
Fox & Friends on Trump trying to fire Mueller: "Well, the president says it's fake news, that happened last June, it's something we have to tell you about because it's a headline on the NY Times. What do you think about that? Do you even care?" pic.twitter.com/4nPB5sv6Fs

— Matthew Gertz (@MattGertz) January 26, 2018
After debating the story for a brief moment, Fox & Friends moved on to immigration, because just like most supporters of the president, it just another liberal attack on the president.