Over the weekend, Texas's Attorney General Greg Abbott was virtually shaking hands with his followers on Twitter, thanking them individually for their support. Here's one back and forth: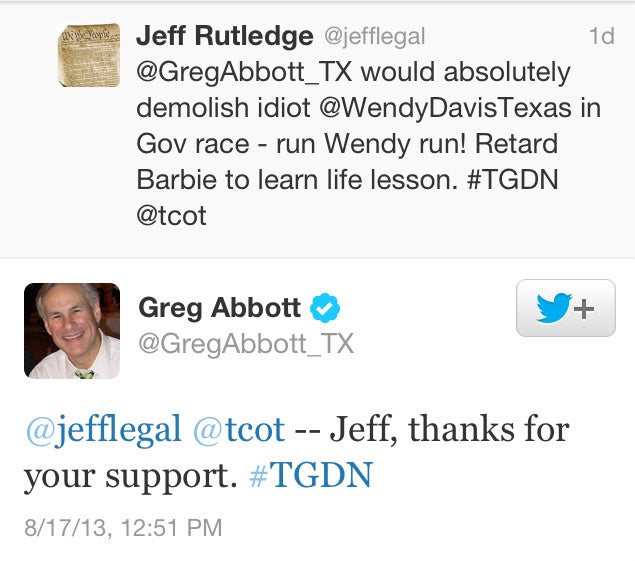 Abbott's tweet has since been deleted, no doubt after his team got a whiff of the growing outrage around using the words "idiot" and "retard" to describe Wendy Davis. He did just launch his campaign for governor of Texas, after all.
Earlier this month, Davis was called an "abortion Barbie" by Fox News contributor Erick Erickson, and the right just can't seem to get more creative than Barbie jokes. If you search the phrase "abortion Barbie" on Twitter, you'll see it's become a de facto nickname for Davis. Last month, a WordPress site popped up, accusing Davis of being a "surgically constructed human Barbie doll."
Abbott backtracked with this tweet:
FYI: I thank supporters on Twitter, but I don't endorse anyone's offensive language. Stay positive.

— Greg Abbott (@GregAbbott_TX) August 18, 2013
One person pointed out that the Wendy Davis/Barbie comparisons are pretty tiresome, and maybe Barbie's employers need to step in:
"Abortion Barbie" and now "Retard Barbie." Doesn't @Mattel have lawyers? #Txlege

— Scott Braddock (@scottbraddock) August 19, 2013
Abbott has still not apologized for the tweet. On Friday, Davis stated she's "very seriously" considering a run for governor of Texas.
Photo via Gage Skidmore/Flickr