Actress Cindy Lee Garcia has finally—albeit potentially temporarily—won her bid to bar Google from streaming a trailer for the controversial anti-Islam film Innocence of Muslims on YouTube.
If the video streaming site's notice of the takedown is any indication, Google is not happy about this.
"This video is no longer available due to a copyright claim by an actress over her 5-second appearance in the video," reads text laid out in the video player space that once streamed the trailer.
"A U.S. court has ordered Google to remove the video. We strongly disagree with this copyright ruling and will fight it."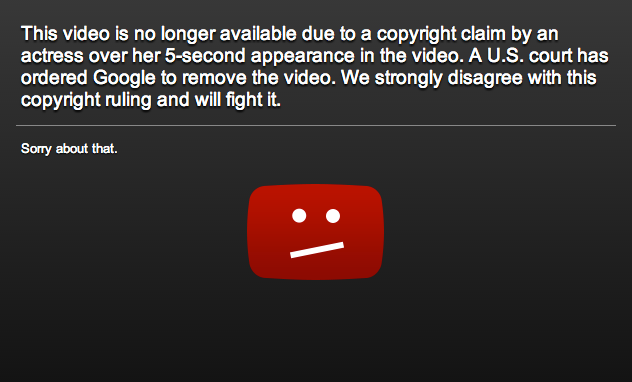 This is extremely candid language from a company that's usually tight-lipped about its on-site activity, but Google's made no efforts to quiet its opinion that Innocence of Muslims, Nakoula Basseley Nakoula's much-ballyhooed anti-Islam film that sparked rioting across the Middle East, earned Google a series of nationwide blackouts, and drew an official statement from the White House, should be allowed to stay online. The company maintains that the video does not violate any aspect of YouTube's standards of hate speech. 
Garcia first sued Nakoula September 2012, saying that he was a victim of fraud, invasion of privacy, and misappropriation of her likeness, but a California judge denied her request, saying that the case did not meet the minimum requirements to show "a likelihood to prevail on the merits." Garcia appealed and a Ninth Circuit agreed with her, overturning that initial ruling and ordering Google to remove the video at least temporarily. 
On Wednesday, the Electronic Frontier Foundation went on record to call the copyright claim "spurious," saying that the ruling "blows past the First Amendment concerns with the time-worn observation that the 'First Amendment does not protect copyright infringement.'
"Of course it doesn't, but neither are copyright cases immune from the same balancing test that applies to any injunction," adds EFF's Corynne McSherry, who penned the response.
"The merits of this case are indeed doubtful. Very doubtful. Garcia is claiming a copyright interest in her brief performance, a novel theory and one that doesn't work well here. After all, Garcia herself admits she had no creative control over the movie, but simple performed the lines given to her. There may be a context where an actor could assert some species of authorship, but this doesn't seem to be one of them."
For now, that's something on which the EFF and the Ninth Circuit U.S. court do not agree.