A German design and engineering firm says the idea behind Google Earth was theirs all along, and they're suing Google to prove it.
In 1994, the design firm, ART+COM, filed a patent for something called "Method and Device for Pictorial Representation of Space-related Data." That technology was the foundation for a program called Terravision, 3D mapping software that looks and behaves similarly to Google Earth.
The company developed Terravision using Silicon Graphics Laboratories' "Onyx" computers, which the lawsuit says "were the most powerful available at the time for processing and displaying graphical data."
Two current Google executives were both working at Silicon Graphics at the time: Michael Jones, now Google Earth's chief technical officer, and Brian McClendon, who runs the Google Geo Group and is vice president of engineering of maps. The lawsuit alleges that both men "were aware" of Terravision, and that Jones in particular "had access to proprietary information."
ART+COM elaborated in a press release: "In the course of developing Terravision, our inventors worked directly with Michael T. Jones when he was at SGI, where he was our designated contact person.
"We understand SGI subsequently used Terravision as a demonstration of the capabilities of their Onyx computers."
Nearly 20 years later, Google Earth premiered, with McClendon and Jones at its head. And the software does look remarkably similar to the Terravision technology from 20 years ago, at least from the screenshots provided in the lawsuit: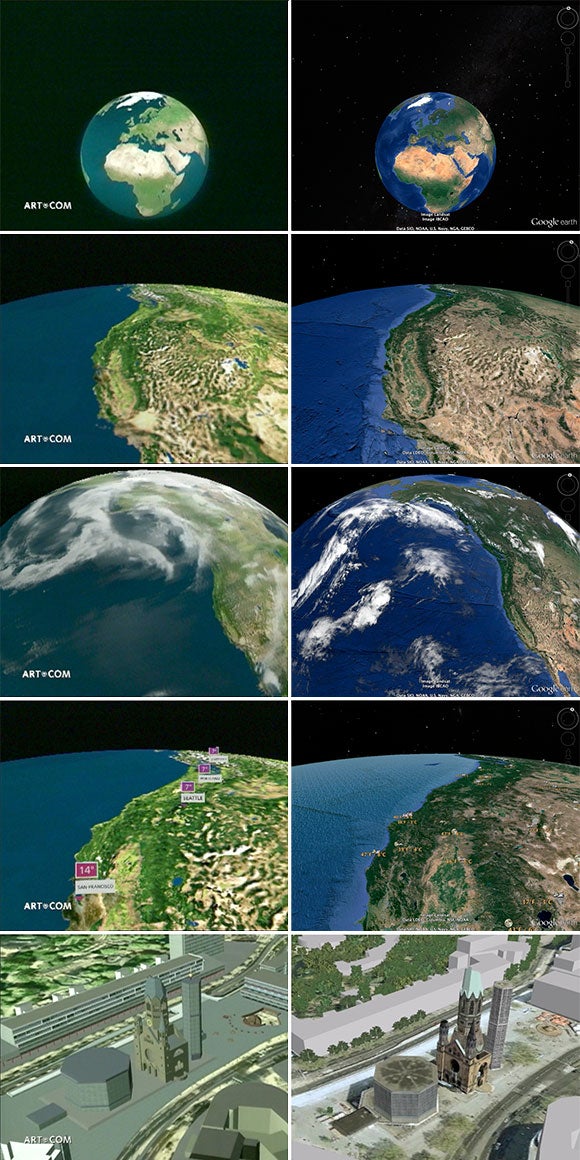 Then again, the Earth's continents and coastlines haven't exactly had major changes in the past 20 years. How much different can two 3D models of the same planet look?
The lawsuit alleges that ART+COM execs have been in touch with Google about possible patent infringement for years, but nothing came from these discussions. It filed the lawsuit in U.S. Delaware District Court on Feb. 20. The group is seeking unspecified remuneration, and alleges that Google willfully infringed on its patents, which could treble any damages meted out by the court.
Screengrab via Ray Bouknight/Flickr