For the first time, Internet behemoth Google has released a breakdown of its diversity statistics. And the figures are pretty much what you'd expect from a major Silicon Valley tech company.
Just 39 percent of the Google workforce are non-white, whilst men account for 70 percent of employees.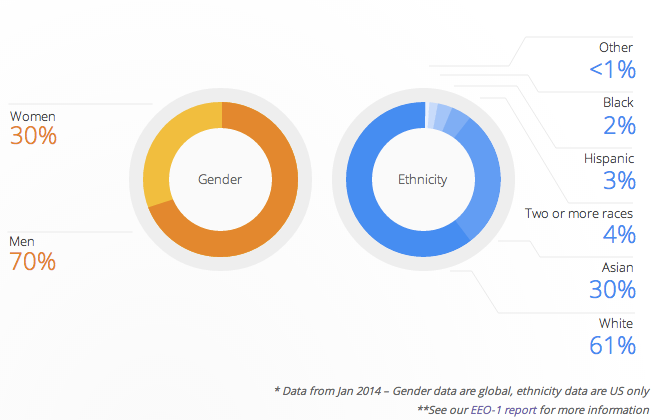 Diagram via Google.
Posted on the site's official blog by Laszlo Bock, Google's senior vice president of people operations, the figures also show that 30 percent of U.S. employees are Asian, 3 percent are Hispanic, 2 percent are black, and the remaining 5 percent are either "two or more races" or "other." In contrast, a full 13 percent of the U.S. population is African American. The gender data is global, whereas the ethnicity breakdown is U.S.-only.
Even more disappointingly, just 17 percent of technical roles are held by women, the report reveals.
The technology industry has long been known for its lack diversity, although companies rarely make this data public.
"Put simply, Google is not where we want to be when it comes to diversity, and it's hard to address these kinds of challenges if you're not prepared to discuss them openly, and with the facts," Block wrote.
As well as providing a statistical breakdown of Google's diversity woes, it also details what the company is doing to remedy them. This includes hosting LGBT students at their oSTEM (Out in Science, Technology, Engineering and Math) conference, and their employee resource groups such as Gayglers and the Google American Indian Network.
Only 21 percent of leadership positions at Google are held by women—but it still beats Amazon, where just 18 out of 120 (or 15 percent) of the senior managers are female, the Guardian reports.
Reverend and civil rights activist Jesse Jackson has also previously criticised the technology industry for their lack of diversity in the workplace. Other attempts to address the issue include GoldieBox, an educational toy aimed at girls designed to encourage them to engage with traditionally "male" subjects like engineering.
When asked why these figures hadn't been released before, Bock told the Washington Post it was "[because] we knew we would not look good. And we were worried about litigation."
However after discussion, Google decided that "the right thing to do would be to share this information, because we have an issue. Our industry has an issue. And the only way to have an honest conversation about this is to start actually sharing the facts."
Photo via Tom Morris/Wikimedia Commons (CC 3.0)