Rudy Giuliani is the latest Republican to promote a photo supposedly featuring Rep. Ilhan Omar (D-Minn.), which has been repeatedly debunked.
In a now-deleted retweet, the former New York City mayor shared an image of a woman holding a gun in a military uniform.
"Ilan [sic] Omar is trying to block this picture…R/T this far and wide!!! #WeAreTheNewsNow #DrainTheDeepStateSwamp #GodWins," the original tweet reads. The account that posted it regularly shares QAnon and other conspiracy content.
The photo claims to show Omar at an Al-Qaeda training camp in Somalia.
"Can we get rest of this picture?" Giuliani added with his retweet.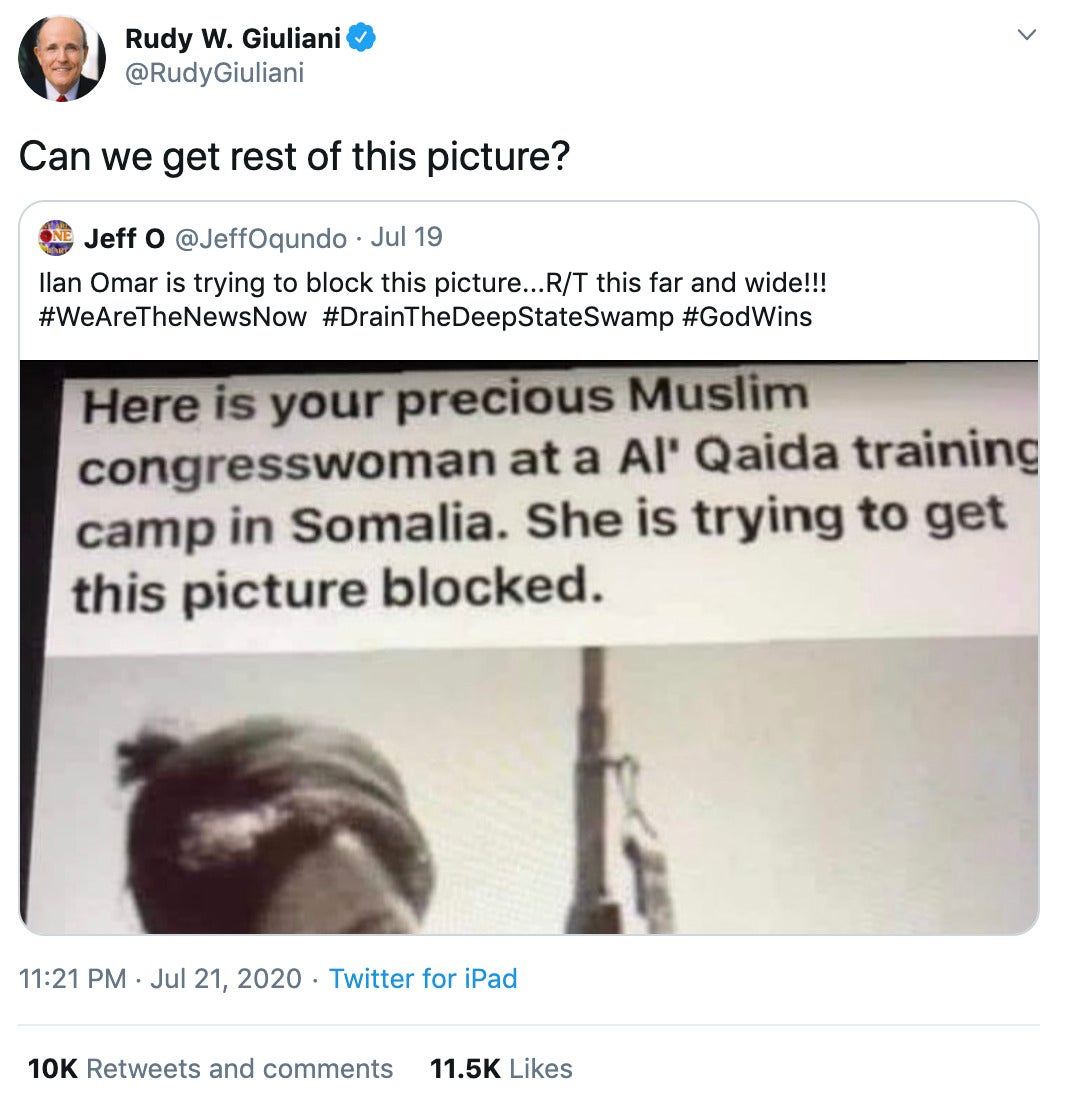 The rest of that photo is actually incredibly easy to find—it's an archival image from the Associated Press (AP), taken before Omar was alive.
The AP offered a fact-check of the meme featuring the image nearly one year ago, attributing it to their own collection.
"The photograph of a woman checking an automatic weapon was taken by the Associated Press on Feb. 25, 1978, before Omar was born. According to information with the photo, it was taken at a military training campus at Halane, Mogadishu," the article explains.
Still, prominent conservatives have continued to circulate the photo, falsely describing it as depicting Omar. The Minnesota congresswoman responded to these claims last October after a North Dakota state senator shared it on Facebook.
"This is pure propaganda designed to stir up hate and violence coming from a GOP state rep," Omar tweeted at the time. "Facebook's unwillingness to crack down on hate speech and misinformation is not just threatening my life, but our democracy."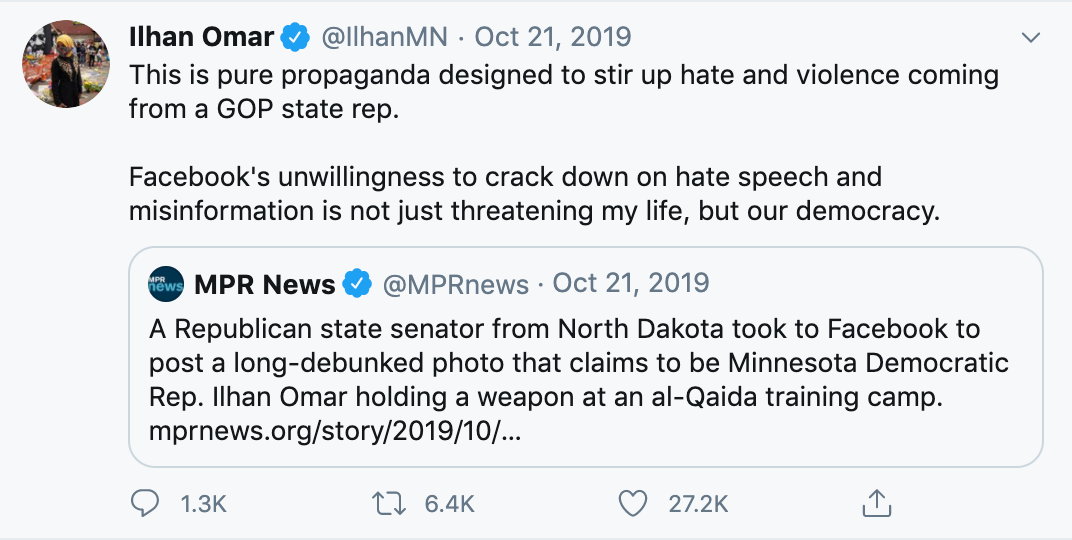 As the falsely-captioned photo regained traction on social media this month, USA Today wrote up a fact-check, again attributing the photo back to the AP. Facebook has since tagged it with a "false information" warning, but Twitter seemingly has yet to catch up.
Omar responded to Giuliani's tweet on Wednesday, after it had received thousands of retweets, comments, and likes.
"This photo was taken *four years* before I was born," Omar reiterated, retweeting Giuliani. "I know how gullible some folks can be, but time traveling isn't a super power I possess. The question is: why does Twitter allow rampant hate speech and misinformation on their platform?"
Soon after, Giuliani's tweet was removed. In an interview with the Daily Beast, Omar expanded on her response.
"This is not normal. Unfortunately, it's not surprising that someone complicit in the president's crimes would share such a false, Islamophobic post. I am now accustomed to the hate speech and death threats that flow from their reckless lies," Omar said.
The congresswoman then again called on social media sites to be more proactive and "crack down" on hate speech and misinformation, something both Facebook and Twitter have struggled with repeatedly this year.
READ MORE: