Remember the good old days, when the biggest scandal embroiling the Girl Scouts was selling out of Thin Mints too early? You can kiss those days goodbye, as the organization drew the widespread criticism of Twitter users after congratulating Amy Coney Barrett for her appointment to the United States Supreme Court in a now-deleted tweet.
"Congratulations Amy Coney Barrett on becoming the 5th woman appointed to the Supreme Court since its inception in 1789," the Girl Scouts tweeted along with a photo including Barrett, Ruth Bader Ginsburg, Sonia Sontomayor, Sandra Day O'Connor, and Elena Kagan.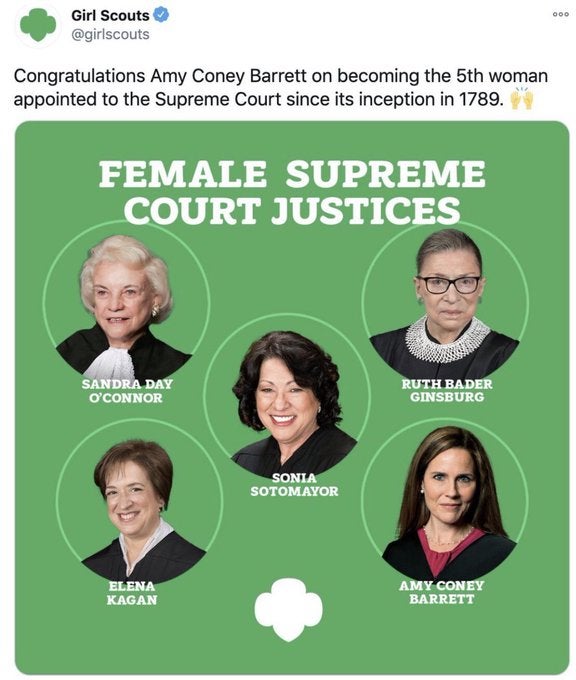 Not everybody was impressed by the organization's acknowledgement of the historic occasion.
"The Girl Scouts of America tweeting out a congratulations to Amy Coney Barrett proves that they don't give a shit about young girls having rights when they grow into women. Wow," Ricky Davila tweeted.
"What kind of patch does one earn for uplifting a woman who is the antithesis of justice?" Rep. Ayanna Pressley (D-Mass.) asked.
As is typical on Twitter, the backlash to the Girl Scouts' deleted tweet soon received a backlash of its own.
"This is pathetic @girlscouts," Megan Kelly tweeted. "It's not 'partisan' to generically congratulate the 5th woman ever to join the High Court. It's patriotic. Taking your tweet down *is* partisan, however, and a real disappointment."
"You @girlscouts are weak and your actions to cave into these minuscule small minded leftists is an embarrassment – shame on you and not an example to be set for young girls who should aspire to be brave like the women on the Supreme Court. Sad," Fox News contributor Sara Carter tweeted.
Following the initial outcry, the Girl Scouts issued two tweets clarifying their decision to congratulate Barrett and subsequently remove the post.
"Earlier today, we shared a post highlighting the five women who have been appointed to the Supreme Court," they wrote. "It was quickly viewed as a political and partisan statement which was not our intent and we have removed the post. Girl Scouts of the USA is a nonpolitical, nonpartisan organization. We are neither red nor blue, but Girl Scout GREEN. We are here to lift up girls and women."