People—primarily young, white males—are sharing images of themselves miming George Floyd's death, sparking a wave of criticism and scorn from people online who are calling it "despicable," and "disgusting."
Last week, Floyd was killed by a police officer who knelt on his neck for 8 minutes and 46 seconds, ignoring his plaintive cries of "I can't breathe."
Video of the killing, for which the officer has been charged with murder, sparked protests in all 50 states that continue to this day.
It has also given a platform for people to indulge their worst inclinations.
In recent days, images have emerged on social media of people doing what they call the "George Floyd challenge." One person lies prostrate as Floyd did until his death, and the other puts a knee on his neck as the officer who killed him did.
As the Daily Dot previously reported, a wrestling coach posed for one such image last week. Others have apparently imitated it since.
The challenge has been nearly universally panned.
Many people online commented that it was "too soon" or that it would "never be ok" to mock Floyd's tragic death. Others said the photos show "why we are angry" and "why we protest."
Some more forgiving souls have prayed for those who took part.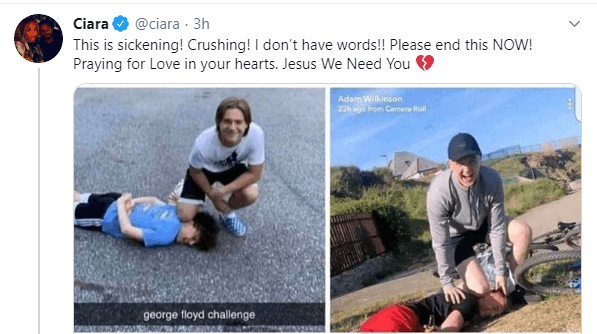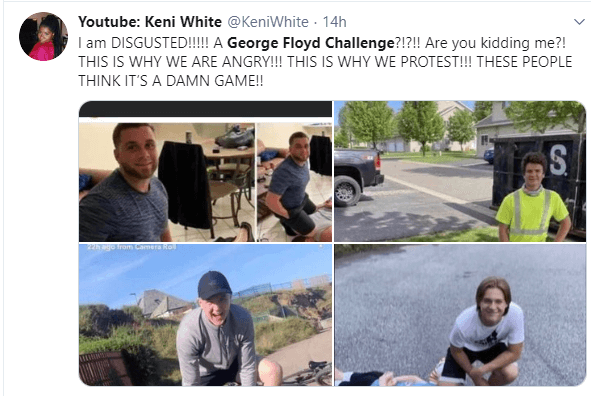 Facebook, currently taking heat for its inaction on politicians' posts, reacted to the trend with uncharacteristic speed.
Instagram, which is owned by Facebook, has hidden the hashtag. The only results in Facebook searches for "George Floyd challenge" are those of people expressing abhorrence about it.
A Facebook spokesperson told the New York Post: "We are aware, and are removing these posts for violating our Community Standards."
Some seem to be attempting to circumvent Instagram's enforcement by using variations of the hashtag. At least one variation has already been hidden for violating community guidelines.
TikTok also appears to have taken action. The only videos with the hashtag on the platform either express grief over Floyd's death or criticize the challenge. The company didn't immediately respond to the Daily Dot's inquiry.
A Twitter spokesperson told the Daily Dot that tweets that promote or encourage the challenge violate its guidelines. Those that tweet the images without context may also be suspended until they delete the tweet, according to the spokesperson.
Tweets denouncing the challenge are an exception, they said. Twitter will place a "sensitive media" warning over images in such tweets. As of this writing, most images do not have this warning.
Those posing in and taking the pictures have faced consequences in the real world. Three British teens were charged with a hate crime over one image, the Post reported.
Another trio were fired from their job with a construction company. One of the individuals was the owner's son, according to the company's apology on Facebook.
"It was truly insensitive and offensive, not just to the family of George Floyd, but all people," Shade Tree Construction said in the post.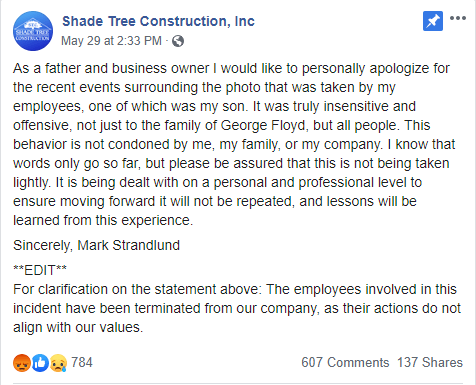 A Twitter user claims that others who've participated in the challenge have also been arrested or fired.
READ MORE: