Pete Hegseth, a Fox & Friends host, is using his father's Twitter account in an attempt to circumvent a temporary suspension, which he is billing as a "ban," while helping push the hashtag #FreePete.
Hegseth claims that he was "banned" from Twitter for posting the manifesto from the Pensacola shooter Mohammed Alshamrani and declaring the actions were "Islamist terror." 
"The coward posted it just hours before his terrorist attack," Hegseth wrote on Twitter. "This is Islamist terror. No reason to ever mince words. Saudi Arabia must be held to account."
Hegseth was not banned from the platform, but rather Twitter issued a temporary suspension until the talk show host deletes the tweet, which Hegseth states he never will do. 
Conservative news outlets have mischaracterized the suspension of the Fox host to create a desired narrative and add fuel to the faux outrage of conservatives being "censored" on Twitter. 
The social media site outlined that posting the shooter's manifesto is a violation of the Twitter Rules and its policy on terrorism and violent extremism.
Hegseth, after his suspension from Twitter, addressed it on Instagram.
"I was BANNED from @twitter — because I posted a screen shot of the terrorist from Florida tweeting his Islamist motivations. That's it, a screen shot of a terrorist in his own words," Hegseth declared after he was temporarily suspended on Sunday. 
"If they can ban me, they will ban anyone. We need to fight back. Heck, I posted the terrorist screen shot on this post too, so stay tune for @instagram banning me too."
Hegseth went back to Instagram to share that he attempted to appeal to Twitter's decision to "ban" him, but has been unsuccessful. 
Since the temporary suspension from Twitter, Hegseth has taken to his dad Brian Hegseth's Twitter account in an effort which he bills as "exposing the motives of radical Islamists." 
Hey, it's @PeteHegseth — from my dad's account. Hope @Twitter doesn't BAN him too!

If exposing the motives of radical Islamists gets you kicked off Twitter, our country is in big trouble.

Political Correctness is a poison to free people.

— Brian Hegseth (@BrianHegseth) December 8, 2019
Hope you caught this…thanks for the platform @TuckerCarlson pic.twitter.com/61kUU7vE2c

— Brian Hegseth (@BrianHegseth) December 10, 2019
Hegseth's father has also used the platform himself to share messages from his son. 
Monday morning message from @PeteHegseth : @Twitter says I was banned for breaking their "terrorism and violent extremism policy." Why did I serve in Afghanistan, Iraq and Gitmo again? To get banned for speaking truth about Islamism? Twitter is pathetic. Never back down!

— Brian Hegseth (@BrianHegseth) December 9, 2019
A Twitter spokesperson declined to comment if Hegseth using his father's Twitter account qualifies as circumventing his suspension.
A Fox News spokesperson did not respond to the Daily Dot's request for comment. 
The Fox & Friends host, who frequently has high and unwavering praise for President Donald Trump, is no stranger to controversy.
He has been an outspoken supporter and fundraised for anti-Muslim activist Laura Loomer.
He also took part in lobbying Trump to pardon Eddie Gallagher, the Navy SEAL who was accused of war crimes during a 2017 deployment to Iraq.
Conservatives have fired back at Twitter over Hegseth's suspension.
What could possibly motivate @twitter to do something like this?

Imagine the deranged leftist mentality there that would ban prominent Veteran for sharing a terrorists manifesto?

Hell, they practically boost & promote anyone who talks shit about & hates America! Enough already! https://t.co/NU4FFsWKZo

— Donald Trump Jr. (@DonaldJTrumpJr) December 9, 2019
.@PeteHegseth should have never been suspended by @Twitter for sharing the truth about this terrorist that killed 3 Americans on US soil. This evil must be exposed – not hidden. The manifesto is exactly how the extremists feel about Americans – this policing of social media isn't https://t.co/r51nP9V2KO

— Sara A. Carter (@SaraCarterDC) December 9, 2019
This isn't the first feud between Fox and Twitter.
Last year, the main Fox News Twitter page stopped tweeting after left-wing demonstrators showed up at Tucker Carlson's home in protest of his late-night opinion show. Fox was upset Twitter didn't act on a tweet sharing Carlson's address. However, the account that shared it, @SmashRacismDC, was suspended. 
The main Fox News Twitter account hasn't tweeted since late 2018. 
UPDATE 2:47pm CT, Dec. 12: On Thursday, Brian Hegseth posted his son's original tweet to Twitter. A Twitter spokesperson confirmed to the Daily Dot that the tweet violated Twitter's Terms of Service.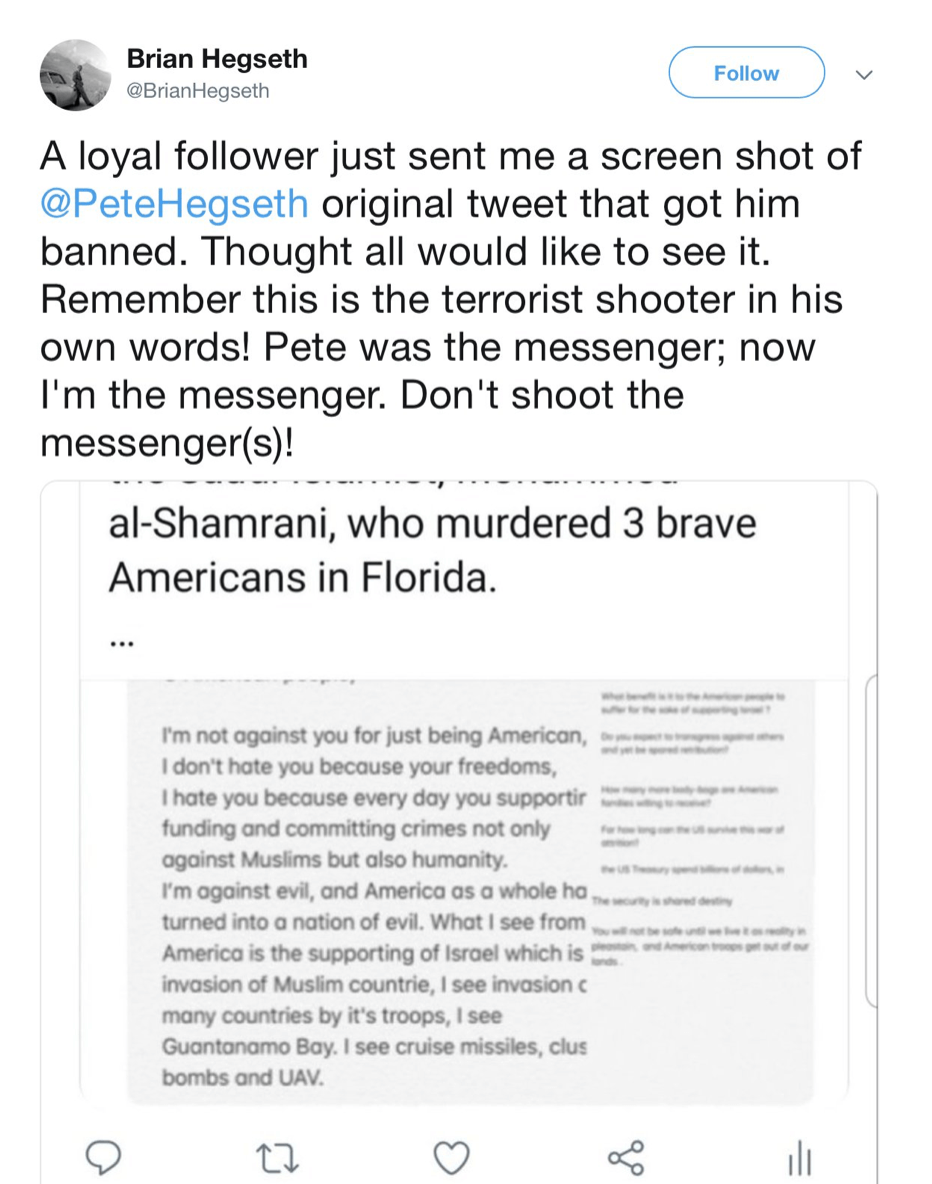 Hegseth's account was temporarily suspended for posting it. He deleted it, he said, and has had his access reinstated.
Just FYI. I did get blocked by @Twitter as @PeteHegseth did when I posted his tweet of Pensacola terrorist screed. I took down my tweet so am back live. Remains true to @jack that somehow I support violence by releasing shooters own hateful words.

— Brian Hegseth (@BrianHegseth) December 12, 2019
READ MORE: