In July 2021, the son of a high-ranking New York Police Department (NYPD) deputy allegedly plowed his car into Black Lives Matter protesters in New York City, injuring a teen. The protesters were calling for the firing of a cop who hurled homophobic slurs at a suspect while beating him.
A year later, Justin Burgos, arrested and charged with reckless endangerment that night, was hired by the Apopka Police Department outside Orlando, Florida
In addition to the job, Burgos got a bonus: $6,693.44, a check for coming aboard, offered by Florida Gov. Ron DeSantis (R) to recruit cops to the Sunshine State, where they could work in a state where mantras like "defund the police" weren't being chanted by protesters.
Burgos isn't the only officer to take the money. In response to a Daily Dot FOIA, the Florida Department of Economic Opportunity provided a list of the over 1,700 officers who received nearly $9 million.
The issues with officers don't stop with Burgos either.
In response to DeSantis' call, the Daily Dot found officers who since joining Florida police departments have been arrested for kidnapping and murder and officers who, before they moved to the Sunshine State, had numerous complaints against them, ranging from excessive force to false imprisonment to sexual extortion.
Josh Bogwandas was hired by the Miramar Police Department in December of 2022. He too received the same $6,693.44 check.
Six months later, police came to his door, a woman calling 911 after escaping from his alleged abuse. According to reports, he choked her and pulled her by her hair, chasing her after she escaped the house and dragging her back in. The victim, who wasn't named, suffered "several bumps, marks, scratches, and cuts, including on her forehead, lip, right arm, and neck," reported Mirimar News 10
Bogwandas was charged with domestic battery and kidnapping and the charges are still pending.
The Miramar Police Department cut ties with him after.
Chloe Davidson joined the Escambia County Sheriff's Department on August 5, 2022. Five months later, Santa Rosa County Police came to her door, after responding to a domestic disturbance.
Her husband had been shot dead, and Davidson was booked on felony murder charges after police found no evidence she acted in self-defense.
She, too, received a nearly $7,000 check from DeSantis. The charges against her are still pending.
The money is part of HB 3, legislation designed to improve policing in Florida. DeSantis dubbed it the "strongest law enforcement recruitment and support initiative in the nation." It provides funds for officer pay raises and training programs, and features a signing bonus for new members of Florida's police departments.
DeSantis claims this policy is taking a stand for neglected officers across the nation.
"If you're being mistreated, you're not being supported—whether you're on the West Coast, whether you're in New York, whether you're in Chicago, any of these places—if you're qualified and you can fill a spot here, you know, we're gonna get your back," DeSantis said in April. "We've stood for this being a noble profession. We want to support the folks who are protecting us."
It was clearly a hit.
On April 6, DeSantis announced more than 1,750 bonuses had been issued to newly employed law enforcement recruits in Florida as a part of his program.
The Daily Dot obtained the full list of the officers.
The governor hasn't taken this PR opportunity for granted. He has taken a tour throughout the state, hand-delivering these checks to grateful cops.
These police stations have reciprocally presented the governor with tokens of appreciation, including a gag $5,000 bill with DeSantis' face on it.
The figures in the Daily Dot's sheet appear to be officers who received the $5,000, an additional $1,000 bonus, and possible relocation funds.
While police have come from all across the nation, a number of officers appear to be fleeing the NYPD, which faced significant backlash for their violent response to the racial justice protests in 2020 after the deaths of George Floyd and Breonna Taylor.
Numerous reports have detailed the exodus of law enforcement from the NYPD following the open invitation from DeSantis in 2021.
In the list of bonus recipients, the Daily Dot found at least two dozen officers with identical names that also appear in NYPD's Civilian Complaint Review Board (CCRB) database, a searchable site run by New York City that makes public reports filed against officers for things like excessive use of force and racial profiling.
The complaints against names in the database and on the bonus list include accusations that officers unlawfully pepper sprayed, assaulted, and pointed their firearms at suspects, as well as used chokeholds and offensive language regarding race and ethnicity.
Allegations were also made that officer propositioned individuals for sex and performed unwarranted strip searches.
The Daily Dot is not naming the officers who it could not independently verify were NYPD officers who got DeSantis' Florida bonus.
One officer on the list of bonus recipients—Daniel Meblin, who worked for the NYPD—was accused in April 2021 of making a sexual proposition toward an individual. An internal investigation was reportedly dropped in August of that year, after investigators were unable to contact the complainant, according to 50-a, an independently run database that tracks outcomes of complaints and is sourced directly from NYPD data.
Meblin was also one of several officers involved in a $160,000 settlement stemming from an incident in May 2020 during protests in New York over the deaths of Floyd and Taylor.
Meblin and his fellow officers were accused of illegally detaining a peaceful protester before "punching him in his face, head and other areas of his body" before striking them with a baton and obstructing their breathing, according to court documents.
A photograph of Meblin in the 50-a database matches that of an officer who was hired by the Palm Beach Police Department the same month that Meblin left the NYPD.
The Palm Beach PD confirmed to the Daily Dot that it employed the same Daniel Meblin and said he had been an "exemplary" officer since coming on board. The department said it was aware of the disciplinary complaint involving sexual solicitation against Meblin, who they say disclosed it during the hiring process.
Captain Will Rothrock said to the Daily Dot, speaking only for the Palm Beach PD, it found the bonuses "beneficial in our hiring attempts. While it may not be the largest factor in any applicant's decision-making calculus as they determine their desired career opportunities, it has received positive mention from our new hires."
The department declined to make Meblin available for an interview with the Daily Dot.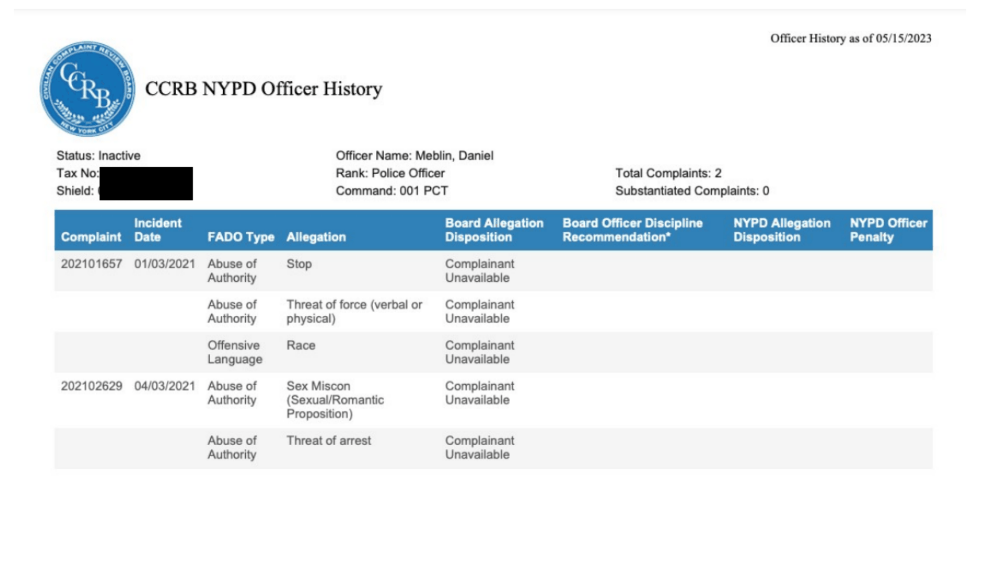 Also part of the NYPD exodus appears to be Haitham Hussameldin, who according to the 50-a police database, served over 20 years. According to public records, a Haitham Hussameldin who previously lived in Staten Island now lives in Lake Worth, Florida, which is five miles from Manapalan, Florida, where a Haitham Hussameldin on the force there received a bonus
Hussameldin racked up 6 formal complaints involving 9 accusations, from multiple allegations of abuse of authority and overuse of physical force to smaller accusations such as committing time theft and falsifying records by claiming overtime hours he never worked.
i+In all incidents, the complaints were either withdrawn, unsubstantiated or the complaintant and victim did not want to cooperate with the CCRB process.
He's been accused, in complaints and lawsuits, of tackling suspects without provocation, including a kid.
On the morning of April 28, 2017, a teenager was walking with her friend to South Brooklyn Community High School. Hussameldin stopped her and according to a suit filed by the victim, asked for a school ID to prove she was a student.
She replied that she didn't have one, that she "just wanted to go to school," and began walking towards the campus, which was just half a block away.
Hussameldin, according to the suit, tackled her to the ground, putting her in handcuffs, and shoving her into the back of a police cruiser, she claims, with her backpack still dangling behind her.
Throughout the encounter, the teenager said she felt ill, needed to vomit, and could not breathe and that officers ignored her.
The girl was charged with misdemeanors for resisting arrest and obstructing governmental administration, and left, she said, with "pain, anxiety, suffering, mental anguish, and humiliation."
On February 13, 2014, Hussameldin and his partner were called to the scene for a disagreement between neighbors over a snowblower. According to the suit filed by the victim, one of the officers tackled a person to the ground and pushed his knee against his head. The person's brother questioned the officer's extreme use of force, according to the complaint.
In response, Hussameldin "tackled [him] and threw him to the ground. As a result of this tackle, the victim suffered bruising to his arms and body."
Those two cases against Hussameldin were settled by the NYPD, costing the city over $100,000.
Manapalan Police and Hussameldin did not respond to a request for comment from the Daily Dot.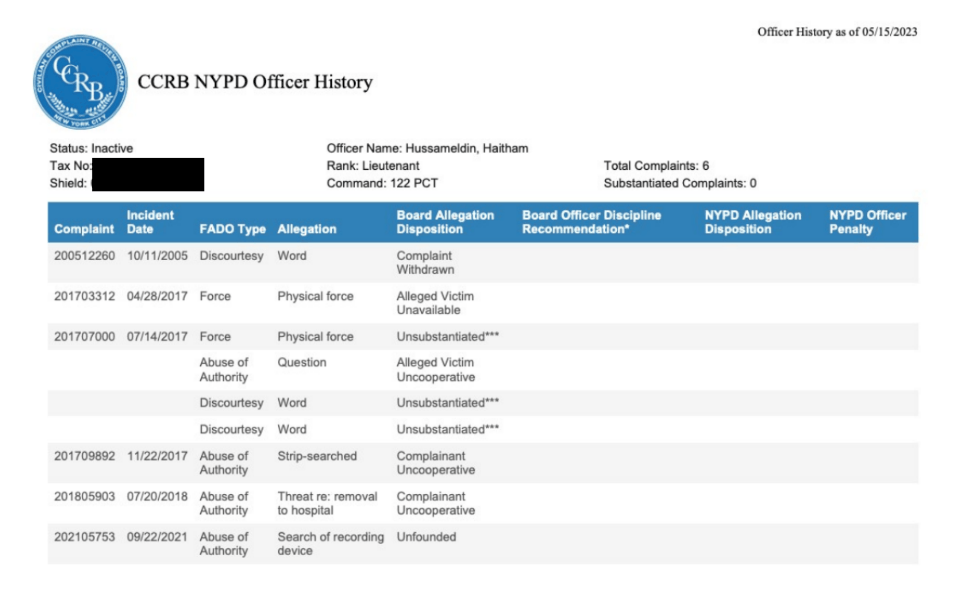 Office Dawn Ortiz is now a member of the city of Longwood's police force.
Fifteen 15 years earlier, a Dawn Ortiz led New York City to pay out $100,000.
Ortiz and her partner were involved in a shooting in Coney Island when a man was swinging a folding chair and charging at them. Ortiz and her partner ordered him to stop and when he didn't, Ortiz shot him in the chest and killed him.
The two officers were not charged by the Brooklyn District Attorney and were initially praised for acting heroically, named "Cops of the Year" by the NYPD's Holy Name Society.
That praise would soon diminish in the coming months.
The two women faced internal disciplinary charges for not having taken measures to avoid the fatal shooting.
The NYPD paid the family $100,000 in order to settle a civil case over the death, but the internal review took much longer.
Ortiz was also accused of strip-searching a woman inappropriately, a charge the NYPD found substantiated, and implicated in a lawsuit of a woman who died in custody of an overdose, after police removed her from the hospital and took her to a jail cell.
Now, a Dawn Ortiz, who used to live in Brooklyn and Staten Island, and is the same age of the NYPD officer according to record reports, lives just 12 miles from the Longwood Police Department station.
Longwood Police did not respond to a request for comment. Ortiz did not respond to a request for comment.
Robert Corbett was one of the officers who got nearly $7,000 to relocate to Florida, where he joined the Clermont Police Department. A LinkedIn page for a man with the same name shows that he is currently a police officer in Clermont, a city in central Florida. Before he moved to the Sunshine State, Corbett's LinkedIn says he spent over two decades working at the NYPD.
According to the NYPD's CCRB Corbett received four civilian complaints during his time with NYPD. From 1999 to 2001, three complainants accused Corbett of abuse of authority for conduct including threatening force and retaliatory arrest. One of those complaints also accused him of using physical force. Records show that two of the complainants were Black men, the third individual's race and gender are not recorded.
The NYPD deemed that Corbett violated department policy by using excessive force and conducting a retaliatory arrest on one complainant, described in ProPublica's records as a 25-year-old Black man.
He was reportedly exonerated of abusing his authority in the other complaints. The accusation that he was discourteous to a 38-year-old Black man was deemed unsubstantiated.
In June 2020, he was accused of using physical force and pepper spraying protesters. The NYPD found that the physical force was within guidelines and could not determine if the use of pepper spray was legitimate
The Clermont Police did not respond to a request for comment. Corbett did not respond to a Daily Dot request for comment.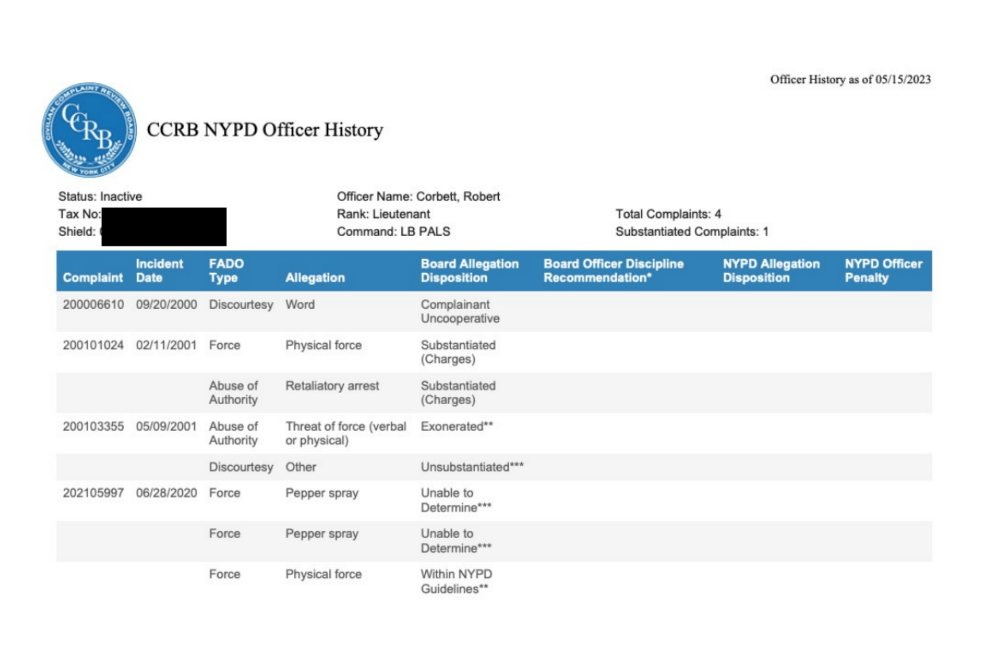 The NYPD did not respond to a request for comment regarding any of the officers above
Outside of New York City, other cops were also involved in large settlements at their previous departments.
Benjamin Petering, an officer who came to the St. Petersburg Police Department in Florida after working in Colorado, made headlines over a 2017 encounter that led to a $125,000 settlement.
The incident involved an arrest and charges against a man that were ultimately dropped after a court found that the officers on the scene had violated the Fourth Amendment during a search.
The man followed up by suing the department for unlawful search and excessive force, earning him the six-figure payout.
Aurora PD confirmed Petering left the force in October 2022. Petering did not respond to an inquiry sent over Facebook Messenger.
A spokesperson for the St. Petersburg Police Department confirmed that Petering worked in Aurora before transferring and that he received the recruitment bonus. They said that "Our hiring process includes an extensive background investigation, interview, and polygraph examination," when asked about Petering's past incidents.
The department also revealed they were aware of an officer-involved shooting Petering was a part of when he was in Aurora, but that it did not affect the decision to bring him on board, as it had been deemed "justified" by the state of Colorado.
As for Davidson, charged with homicide, she was a cadet for the Escambia County Sheriff's office before she allegedly shot her husband, Doug Davidson Jr., in their home on Jan. 1, in Pace, Florida.
He was pronounced dead at the scene.
The sheriff's office confirmed to local media that Davidson was training to become a deputy but had failed the field training program. It said she had not been employed by the department in the 30 days before the shooting.
According to WEAR News, Chloe spoke with investigators on the record when they arrived on the scene. She told officers that her husband tried to choke her before the shooting.
She told police that she was acting in self-defense but Investigators reported that there were no injuries, scratches, or cuts consistent with her account of a physical altercation.
Investigators said she appeared calm and claim she smirked when they left the room after she asked for a lawyer.
The two had three young boys together who were not home at the time of the shooting
The Escambia County Sheriff's did not respond to a request for comment. Contact information for Davidson could not be found.
While the case against domestic violence Bowgandas is proceeding, the Miramar Police Department declined to comment on the bonus program.
"This arrest illustrates the department's commitment to enforcing the law without favor" it said to the Daily Dot and that Bogwandas "has been relieved of his police duties without pay. Like everyone who is charged with a crime, he enjoys the presumption of innocence. An administrative investigation is also underway."
Bowgandas did not respond to a request for comment sent over Facebook Messenger
The New York District Attorney's office said that the records regarding Burgos' case, for driving into protesters, were sealed and could not reveal how his case concluded. Cases in New York can be sealed under certain conditions, including if charges are dismissed, the defendant enters a dismissal agreement on the condition they aren't arrested again, or the defendant pleaded guilty to disorderly conduct.
The Apopka Police told the Daily Dot that Burgos left the department in February 2023, but did not specify why. Contact information for Burgos could not be found.
The DeSantis administration and the Florida Office of Economic Opportunity did not respond to requests for comment about the story.
Additional reporting by Athena Hawkins.
This post has been updated with comment by several police departments.

We crawl the web so you don't have to.
Sign up for the Daily Dot newsletter to get the best and worst of the internet in your inbox every day.