Thanks to Tinder and other location-based dating apps, it's never been easier to find someone you're romantically interested in online and meet up with them in person. But Milad Moh thinks we've taken that aspect of dating apps a step too far. Instead of creating a platform for people to form connections IRL, why not create an app where no one meets anyone at all?
"Our purpose is different from every dating service. We are not based on proximity," Moh told the Daily Dot. "We want the players to communicate on the platform and not necessarily meet offline. We want to build a virtual world of romance."
While it sounds like a throwback to the days of dial-up and AOL dating chatrooms, a "virtual world of romance" is the guiding principle behind Floret, a gameified dating app that matches you with other users based on your rankings of them… without actually ever meeting these users face-to-face.
Basically, here's how Floret, which launched last month out of beta, works: You log onto the app through Facebook, and you're asked to play a ranking game with seven other Floret users. The app then pulls up four user photos (for whatever reason, most of the men in these photos are pictured shooting guns), which you're asked to rank in order of preference, within a 90-second time frame. A few seconds later, you'll get a notification saying Floret has "found your perfect match."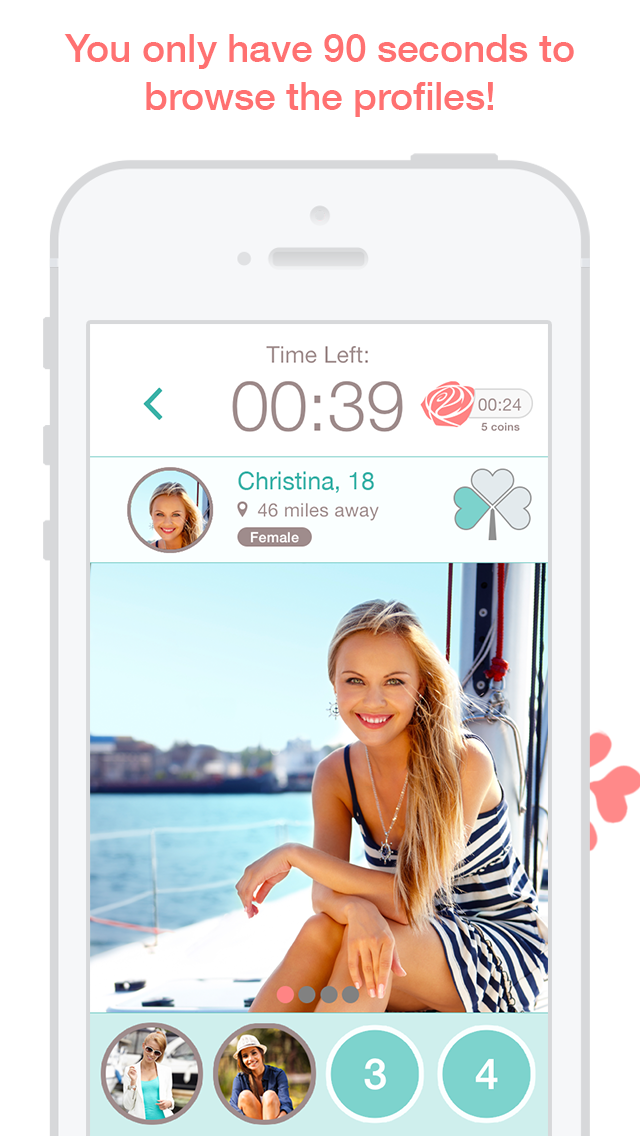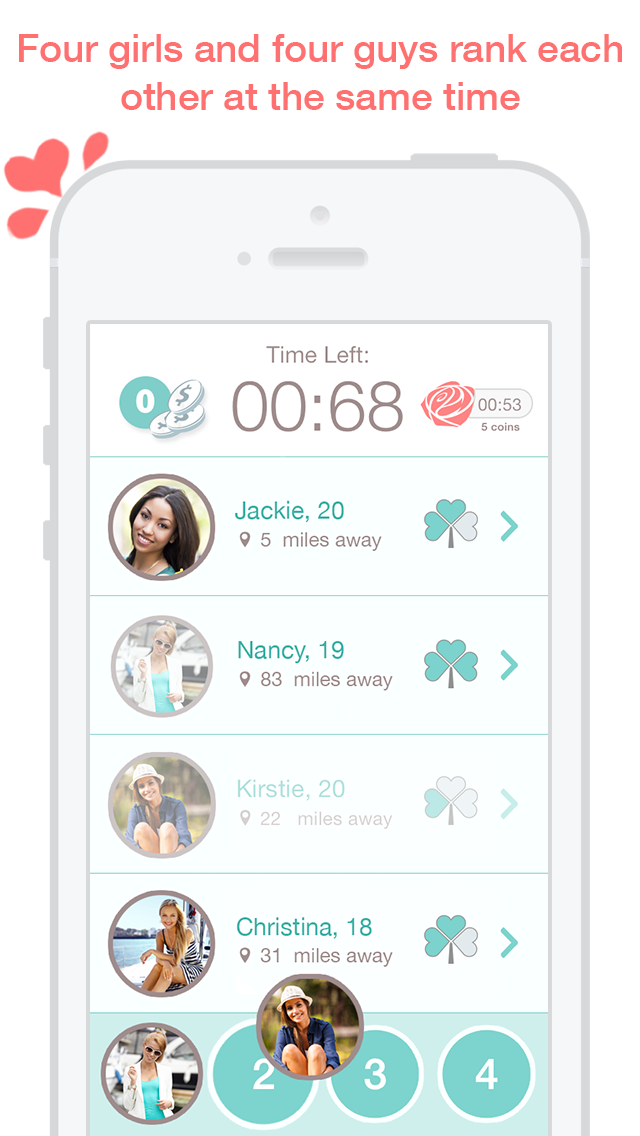 Your "perfect match" on Floret is not necessarily your first choice in terms of the users you ranked, nor does the app take into account the user's proximity to you. (Unlike most dating apps, Floret is not location-based.) Basically, Floret matches users based on a famous economics problem called the stable marriage problem:
Given n men and n women, where each person has ranked all members of the opposite sex with a unique number between 1 and n in order of preference, marry the men and women together such that there are no two people of opposite sex who would both rather have each other than their current partners. If there are no such people, all the marriages are "stable".
In other words, as Moh explains it, if a group of people are on a desert island and each person has expressed a preference for a member of the opposite sex, they'll all be matched so "there's no such situation where someone will run off with someone else's match," Moh, a former economics PhD student at Virginia Tech, explains. "If I'm matched with Jenny and you're matched with Mark, the match is stable. I don't want to run off with you and you don't want to run off with me."
It's an interesting concept in theory, but is it actually effective at matching people who are looking for love? Well… that's not really the point, says Moh. Unlike apps like Tinder, where users' goal is to chat with matches and ultimately meet up IRL, Floret is more like a game than a dating app; although users are encouraged to chat and send video messages to each other on the app, the ranking game takes precedence over IRL contact.
Which raises what seems like an obvious question: Given that it's never been easier to find potential romantic or sexual partners online, why would anyone want to use a dating app that restricts user interactions to the virtual space?
Moh has an answer for this, but it's not exactly convincing. "There is a long history of romantic relationships with people who don't actually meet each other, like pen pals," he says. "It's safe, it's fun, it's time efficient. It saves time of actually going on a date."
The ranking aspect of Floret is also a bit problematic, to say the least. Although Floret is far from the only app to use hotness "ranking" as a metric for assessing the attractiveness of a potential match, being forced to rapidly rank a bunch of dudes you don't know based solely on their physical appearance in the span of a minute and a half seems not only shallow, but cruel and kind of desperate.
Like most developers who integrate similar ranking features into their dating apps, Moh doesn't think Floret is shallow—he thinks it's an accurate reflection of what goes on in our heads when we're trying to determine if we're attracted to someone.
"This is the process we are doing unconsciously when we consider people for a romantic kind of relationship," he says. "Every person has a different perspective. Someone might rank me 1, another might rank me 4. it's not to judge people and make them feel bad, but to make the choice for that specific player."
On a purely intellectual level, that might very well be true. But considering the pluparity of similar dating apps on the market—ones that actually let you meet people, rather than haphazardly drag their faces into a ranking lineup—it kinda seems like an app like Floret doesn't necessarily help us connect with people online, which is ostensibly the purpose of all social or dating apps. In fact, it's probably taking us a few steps back rather than forward.
Photo by Alexandra Zakharova/Flickr (CC BY 2.0)